Description
The DWE575 Dewalt circular saw is one of the lightest in its class at 8.8 pounds. With its 15-amp motor, powerful enough for even the toughest applications, and its anti-snag ball bearing lower guard providing smooth guard operation and long life in harsh environments, this lightweight saw is ideal for slicing through lumber and hardwood. A tough cord provides longer durability against cord pull outs while an integrated dust blower function cleans the line of sight during cutting. The DWE575 Dewalt circular saw is equipped with a durable high-grade aluminium smooth base for accurate cuts. It comes with a three-year limited warranty.
Powerful 15-amp motor delivers 5,200-RPM in the toughest applications
7-1/4-in carbide-tipped blade included
57° bevel capacity with stops at 45° and 22.5° allow for a variety of angle cuts
Lightweight 8.8-lb design reduces user fatigue
3-year limited warranty
Integrated dust blower function cleans the line-of-sight during cutting
Spindle lock allows for easy blade changes
Blade wrench included
Toughcord(TM) provides longer durability against cord pull-outs
Product specifications
Base Warranty Labor(Months)
Base Warranty Parts(Months)
Dust Chute Diameter(OD)(cm)
Dust Chute Diameter(OD)(in)
Dust Chute Diameter(OD)(mm)
File/Certification Number
In-use/lifestyle image - accessories not included
Maximum Depth at 45 Degrees(cm)
Maximum Depth at 45 Degrees(in)
Maximum Depth at 45 Degrees(mm)
Maximum Depth at 90 Degrees(cm)
Maximum Depth at 90 Degrees(in)
Maximum Depth at 90 Degrees(mm)
Number of Batteries Included
Frequently bought together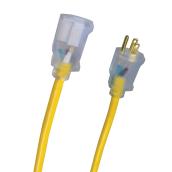 WOODS
Woods 12/3 Extension Cord 25' Yellow
Format 12/3 25'
Details
Article #74045239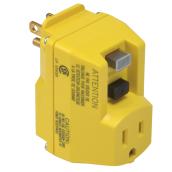 YELLOW JACKET
Single Outlet Portable GFCI Adapter - 1800 W - 15 A
Details
Article #32045050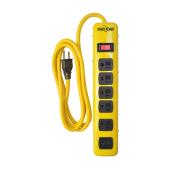 YELLOW JACKET
6-Outlet Power Bar with Surge Protection - 6' - Yellow
Format 1.8M
Details
Article #32045053
Can it be used to cut concrete with a diamond blade?
https://www.lowes.ca/circular-saws/dewalt-dwe575-15-amp-7-14-in-lightweight-corded-circular-saw_g1324257.html?pfmwidg=coord_itm#
Date published: 2018-06-24
Lightweight Circular Saw - 7 1/4" - 15 A
is rated out of
5
by
101
.
Rated

4

out of

5
by
Uncle Jessie
from
Good Saw
Ran out and purchased this DeWalt circular saw to replace an old Craftsman saw that I'd had about 20 years. Craftsman not being what it used to be, I usually buy DeWalt as replacements. This saw seems as good, maybe a little less power but the biggest issue I have with virtually all new circular saws is the fact that the motor sits so low you can't use a speed square to cut a 90, you have to use a framing square if you need a near perfect cut, which is a hassle. The saw won't pass over the upturn of a speed square so unless you're ambidextrous, have extra appendages and/or are polydactyl, enjoy trying to cut a square edge with these new saws.
Date published: 2013-12-31
Rated

3

out of

5
by
Train
from
MISALIGNED PLATE - 2nd one works great
[This review was collected as part of a promotion.] Bought this saw and took it home, clamped a straight edge to a piece of plywood to test cut before using and after about 6 inches the saw would become very hard to push and blade would start burning the wood and until it would become impossible to push. Measured distance from each edge of the blade to edge of the base plate and saw/motor was not aligned with the base plate. You could not use it to cut a line along a straight edge. Returned saw and the blade it ruined for the same model and second one was square and cuts perfect. Just make sure you test it prior to using. Was very tempted to replace with another brand...
Date published: 2019-09-06
Rated

5

out of

5
by
glassmasterB
from
extremely nice circular saw
After replacing all my old Craftsman power tools with Dewalt, I had one more item on my list, which was the circular saw. Things are made so much nicer now and Dewalts quality speaks for itself. I use this circular saw for cutting down larger sheets of plywood for a variety of my woodworking projects. I did however, replace the blade with a Freud Diablo blade after reading many great reviews on the internet. The saw, along with the blade, cuts like butta! I combined this saw with the Kreg Rip Cut to make the cutting of plywood super easy. I would definitely recommend this saw.
Date published: 2013-04-16
Rated

5

out of

5
by
Smokey261
from
Great Features Great Quality!
My wife bought this for me for a Christmas gift. I was very happy with the features, such as, paddle locks on adjustments, detents for the popular angle settings, spindle lock for blade changes, rubber chord support to prevent chord wear at the body and the solid base that has square edges right to the bottom for using straight edges that are thin. My old saw was a stamped metal base that was rounded on the corners and after getting accidentally bent was impossible to true back up to the blade and flatten. This solid plate style base and cast angle setting bracket is a much more solid and accurate construction. Nice design and quality.
Date published: 2016-12-27
Rated

5

out of

5
by
CRbruce
from
Dewalt - Do I need to say more?
I have a Skill saw that is fine but I could never cut well with it. The cut never comes close to lining up with the guide. Its old but has served its purpose. Then I saw this new lightweight Dewalt saw. I happen to also have received a discount coupon in the mail from Lowes - couldn't turn it down. I recently bought a Dewalt power screwdriver and it is amazing! This saw cuts extremely well. The guides are right on! It actually does have electric braking but not instant. The blade wrench snaps in the back near the cord and works as expected. The saw runs very smooth and is lightweight as advertised. I too wish it had come with a 24 tooth blade but since they are only $10 I bought one for it (Dewalt of course). Oh my, does it make a nice cut. I am very glad I bought this saw. Next up for Dewalt replacement is my combination miter saw...
Date published: 2012-09-15
Rated

3

out of

5
by
Richard
from
Base plate issues
I purchased the saw to rip plywood and sheet rock for a remodel project. I have tried to exclusively purchase DeWalt because I like the products. I returned the saw after two days for a couple reasons. First, the base plate has no vertical ridge to slide along a fence for cutting plywood, etc. The base continued to slide under the fence and after two ruined cuts I reboxed it and returned it. Second, there is no safety switch to engage before you pull the switch to start cutting. Not a big deal but a safety issue for me. I did like the fact it had a locking mechanism to hold the blade while you were loosening the bolt to change blades. I said "No" to recommendation only because there wasn't a third option.
Date published: 2020-09-20
Rated

5

out of

5
by
PastorMark
from
Great Purchase
I bought this Dewalt Saw for my son-in-law for Christmas because I had previously bought my self one years ago and it is still running like new, I use it in my construction business and love the ease of adjustments, the straight true cutting ability and the lightweight handling. I would highly recommend spending the extra dollars for this saw verses the other cheaper brands because I have tried them all and this is the best one I have ever purchased.
Date published: 2013-12-06
Rated

5

out of

5
by
Bryan
from
Great little saw.
This saw is so light-weight and compact for the power it packs. I find I use this little saw more than my pricier 10 1/4" Makita because it weighs half as much and does as good of a job. My only minor gripe is the 18T blade it comes with, which is terrible for plywood, but it's hard to complain about that for the price you pay. I immediately upgraded the blade to a 60T finishing blade for an extra $20.
Date published: 2020-05-04