Description
This Dewalt D26950 heat gun features variable temperature control, which allows for adjustment of the heat settings. The built-in overload protection shuts the heating element down and prevents burn up, while the innovative kickstand support provides greater stability and prevents tip over, and the built-in hang ring adds a convenient storage feature. A cord protector keeps the 10-foot cord from tearing away from the housing, and an ergonomic comfort grip provides greater comfort for long hours of use, under both the motor and the heating element. Lightweight and compact, this design weighs only 2.1 lb.
Variable temperature control allows for adjustment of the heat settings
Built-in overload protection shuts the heating element down and prevents burn up
Lightweight and compact design, weighs only 2.1 lbs
Ergonomic comfort grip provides greater comfort for long hours of use
Product specifications
Maximum Temperature (Celsius)
Maximum Temperature (Fahrenheit)
Replaceable Heating Element
Frequently bought together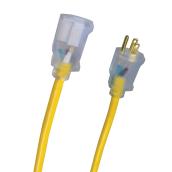 WOODS
Woods 12/3 Extension Cord 25' Yellow
Format 12/3 25'
Details
Article #74045239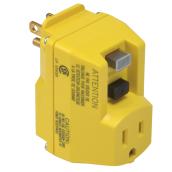 YELLOW JACKET
Single Outlet Portable GFCI Adapter - 1800 W - 15 A
Details
Article #32045050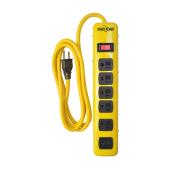 YELLOW JACKET
6-Outlet Power Bar with Surge Protection - 6' - Yellow
Format 1.8M
Details
Article #32045053
Heat Gun - 1550 W - 13 A
is rated out of
5
by
18
.
Rated

5

out of

5
by
Apiarist
from
The all-time BEST way to remove honeycomb caps
It's unlikely many owners also raise bees - and extract their honey - but if you do.... There is NO BETTER WAY to remove the caps off the honeycomb cells prior to honey extraction than this. Just wave a bit of heat from this heat gun (set on maximum heat) a few inches from the comb and the caps pop open and then melt away, leaving the honey exposed and ready for the extractor. There's no drama, no mess, and very little debris left to filter out after the extractor has done its job. This absolutely beats the time-honored "hot knife" decapping process used by beekeepers over the years. I'm pretty sure DeWalt never thought of this.
Date published: 2012-05-28
Rated

5

out of

5
by
Bugs
from
Made a difficult job easier
I was pulling up old vinyl from my kitchen the old fashioned way with a hand-held and pole scraper. It was on a concrete slab. Pain staking, back breaking work. I decided to try a heat gun to make it easier. It's still a hard job even with a heat gun but it's worlds easier. This heat gun performed very well. Easy to use. It got used a long time and never quit. I'm so glad I purchased it. I would recommend it to everyone.
Date published: 2013-09-06
Rated

5

out of

5
by
dcitty
from
New heat gun purchase
I would recommend the gun. It easily reaches the temps I need and is quite easy to use. Good accessories especially the "kick stand" built in component. It was a good choice for me..
Date published: 2012-01-21
Rated

5

out of

5
by
Samm
from
Why did I wait so long?
If you have been using a low end gun, do yourself a favor and upgrade to this one. I've been using a cheap one(s) for 40 years while redoing our old farmhouse, and I finally cracked today and went out and bought this one. Wow! The variable temp is very useful for removing glazing. I only went to 3/4 heat for the paint removal part. The nozzles also keep the heat where you want it. It feels sturdy and balanced. I could go on.
Date published: 2013-08-03
Rated

5

out of

5
by
tails
from
one fine product
Never owned a heat gun before. However it performed every task well that I used it for. I've always trusted the DeWalt name. I recommend this 2 anyone, best bang for the buck.
Date published: 2011-07-12
Rated

3

out of

5
by
erik
from
Probably not worth the extra buck
After owning many less expensive heat guns I thought it may be time to explore other options. I purchased this dewalt and returned it immediately. It's very noisy, a lil heavy and wont go past 1000 F. Other guns for half the price reach higher temperatures but also lack variable control. However, it does feel like a somewhat solid Dewalt tool. Overall, I wouldn't recommend this to a 'DIY' friend unless they anticipated using it constantly.
Date published: 2011-08-14
Rated

5

out of

5
by
Yogi
from
UPGRADE!
[This review was collected as part of a promotion.] Had the DeWalt battery powered heat gun at first. Went through batteries before I could get my wrap done. Decided to switch to this and was impressed. Heat was perfect and great now that I can dial it in.
Date published: 2019-11-13
Rated

5

out of

5
by
Dann
from
Worth the few extra bucks.
It's a heat gun, nothing more. I expected it to heat, and it does that just fine. I shopped around a bit and I sensed that I was getting a better tool for a few more bucks. I think I was right. The variable heat setting is nice. It gets plenty not. You can also set it on end (with the heat blowing up) for no-hands use. I don't use it often, but I don't expect I'll ever have to replace it.
Date published: 2013-06-27