Description
This Dewalt 12V Max Li-Ion combo kit features two cordless tools to help you with you renovation works. The kit includes the DCD710 3/8" drill/driver with two speed transmission, and the DCF815 1/4" impact driver which features 3 LED lights to provide visibility. The combo kit also includes 2 Lithium batteries, fast charger, 2 belt hooks and carrying bag. Three-year limited warranty.
Includes 3/8-in drill/driver, 1/4-in impact driver, two 12-volt max Li-ion batteries, fast charger, bit tip, 2 belt hooks and a contractor bag
3/8-in drill/driver features a 2-speed transmission for optimal speed and torque control on most applications
1/4-in impact driver features 3 LEDs that provide optimum visibility and shadow-free lighting
Two 12-volt max Li-ion batteries provide extended run-time
Fast charger returns batteries to full charge in 45 minutes so you can get back to work in no time
3-year limited warranty on tools and batteries
All tools covered by a 3-year warranty
DCF815: 3 LED Lights provide visibility without shadows
DCF815: One-handed loading 1/4 inch hex chuck accepts 1 inch bit tips
Product specifications
Base Warranty Labor(Months)
Base Warranty Parts(Months)
Battery Warranty Labor(Months)
Battery Warranty Parts(Months)
File/Certification Number
Tools only - drill bits not included
2-Tool 12-Volt Max Lithium Ion (Li-ion) Brushed Motor Cordless Combo Kit with Soft Case
Number Of Batteries Included
Reciprocating Saw Included
Frequently bought together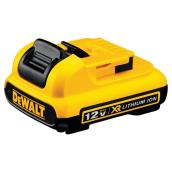 DEWALT
Lithium-Ion Battery Pack - 12V MAX
Format 12V
Details
Article #00275941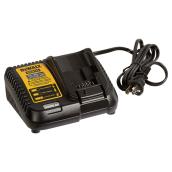 DEWALT
DeWalt Lithium-Ion Power Tool Charger - Charges in 90 Minutes - Yellow LED Indicator - For 12 to 20-Volt Battery
Format 12-20V
Details
Article #00275956
Does this mean I receive 2+1 =3 batteries?
If that is a bonus offer yes
Date published: 2019-04-07
Drill/Driver and Impact Driver Combo Kit - Cordless - 12 V
is rated out of
5
by
100
.
Rated

5

out of

5
by
mwtech
from
Absolutely Breathtaking 12V Drills
I only owned these drills for about 3 days before someone smashed in my windows and stole all of my tools, but I've been using these drills for months with my co-workers. These drills last a fantastic amount of time, the power under these hoods are comparable to the 18V big boys. The impact drill was able to run several dozen 3/8" Lag Bolts into wood with a 3/16" pilot hole. The driver is able to keep up with the demands I throw at it, boring holes in trussing with pilot & unibits. Love these things. They are the first thing on my list to get when my insurance check comes in for my missing tools!!
Date published: 2011-06-01
Rated

5

out of

5
by
ProudPapa
from
The boys first DeWalt!
My two sons (8 and 10) selected this kit with their Christmas money with each getting one of the drivers. They did their research and decided they wanted to have real quality tools and this is what they wanted. Didn't hurt that I have several DeWalt tools (a couple over twenty years old and still going strong) but this was their choice. I'm teaching them how to use their tools safely and they have already sketched out a couple of designs to build. They (and I) love the size, power and nimbleness of the 12 volt line. Two very proud owners of Great quality tools and at a good price!
Date published: 2021-01-25
Rated

5

out of

5
by
Chuck
from
Great tools
[This review was collected as part of a promotion.] The 5 star rating is for the tools, the bag / case gets a -5. If Dewalt makes the bags any smaller its just going to be a glove for the tool. Maybe a rubber coating. It will hold the 2 tools, 2 batteries and charger that come in the kit and "Nothing" else. They even did away with the side pockets on the bag. Now for the actual tools. Outstanding, plenty of power for a 12 volt tool. Small enough to get into tighter spaces. Good battery life. I use the a LOT and have no complaints with the tools themselves. Its the bag, the freaking bag. Its useless. Great tools with no case / protection.
Date published: 2018-11-08
Rated

5

out of

5
by
Dave
from
More power than expected
I'm glad I decided on the 12 volt kit. The impact driver has enough power to break the head off a standard screw if you don't pre-drill. The batteries last longer than I expected and charge up quickly. I also like the bag that comes with the kit instead of a hard case. The metal clips on the bottom of the impact driver and drill are very convenient to quickly hang on a belt or pants pocket. I have already used the impact driver enough to appreciate the light that makes seeing inside a cabinet or dark area easy to work. This combo is awsome.
Date published: 2011-01-30
Rated

5

out of

5
by
steve
from
would buy over and over again
My wife bought this set for Christmas almost a year ago.Have since used them to completly remodel 2 houses,add on three rooms, and a big deck.I dont use nails unless i absolutly have no other chose.The size and weight are a big plus you can get them into smaller places than bigger ones and still have the power you need.I have a 18 volt set that i have used once since got this,the only time i use it is when dealing with concret.I grab the 12 volt everytime, they charge fast witch is nice cause you dont always have time to wait for hours.
Date published: 2011-09-16
Rated

5

out of

5
by
JayBird147
from
Just Enough Power to Get it done!
[This review was collected as part of a promotion.] I work in the Aviation field at a heavy maintenance facility, and I rely heavily on my DEWALT 12V Drill and Impact for removal and installation of panels. In the short period of owning this set I have removed and installed over 3000 fasteners and be through hundreds of battery cycles ( full charged to full dead ). Never once has this DEWALT 12V set let me down. This set has Enough Power To Get The Job Done, But Not Too Much That It Gets You In Trouble!
Date published: 2018-08-07
Rated

5

out of

5
by
SOX Fan
from
Great combo kit
This has to be the best drill combo that I have purchased. I honestly can't say a bad thing about the drills, however, I wish the battery charger had a hole through it so you could mount it on the wall. These drills are lighweight, comfortable to hold, and pack some punch for as small as they are. I bought the combo for work and picked up the extra battery that dewalt offered for free. I use them almost every day, the impact more often, and have been thinking about getting a set for the house. It's nice to have a small drill that is ligtweight, powerful and fits in my toolbag. I no longer need to lug around a 18v with me everywhere I go. It makes my toolbag a lot lighter. I've even dropped my impact off a 6ft ladder picked it up and had no problems. The l.e.d's are a great feature and it comes in handy.
Date published: 2011-06-03
Rated

4

out of

5
by
notalreadyused
from
Handyman special
First of all, Lowe's online has become my favorite place for tools. If you find a lower price, they'll beat it. I had a hard time deciding between the 12v and 20 volt drill/driver combo because their isn't much difference in price or size. I went with the 12v because I just wanted something small and light for occasional jobs around the house. Its great for anything up to 1/4 inch. Above that, the battery won't last long. For larger bits and more power I use an electric or for frequent cordless use, I would invest in the 20v brushless. No need to discuss Dewalt quality and warranty. These tools work smoothly and fit your hand like a glove.
Date published: 2016-12-18