Description
The DeWALT gyroscopic screwdriver uses hand motion to select between 3 speeds and switch forward and reverse motion. The 15 clutch settings provide a wide range of torque options. This 8V gyroscopic screwdriver uses an 8V MAX battery for longer runtime with a 1-hour charge and reaches a maximum speed of 430 RPM. Adjust the handle for in-line or pistol-grip usage. It takes 1/4-in bits.
Product specifications
3-year limited warranty, 1-year free service contract, 90-day money-back guarantee
Frequently bought together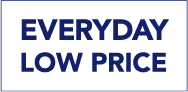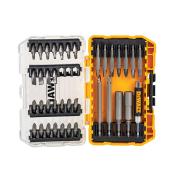 DEWALT
DeWalt 37-Piece Screwdriver Bit Set - Steel - Hard Protective Case - Assorted Bits
Format ST/37
Details
Article #0794509
What kind of battery does it have?
8v, its the only 8v tool, along with a hard to find small 8v flashlight.
Date published: 2020-05-16
DeWalt 8-Volt Max 1/4-in Cordless Screwdriver Kit with Battery and Charger - 4-Amp Motor - Variable Speed
is rated out of
5
by
147
.
Rated

5

out of

5
by
aproks
from
Great Cordless Screwdriver!
~It's not a drill or impact, it's a screwdriver and it's very good at it. ~Feels great in the hand and the gyroscopic feature is a breeze to get the hang of. ~Built solid and well balanced. ~Charger is wicked fast allowing you to use it all day with two batteries. ~Torque setting is handy for sensitive or hardcore applications. ~The handle swivels easily for those tight spaces. ~Comes with a bit holder (2 bits) for the top of the screwdriver! Can't say enough good things about this screwdriver! I looked at the competition and always kept coming back to this. 8V is perfect for a cordless screwdriver whether it's for home or professional use.
Date published: 2018-11-29
Rated

5

out of

5
by
ML calif
from
Works better than expected! (err in manual!)
Love the Gyroscopic 8V Max electric Screwdriver #DCF680 - found an error in the Manual! The manual says, "VARIABLE SPEED: The spindle speed is dependent upon the speed that you rotate your hand." NOT TRUE!! The speed the tool rotates is dependent upon the amount of rotation you apply to the tool from the moment when you turn it on -- i.e. change in angle from when you turn it on. If you had to rotate your hand at any speed to make the screwdriver rotate accordingly, that would be a manual screwdriver, not an electric one. The whole purpose of the gyroscope is for the tool to ascertain the change in angle that you apply with your hand to control the speed.
Date published: 2020-05-01
Rated

5

out of

5
by
Justin
from
Great tool
I am an apartment manager and have had about a dozen cheap, rechargeable screwdrivers over the years. We have drills, but those are overkill for many tasks in apartments. I used this screwdriver to change outlets and light switches in an apartment. It worked flawlessly. The gyroscopic control give you excellent speed control. It isn't too heavy and the ability to switch from straight to gun shape was a definite plus. Unlike a drill, I can stick this in my pocket when I don't need it. I let it charge overnight the first time and was able to change 20 outlets and 10 switches from removal to installing the new plates on one charge. This took place over a couple hours. Cheaper screwdrivers had me changing batteries much more frequently. The next day I used it to install a microhood and it had plenty of power to securely tighten the bracket screws into the studs. Initially, I was concerned about the price and only having the one battery. However, it lasts longer than most and charges really fast. The gyroscope control is really cool and in my opinion worth the price.
Date published: 2013-08-29
Rated

5

out of

5
by
JimBob2
from
Gyroscopic Screwdriver is Tops
[This review was collected as part of a promotion.] I purchased the gyroscopic screwdriver some months ago and it has been one of most used tools. The ability to change speeds by the way to turn the drill is a great feature plus the fact the grip can be changed. The light helps illuminate the screw location and I have used the tool to drill and drive or loosen fasteners. The charge indicator helps you know if you have enough power to get through a job. Charge time is fast- my screwdriver came with a flashlight, charger,extra battery and carry bag. Well made, lightweight,versatile and valuable sums it up.
Date published: 2019-11-06
Rated

5

out of

5
by
Buck
from
A Dedicated Screwdriver
Now I love my DEWALT 18-Volt XRP Ni-Cad, so much so that I was going to give this screwdriver a shot. After first trying out the Dewalt Gyroscopic Screwdriver at home, I wanted to take it back. After using a 18 volt impact driver, this screwdriver felt under powered. What could this screwdriver do that my driver could not do better? Well, for one thing it was less likely to strip threads, if you plan to screw and unscrew the same hole, this screwdriver provides the right touch. The screwdriver is not under powered, but has the right power. It has found a home in my workshop. I was a little upset that the screwdriver now only comes with one battery, but then again this is an adjustment.
Date published: 2014-01-01
Rated

4

out of

5
by
Rcoronel
from
Love the gyro
First of all, I had to get used to it with the whole twist of the wrist thing. But once you get the hang of it, this small screwdriver is awesome. The only problem that I didn't like was that it only came with one battery. But charging it was quick. The first project I used it on was building a 3 drawer cabinet. Getting into small little corners was at ease. Anyway, I would recommend this small new device for small little projects. They really need to put in an extra battery.
Date published: 2013-08-03
Rated

5

out of

5
by
Steve
from
For Handicapped
I had a stroke several years ago. I still have limited use of my right hand. I can operate the Gyro because I can grip, but to move fingers to move switches is hard. I have used this often in the last two months since I bought it. This is for all the common screwdriver work not like hammer drill work. Great product for all, especially the handicapped.
Date published: 2014-01-31
Rated

4

out of

5
by
MarshMan
from
Hard to justify the cost
This tool works great, but I still have a hard time justifying the $100 price tag on this. It works as promised once you get used to the features. I have only had it a week and have not used it as extensivly as I thought I would. I still pull out my impact driver when power is needed. It worked great when doing electrical items such as installing switches or outlets and the cover plates. The power was not too bad, but still lacked the oomph needed for the heavier work. All in all a good tool, could use a second battery for the price of this thing. This might be more valuable to someone who uses screw drivers extensively or rich DIY's, but for a general contractor, it is just an overpriced gadget that will spend more time in the bag then in hand.
Date published: 2013-08-06