Description
Make drilling jobs easier with the Dewalt electric drill. Featuring a ratcheting keyless chuck, the drill holds bits firmly in place with a knurled dial for easy tightening and loosening. Maintain a comfortable grip with the soft, ergonomic handle. The variable speed trigger delivers up to 2,500 RPM, making the 8-amp drill suitable for a wide range of applications.
Product specifications
3-year limited warranty, 1-year free service contract, 90-day money-back guarantee
Frequently bought together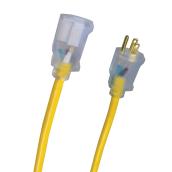 WOODS
12/3 Extension Cord - 25' - Red
Format 12/3 25'
Details
Article #74045239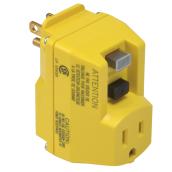 YELLOW JACKET
Single Outlet Portable GFCI Adapter - 1800 W - 15 A
Details
Article #32045050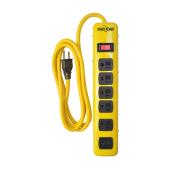 YELLOW JACKET
6-Outlet Power Bar with Surge Protection - 6' - Yellow
Format 1.8M
Details
Article #32045053
Dewalt 3/8-in VSR Keyless Corded Pistol Grip Drill Kit - 8-amp Motor - 2500 RPM - Variable-Speed Trigger
is rated out of
5
by
133
.
Rated

4

out of

5
by
lmbr
from
Just Purchaced - Nov. 2010
The primary reason for buying this particular model is its design. There are very few 3/8 drill that are a decent quality and price where the handle is actually centered on the body of the drill. It is very well balanced. You may read some people reviewing other drills say that you have to have strong hands, but the case is that they are just poorly balanced. I used this drill to build a 2x6 shelf in my basement and it was a pleasure to use. I would definitely recommend this to a friend. I gave it 4 stars cause I haven't used it enough to determine its durability and life span. It feels sturdy, but time will tell.
Date published: 2010-12-15
Rated

3

out of

5
by
Dan-
from
8-Amp 3/8-in Drill Kit with Case
First of all, it did not come with a case, but rather a cloth bag which is OK because I didn't care about any kind of case anyway. All I was really looking for was a variable speed drill (VSR) that I didn't have to worry about a battery crapping out when I need it most. As it turns out, this drill has all the power and speed I was looking for and really feels and handles great, but... as far as the variable speed goes, the trigger button needs some work as it causes the drill to go from 0 - Max very easily with very little variation in-between.
Date published: 2013-07-31
Rated

5

out of

5
by
lowes_regular
from
solid and strong
I bought this because I really needed a variable speed drill. I almost got the cordless but opted against having to remember to recharge batteries. So far I have used it for several light use projects. I love that the sensitive trigger allows me to gently use the power and torque when working on finer projects. The best part of the tool it the chuck. It's the best church I have ever used and wish is was on my other drills. The only thing you give up for this drill is that it does not go up to 1/2 inch bits.
Date published: 2011-05-17
Rated

5

out of

5
by
BellevilleIL-DIYer
from
Great Drill - Addressing Chuck Issue
This is a great drill. Powerful despit its smaller size and has a lightweight feel. Compact for lots of applications. I've seen a lot of posts about a loose chuck or bits falling out and here was my experience. Out of the box I put a drill bit in and tightened it with light pressure. The bit slipped and I thought that what everyone was posting was true. But I tightened it until the chuck clicked a couple of times and drove a 3/8 drill bit through a 2x4 with aggressive pressure. Never slipped. I even turned the 2x4 to endgrain and put full pressure on the drill, never slipped once. I drilled about 6-7 holes and all with full pressure as fast as I could. My suggustion is to tighten the chuck until it clicks a couple of times.
Date published: 2021-02-03
Rated

5

out of

5
by
Alan
from
Great drill for the money.
I bought this drill a bit over 2 years ago. I still love it and would love another. I have only used it on rough carpentry projects because I have a cordless version. I think that the variable speed can be a bit touchey but other than that I think that it is great. As far as I'm concered I could run it over with my truck and it would still work. Overall I would deffinately reccomend this to a friend.
Date published: 2010-12-17
Rated

5

out of

5
by
RickLe
from
What a drill should be.
Awesome power & rpm. I'm 55 and this is undoubtedly the best drill I've ever used. I'm done with dead & dying batteries, half power and low rpm's just for portability when I don't really need cordless portability. Nice case also holds a Dewalt drill bit case so I also bought the larger of the titanium drill bit kits. Nice to have everything in one case.
Date published: 2012-05-23
Rated

5

out of

5
by
SpruceBruce
from
Nimble, powerful
I'm a casual DIY'er and project hobbyist: this driver has a good bit of power, and the size and weight of the tool make it feel very nimble. The forward positioned is pretty great, it lets you keep more control on the tool when driving at an awkward angles. Like other drills I've used, it does have a pretty short trigger travel between low-speed and high-speed, but just like driving a new car, it just takes some getting used to.
Date published: 2013-03-11
Rated

3

out of

5
by
do most of it myself
from
Mr
This has high rpm with very quick trigger and when holding the chuck, your hands can get used heavily. the chick has a two click tightening and done. most people will try to hold the chuck til the drill spins out of their hands, but not necessary. if the entering drill bit shaft is not at least in the ball-park round, or you do not take care with mounting in the chuck, yes, I can see to where a chuck might be broken. This is a great drill for a paint stir or wire brush attachment. However you have to keep holding the tigger as far as I can tell. This high rpm is to fast for ordinary drill bits and screws. You must learn to start slow and use good materials. This is a power drill, battery drills have their place and you should have one of each. The case could be much better but better than nothing.
Date published: 2011-04-27