Description
Undertake various fastening projects with this DeWALT cordless driver kit. The high-speed transmission of the drill offers users two speed options for performance. The drill comes with an ergonomic handle for better grip. This compact drill kit comes with a compact charger, two 20-volt battery packs and a contractor bag.
Compact, lightweight design fits into tight areas
High performance motor delivers 300 unit watts out (UWO) of power ability completing a wide range of applications
High speed transmission delivers 2 speeds (0-450 and 1,500 rpm) for a range of fastening and drilling applications
1/2-Inch single sleeve ratcheting chuck provides tight bit gripping strength
Ergonomic handle delivers comfort and control. Tool Width: 1.9 inches. Tool Height: 6.5 inches
3-year limited warranty
16 clutch settings allow you to adjust the torque to match the task at hand
Includes one 18-volt XR charger, two 1.3 Ah Li-Ion battery packs, and one heavy duty kit box
Product specifications
Base Warranty Labor(Months)
Base Warranty Parts(Months)
Battery Warranty Labor(Months)
Battery Warranty Parts(Months)
File/Certification Number
Forward and Reverse Switch Included
Customers should return items containing lithium-ion batteries to their local Lowe's store
Motor Warranty Labor(Months)
Motor Warranty Parts(Months)
Number of Batteries Included
Number of Clutch Settings
Special Warranty Labor(Months)
Special Warranty Parts(Months)
Frequently bought together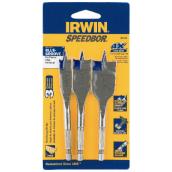 SPEEDBOR
Irwin Speedbor Spade Drill Bits - 3-Piece Set - Double Cutting Spurs - Blue Groove Hex Shank
Details
Article #02445068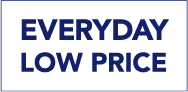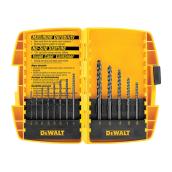 DEWALT
DeWalt Black and Gold Metal Drill Bits Set - 13-Piece - Black - 135-Degree Split Point
Format 13PC
Details
Article #00275548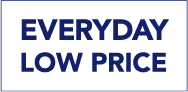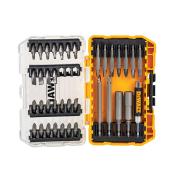 DEWALT
DeWalt 37-Piece Screwdriver Bit Set - Steel - Hard Protective Case - Assorted Bits
Format ST/37
Details
Article #0794509
Can the charger be plugged in to a 220V outlet overseas?
Some that are made in mexico or china are universal chargers. Check the charger it should say 80v ~ 240v
Date published: 2018-12-26
how much torque?
Torque Adjustment Collar: The tool has an adjustable torque screwdriver mechanism for driving and removing a wide array of fastener shapes and sizes. Circling the collar are numbers and a drill bit symbol. These numbers are used to set the clutch to deliver a torque range. The higher the number on the collar, the higher the torque and the larger the fastener which can be driven. To select any of the numbers, rotate until the desired number aligns with the arrow. Dual Range Gearing: The dual range feature of your drill/driver allows you to shift gears for greater versatility. Speed 1 (high torque setting) Speed 2 (low torque setting)
Date published: 2019-04-10
can the numbers on the chuck clutch be transposed to actual torque values that can be rated in inch lbs or newton meters?
No, torque varies depending on battery charge capacity and overall condition. Same applies to tool components, motor and gearbox condition etc., variable speed switches also do not deliver reliable consistent responses.
Date published: 2019-04-24
Hi I just bought thee dewalt 20v drill dcd771c2 but after buying it I realized that I am looking for brushless I thunk better drill right because we are putting together a risin shed and going too screw it too patio stones is this the right drill for me
You generally use a hammer drill with a concrete bit for drilling into patio slabs. A drill with brushes versus brushless doesn't really effect power output much. 
Date published: 2018-10-28
Hi, May know if drill bits are included or not? Thanks Subhash
No, drill bits are not included
Date published: 2022-11-20
Are additional batteries available for this drill?
DeWalt 20-Volt Max 1.3Ah 1/2-in Cordless Drill Driver Kit with Batteries and Charger - 1800 RPM - Keyless
is rated out of
5
by
726
.
Rated

4

out of

5
by
JimtheRunner
from
Good product at good price
Much lighter and more powerful than my old drill. Led light is very nice. Lithium ion battery does not hold charge as long as my makita ni-cad, but does come with 2 batteries to let you get job done. Does have 1/2' chuck, but not quite like a heavy duty corded 1/2" drill. Batteries do not lock onto charger, they just lay on it, so it has to be on a near flat surface. One thing I miss from my Makita, is the Dewalt does not have an on-drill holder for screwdriver bits-small but noticeable and a bit unhandy. Lowes online purchase was very easy and free shipping was lighting quick. $100 price was very good and by using lowes card got extra 5% off.
Date published: 2014-01-02
Rated

5

out of

5
by
TattooedAmerican
from
Awesome set
The drill does exactly what it is designed to do. The batteries that come with it are the smaller batteries and the charger takes a few hours to charge the batteries, if you are using the drill for hours on end everyday, the batteries and charger would be a nuisance. I bought the drill for work around the house and get a few projects done before the battery needs to be changed out. The 20v batteries will fit a plethora of other Dewalt tools so adding additional tools is hassle free and a bit cheaper only having to buy the tool. I am sure I will.purchase more batteries and a fast charger at some point but for now, this gets the job done!
Date published: 2021-03-31
Rated

5

out of

5
by
NashvilleSlim
from
DeWalt 20-Volt Max 1/2-in Cordless Drill
I bought this not because I wanted another drill, but because I wanted a couple of spare batteries and got the drill and the charger, in the set for $10 more than the batteries would have cost. Having said that, the drill is very good. My son & I have both knocked it off of a ladder, up 10 feet, directly on to a concrete floor, without any affect. It is lighter than my other DeWalt drill but appears to have every bit as much torque and I like the chuck better. I also like the belt clip on it (which, if I had been using it I wouldn't have dropped it on the deck) It is also pretty good on batteries. Overall it is a very good deal.
Date published: 2013-12-09
Rated

2

out of

5
by
Kerfpro
from
This is a DeWalt?
I am a huge DeWalt fan and have been extremely satisfied with all of their tools. That's why I was so surprised and so disappointed with DeWalt after purchasing this drill. It is definitely not up to their standards. !. The chuck will not stay locked on the attachment weather it be a drill bit or anything else. No matter how tight you tighten the chuck it will come loose. 2. When you stop the drill their is a very strong and loud locking of the brake which often loosens the chuck. 3. The highly touted Lithium battery even when fully charged lasts a very short time before having to replace it and put it back on the charger. 4 DeWalt blew this one. Cannot recommend this drill.
Date published: 2015-02-26
Rated

4

out of

5
by
Zeno
from
Seems to work fine
Once you get used to seeing the blue sparks on the brushes which apparently is normal while running and especially when starting and stopping. As a promotion the drill set was only $10 more than the price of the batteries that come with it, so that made it a no-brainer. The little working light stays on quite a bit longer than my Makita so you are putting the drill down and the light stays on another minute. I guess that could be handy in some situations. I also got the portable LED lamp which uses the same Lithium Ion 20V. batteries. The batteries seem to be the latest development so that is a good recommendation. Comes with the charger of course.
Date published: 2013-12-08
Rated

5

out of

5
by
EdRiverside
from
Ice Auger
I'm using this drill specifically to attach to a Nils 6" auger. I'm in Michigan and we currently have between 12-16" of ice depending on the lake. I can get about 15 holes per battery. Holes cut very fast and quiet. The newer battery style is low profile so you can keep them in your pocket and warm, otherwise they will lose a significant amount of time. Only gripe is the description; The batteries I received were 1.3 Ah, and somehow the description details 3 Ah total. I know we are taking about a small difference here, but when it's -5 with the wind chill, every hole you can get out of a battery counts. Dewalt carries the 1.5 Ah batts and they are advertised as being significantly more efficient.
Date published: 2014-01-26
Rated

1

out of

5
by
DamonRL
from
Complete Junk
I purchased the drill for myself as a father's day gift 2 father's days ago. It has been lightly used, mostly stored in my closet. Complete Junk. If the battery is left on the charger, your battery is dead and will not charge. Throw it away. Head of the drill came off while I was drilling a small hole. DeWalt refuses to repair. "Do you have your recipe" line. Avoid this drill at all cost. Lowes should immediately pull this product from their floors. I had a Back and Decker that lasted years and years and still have a Hitachi that is 8+ years old and still works with no problem. This is a sure sign of low quality products.
Date published: 2015-12-21
Rated

5

out of

5
by
Gunny
from
Outstanding value, best buy for the buck
First time that I have made an online purchase. It was simple and I got exactly what I wanted. The product description was spot on and very helpful. After reading product reviews on a similar tool and having several other DAY's recommend the Dewalt it was an easy choice. The only feature I wish it had is a multi directional trigger, push on the top of the trigger to go forward, the bottom of the trigger to reverse. When I took the tool out of the box I expected to have to charge the battery before I could use it. It was ready to go and has kept on going. It only took the battery about 30 minutes to recharge while I continued to work. Lives up to the Dewalt standard.
Date published: 2016-01-10