Description
Take on home projects with this cordless compact drill. It has a lightweight and compact design that fits in confined spaces. The 20-volt drill offers long battery life for consistent use. An ergonomic handle provides a comfortable hold and control. Fitted with a LED light, this DeWALT drill is easy to use in dark areas.
DEWALT brushless motor delivers more run time over brushed
Compact (7.52-in front to back), lightweight design fits into tight areas
Ergonomic comfort grip handle provides ideal balance and tool control
LED light with 20-second trigger release delay provides increased visibility in dark or confined spaces
Includes DCD777 compact brushless drill/driver, two 20-volt MAX compact lithium ion batteries, charger and kit bag
Product specifications
Motor Warranty Labor(Months)
File/Certification Number
Forward and Reverse Switch Included
In-use/lifestyle images: one tool only, additional tools not included
Motor Warranty Parts(Months)
Number of Batteries Included
Number of Clutch Settings
Battery Warranty Parts(Months)
Base Warranty Labor(Months)
Base Warranty Parts(Months)
Battery Warranty Labor(Months)
Frequently bought together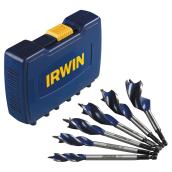 IRWIN
6-Piece Wood Drill Bit Set
Format ST/6
Details
Article #0244222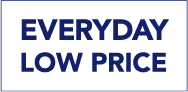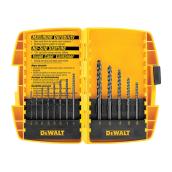 DEWALT
DeWalt Black and Gold Metal Drill Bits Set - 13-Piece - Black - 135-Degree Split Point
Format 13PC
Details
Article #00275548
DEWALT
DeWalt Screwdriver and Drill Bits - Hex Shank - Set of 88 - 2-in Bit Extension L
Format 88PC
Details
Article #00275774
Why are you still advertising a drill on Facebook from your ad, that you don't have or no store within a100 km has? Waste of time going to store this morning. Will shop elsewhere. (Desalt in case your not sure.
I bought one that was also on sale and sold out everywhere, so I paid online and got it a couple weeks later.
Date published: 2020-12-10
Does the product drill through brick and concrete?
You need a hammer drill for concrete.
Date published: 2020-11-04
How much torque does this have?
It has some decent torque. It's a very good value for the Sale Price.
Date published: 2021-04-09
how much torque ?
Reasonable torque for most householder jobs but I returned the item because I only have one drill/driver and it would not handle the installation of 3 1/2 inch deck screws. I would only purchase if you also have a drill + a driver.
Date published: 2021-05-10
brushless what's mean ?
In DC motors the brushes are part of a rotating switch called the commutator. They deliver electricity to the moving part of the motor, but, because they switch and short several times each rotation, brushes are also responsible for the sparks, radio frequency interference, and limited lifespan typical of many powered hand tools. Brushless motors use electronics to eliminate all of those problems, making them more efficient and more durable. A brushless motor will run longer on a single charge, provide full torque at any speed, and remain operational much longer than a brushed motor of equivalent size and power.
Date published: 2022-01-11
Are there 2 batteries as the picture shows or not?
One charger and two batteries
Date published: 2022-12-15
I would like to know, the battery for the shown drill is 20-Volt Max Lithium Ion, (how many Amps please)
Please re-read the details.  The battery listed here is 1.3 Amp.  
Date published: 2019-07-28
whats the recommended room temperature for the drill and the battery to perform well, any restriction for temperature under cold weather condition ? thanks. will the battery lose power ir drain faster under cold weather ? wi
DeWalt 20-Volt Max 1/2-in Cordless Compact Drill/Driver Kit - 1600 RPM - Brushless Motor - LED Light
is rated out of
5
by
1337
.
Rated

5

out of

5
by
Chand
from
I should have bought this earlier. Work horse.
This is a very powerful tool.I already owned 3 drills from another cheaper brand two of which died on me in just one project. So the third one I still have is the replacement from the second one's warranty. The reason I am telling all this is because when I compared the power of the two drills I found out the DEWALT 20-Volt drill had far much more power than the other brand. I worked the whole day with a single charge with continuous use. It drove screws in 4x2 Hardwood with ease compared to the cheaper brand for which I had to pre-drill holes in order to drive in screws fully.I wish I bought this earlier.
Date published: 2017-06-11
Rated

4

out of

5
by
NC Stamper
from
Love it, but the chick slips sometimes. :/
I bought this as a Christmas present for myself and have used it more than a few times. It has worked flawlessly until last night when I went to loosen the chuck to remove a driver bit, by hand. When I turned the chuck, all I heard was the clicking of the locking mechanism that holds on to the bits, and it would not loosen. After trying a few more times, it eventually let go. The locking mechanism on the chuck works fine most of the time I guess because I haven't seen other complaints about it here, but have seen some after Googling the problem. It's a great drill/driver with plenty of power and I love it, but the slipping chuck has me a little concerned, hence the 4-star rating.
Date published: 2018-01-08
Rated

5

out of

5
by
jeffer
from
Dewalt 20-volt drill
[This review was collected as part of a promotion.] This seems to have way more torque power than my 18v one but the biggest reason I bought this is that its about 2 1/4" shorter than my old one, weighs about half, and I can get into tighter spots, like inside of cabinets etc... and its not quite as tall as my other one. If these battery's last just a little longer than my old one's do with this new design, I'll be more than happy because I was very satisfied with how long the 18volts ran. The only con.. is that the light stays on for a 1/2 a minute after releasing the trigger.
Date published: 2018-12-21
Rated

4

out of

5
by
micco
from
Powerful Drill, Very Lightweight for Handling
Used the drill yesterday for the 1st time. Worked with the drill for 4 hours and battery never lost power. I need to get hex head, square tip, or other screws though as this drill stripped many Phillips head screws really bad, very good power, even on low power. Replaced my 18v Dewalt with this model and am very pleased with it. Lighter to work with and light above trigger makes a difference. Was working in the attic and didn't need a flashlight to see. I wouldn't own any thing but Dewalt, just my personal preference. AGREE with others, Dewalt could put a belt clip in with this model.
Date published: 2016-12-19
Rated

1

out of

5
by
Molly
from
Partially plastic ratchet. Won't hold 1/18 bit
[This review was collected as part of a promotion.] If the drill can NOT hold a bit, then we cannot dance. Porter Cable PCCK600LB has a metal ratcheting chuck, magnets on top to hold bits, led light, cheaper 20V lithium ion batteries (did you check the price of extra/replacement batteries?) Buy the way, they are owned by the same company. So what's in a name? It is not a brushless motor, but my issue is always the batteries wearing out, not the motor. Just saying...Slight weight penalty, but it holds the bit. 20 V Lithium batteries so much better than Nicad-just tossed that old drill. A woman's perspective.
Date published: 2019-08-12
Rated

5

out of

5
by
DIYguy
from
Great drill for the price.
I got this drill the other day mainly because I was tired of switching out between bits for projects. For the past several months I've been steadily working on little wood projects almost 5 days a week. My original dewalt drill is only about three years old and is still kicking butt. I must say this one felt like it had less power and slower than my original model but as soon as I used it I could feel the power behind it. I'm actually having to learn to ease up on it so I don't drill through wood or screw in bolts too deep. It's very smooth. I must say this little guy is great for the price and would definitely recommend it. Most of my power tools now are Dewalt aside from some craftsman and a Ryobi but I must say Dewalt never lets me down.
Date published: 2021-05-15
Rated

5

out of

5
by
Ken T
from
Excellent drill, Great price
I purchased this drill two years ago and it is a pleasure to use. I have used it rough and hard and it has held up and performed way above expectations. I used it to put a on a 2,000 sqft metal roof including the perlines over the singles and under the metal. Every screw was put in with this drill. Then I built a 16 x 24 ft deck and again every screw in it was put in with this drill. last week I used it to drill with a 2 1/2 in hole saw through two joined 2 x 6 on edge so that is was drilling through 5 1/2 in. It took three batteries to do it but it went through. The battery life is great and charge time is quick. Great Drill
Date published: 2019-12-01
Rated

1

out of

5
by
kelly
from
Only lasted a couple of weeks
Bought this around Father's day from the Spokane North store of this year and was excited to use it to put up a wooden picket fence. Batteries seemed great but after just 2-3 charges, they both crapped out. Either the charger isn't charging them or the batteries were just crap to start with. Either way, I ended up with a very expensive paper weight. I had to use my corded drill to finish the job. VERY DISAPPOINTED with the quality. I would give it zero stars if I could. Will try to return it to the store, but since it's been 6 months, they will probably just laugh at me.
Date published: 2019-09-25