Description
Achieve the power needed to add holes to wood, steel and masonry with the Dewalt 7.8-amp hammer drill. A lightweight design and a two-finger trigger make it a comfortable tool to operate. Choose between two modes to meet the needs of each application. This electric hammer drill also includes a rotating side handle and a depth rod for added control and accuracy.
8.5 Amp motor provides high performance and overload protection
Dual mode: hammerdrill/drill for wood, steel, or masonry applications
Lightweight design (4.3 lbs.) for extended use and less user fatigue
Two-finger trigger for increased comfort
360-Degree side handle with depth rod offers greater control, versatility, and increased depth accuracy
Variable speed allows for precise hole placement on work surface
Optimal drilling applications in concrete from 3/16-in to 3/8-in, Maximum drilling applications in concrete of 1/2-in
Drilling applications in wood up to 1-1/4; Drilling applications in steel up to 1/2-in
Provides high performance and overload protection
Product specifications
Base Warranty Labor(Months)
Base Warranty Parts(Months)
Battery Recharge Time(min)
File/Certification Number
Forward and Reverse Switch Included
Number of Batteries Included
Number of Clutch Settings
360 Degree Side Handle, Depth Rod, Chuck key with holder, hammerdrill
Variable Speed Trigger Included
Frequently bought together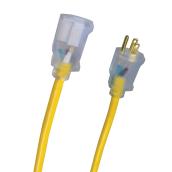 WOODS
Woods 12/3 Extension Cord 25' Yellow
Format 12/3 25'
Details
Article #74045239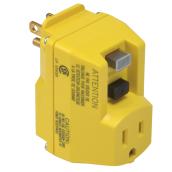 YELLOW JACKET
Single Outlet Portable GFCI Adapter - 1800 W - 15 A
Details
Article #32045050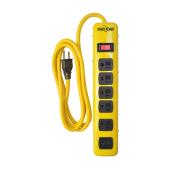 YELLOW JACKET
6-Outlet Power Bar with Surge Protection - 6' - Yellow
Format 1.8M
Details
Article #32045053
Dewalt 1/2-in VSR Single Speed Corded Hammer Drill - 8.5-amp Motor - Dual Mode - 360° Side Handle
is rated out of
5
by
94
.
Rated

5

out of

5
by
Shorelineron
from
Go To Drill
[This review was collected as part of a promotion.] This is the first 1/2" Drill I have owned and it is now my "go too" drill. Plenty of power but with the variable speed control it allows me to handle any job. The chuck is easy to use and grips the bits like no other I have owned, especially key less chucks. After doing my research I chose the Dewalt Corded Drill. Pricing at Lowe's was comparable with other stores, even on line. What helped me make my decision was Lowe's has always honored the Troops and Veterans. Even though they are further away, on most purchases I will drive the extra distance.
Date published: 2018-10-21
Rated

4

out of

5
by
Bob-the-Builder
from
Good Basic Hammer Drill
Overall, I am happy with my purchase, and I think this is a pretty good drill, espeially for the price. I have only used it twice, and it got both jobs done. However, it did seem to struggle with one of the jobs I was using it for, and it was getting pretty hot by the time I was finished. If you are going to demand a lot out of a drill, or use it for some heavy duty jobs, you should probably go with a more powerful model. If you are just going to use it for an occassional project or light to medium duty use, this drill should work fine.
Date published: 2014-07-13
Rated

5

out of

5
by
Afif
from
Great product for DIY and more
I recently bought this from Lowes and I am amazed how much power it is packed with. I have used 12V battery powered drill before, and this one would blow the 12V one out of water. It can drill a hole in cinder blocks within seconds. Somewhere around 10 seconds to be exact. One drawback is that it didn't came with a carrying case. And dewalt apparently doesn't sell just the carrying case though. Other than that I cant complain about this drill. Great for DIY projects and great value for the money.
Date published: 2014-05-22
Rated

4

out of

5
by
Veehb
from
Problem with depth rod
Bought this hammer drill to install 4.5 inch long 1/4" Tapcon bolts in a cinder block wall. It drilled the holes nicely and quickly. I was also able to drive the Tapcon Bolts into the wall with ease using the drill. But, I needed to use the included depth gauge rod. It only will work with the removable handle set at two locations, both parallel to the drill handle (below or above the drill). When the handle is set to 90 degrees from the main handle, the depth gauge rod hits the motor housing. I find having the handle parallel to the main handle makes drilling more difficult. I found the keyed chuck awkward to use. Wish it had a keyless chuck. Didn't think about this when I bought the drill.
Date published: 2013-06-01
Rated

1

out of

5
by
Kevin
from
Poor quality for Dewalt
I have many Dewalt tools, but this one doesn't make the cut. I purchased this and it ended up burning up within the first 30 min. I returned it and got a new one. Used it about 6-10 time over the last year. It gets very hot if you use it for more then 5 min. Then two of the 4 bolts the hold the housing together broke. After calling Dewalt, they said I could take it to their service center one hour away, but I would probably be charged since it was about a year since I purchased it. This product definitely has some design issues.
Date published: 2016-11-13
Rated

3

out of

5
by
Boris
from
This one is going back to the store.
I needed to put some concrete anchors in the basement wall, so I got this drill in local Lowes. With a right bit, it goes through concrete well (got seven holes out of eight, number 8 must've hit a hard rock - it just won't budge). The noise level was low, and there wasn't much dust. After drilling holes, I started installing the anchors. The plastic bit went in easily, so I used the drill as a screw-driver to screw the metal screws into the plastic. Nope, this drill won't work as a screw driver. No power at all at low RPM. I use my drills a lot on low RPMs, so I can't have this. Also, the controls are made out of thin plastic. I don't think they will last very long.
Date published: 2012-01-10
Rated

5

out of

5
by
JOHN
from
DONT LET THIS SIZE AND AMPS FOOL YOU.
I PURCHASED THIS ONLY BECAUSE IVE USED DEW ALT FOREVER, I NEEDED IT TO ATTACH FOOTINGS TO MY CEMENT FOUNDATION ALONG SIDE OF THE HOUSE, AT FIRST I WASN'T SURE BECAUSE OF THIS SIZE, I DID LOOK AT MILWAUKEE UNTIL I FOUND OUT IT WAS NOW CHINA. BEING THEY WERE THE KIND OF RUGGED BACK IN THE DAY. I CHOOSE THIS ONE BECAUSE OF ITS RATINGS, AS LONG AS YOU HAVE GOOD SHOULDERS AND GOOD STRONG FIRM HANDS THIS WORKS PERFECT. I DROVE 3/4" LAG HOLES LONG WITH THE BOLTS IN NO TIME, 12 TO BE EXACT. THEN THE OTHER DAY I NEEDED THIS FOR USING SELF TAPPING 4" SCREWS FOR MY NEW STEEL GARAGE, DROVE ANOTHER 40 WITH EASE, IT IS EXTREMELY POWERFUL, AND I LIFE WEIGHTS, THE TORQUE OF THIS TAKE YOU WITH IT, WORKS WITH A CAUSE, VERY HAPPY AND THE MOST HANDIEST EVER, definetly not a wimpy tool. A VERY GOOD BUY WELL WORTH IT, !!!!!!!!!!!!!!!
Date published: 2017-08-09
Rated

4

out of

5
by
KennyD
from
Easily met immediate Masonry drilling needs
I purchased the Dewalt DW511 to drill 2 inch diameter holes through seven inch cement walls. Coupled with a Lenox masonry hole saw, the drill performed flawlessly. I looked at the DW520 before buying the DW511. I went with the DW511 because as drills go, this 1/2" drive hammer drill will meet the majority of my drilling needs, which only occasionally include the hammer function of this hammer drill. If I had more frequent hammer drill requirements I would have chosen the DW520.
Date published: 2015-07-20