Description
Use the Dewalt power drill for drilling and mixing mud. It features variable speed, which delivers a varying speed of 0-550 RPM to reduce air bubbles when mixing. The spade handle drill has soft grip handle for portability and comfort. The lightweight feature helps to increase users' productivity by decreasing fatigue.
Product specifications
3-position side handle, chuck key with holder, 2-position rear spade handle
3-year limited warranty, 1-year free service contract, 90-day money-back guarantee
Frequently bought together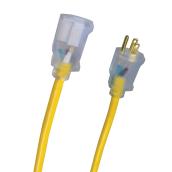 WOODS
12/3 Extension Cord - 25' - Red
Format 12/3 25'
Details
Article #74045239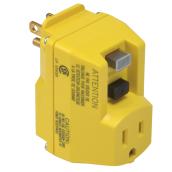 YELLOW JACKET
Single Outlet Portable GFCI Adapter - 1800 W - 15 A
Details
Article #32045050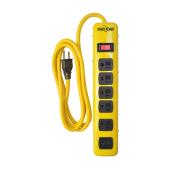 YELLOW JACKET
6-Outlet Power Bar with Surge Protection - 6' - Yellow
Format 1.8M
Details
Article #32045053
Dewalt 1/2-in VSR Keyed Corded Spade Handle Drill - 9-amp Motor - 550 RPM - 120V
is rated out of
5
by
32
.
Rated

5

out of

5
by
Travis
from
14 faithful years of mixing thinset :)
[This review was collected as part of a promotion.] Bought a used DW130V 14 years ago from Home Depot's rental department. It just started messing up yesterday 9/19/18. I install tile professionally, and use this drill almost daily to mix thinset and floor patch. It will even mix three 80lb bags of quickcrete at a time with ease. Lots of power in this drill. If you need a tool to mix or one that simply has an extraordinary amount of power, this is what you want. No need to shop for a cheaper brand or model. I just hope they haven't changed a thing from how they manufactured it all those years ago. Bought another one today.
Date published: 2018-09-20
Rated

5

out of

5
by
Craig
from
Simply the right tool for the job
I'm not a contractor, but am in the middle of a year long remodel. While mixing thinset for the 5th time in a day, I had a 10amp Dewalt corded drill burn up in my hand. When I went to replace it, I found cheaper, higher amp drills, but do yourself a favor and RESIST THE TEMPTATION. If you mix thinset and joint compound, this drill is specifically designed for it...not high speed (only 500 rpm), and has TORQUE for days. It can also handle being under load for long periods of time (2 minutes+ continuous). I know it's not the cheapest option, but it's definitely the best in the long run. Trust me.
Date published: 2017-12-27
Rated

5

out of

5
by
Jason
from
Only drill to use to mix thinset
I burned up a cordless drill and a cheap Skillset drill (smoke was literally coming out of the second one) attempting to mix thinset for a tiling project. Finally upgraded to this one and it handled the job with ease. It's expensive, but you'll never have to buy another one.
Date published: 2013-07-01
Rated

3

out of

5
by
Glass1
from
chuck and key quality has changed
been using this model drill for years at our glass factory, they have always been up to the task. with in the last year or so they have changed the chuck and key to a much lower quality. now that is the first part that wears out for us.
Date published: 2018-10-15
Rated

5

out of

5
by
ForneyTx
from
I should have bought it sooner!
I've always wanted to buy this but did not want to spend the money. After burning up a few drills mixing mud I took the plunge. Should've done it YEARS ago! Don't hesitate. Save up, and pull the trigger. You'll get the best mix of mud with a paddle mixer you've ever had. Worth every penny!
Date published: 2014-08-11
Rated

5

out of

5
by
FELICIMO
from
Probable the best tool I ever have purchased.
I was greatly satisfied by what this DW130V Mud Mixer provided. Have used it on mixing bags of 80lbs of concrete and mortar mix without any difficulty, had save my time, money and lengthy process than having to rent a portable machine mixer or a motorized one. Its has been very good tool, probably the best tool I ever had.
Date published: 2015-05-29
Rated

5

out of

5
by
alan
from
Great mixing drill
[This review was collected as part of a promotion.] I burned through a regular corded Dewalt drill, but I'd had that one for about 15 years now. Knowing I would be doing a good amount of mortar & grout, I opted for this one & it is fantastic! Good low speed & no concern that I might burn this one out, it has tourque to keep on going. Well worth it!
Date published: 2019-01-21
Rated

5

out of

5
by
drc4466
from
This is a good drill for the price. In electrical work you need a high torque drill for drilling in wood. This drill handled the job well and the handle is interchangeable.
Date published: 2013-12-01