Description
Get the showering experience you prefer with this 2-in-1 Delta handheld showerhead. It works as both a stationary and handheld shower, allowing you to use both functions separately or simultaneously. MagnaTite technology offers secure docking, and H2Okinetic technology with multiple spray settings make showering a pleasure. Choose from spray patterns such as a full spray massage or a thoroughly rinsing full body spray. Select the pause setting to save water while performing other shower tasks. This In2ition handheld showerhead is easy to install, and the rubber spray holes are simple to wipe clean, preventing accumulation of build-up. The 72" hose provides plenty of room for movement during showers. This is a WaterSense-certified showerhead for using less water but delivering high-quality performance.
In2ition Technology provides a full showerhead with an integrated hand shower included
H2Okinetic Technology provides 3X the coverage of a standard showerhead with a denser water pattern and larger droplets that retain heat longer for a soothing and relaxing feeling
In2ition hand shower/showerhead with H2Okinetic Technology and MagnaTite Docking create the ultimate showering experience
Massaging and relaxing
Stainless Steel
Limited Lifetime Warranty


Ecological Attributes
This shower head is WaterSense® certified to save 20% in water and energy (for water heating).
Product specifications
Base Warranty Labor(Months)
Base Warranty Parts(Months)
Handheld Pause/trickle Control
Manufacturer Color/finish
H2OKINETIC IN2ITION WITH MAGNATITE
Shower head and handheld shower combo
Frequently bought together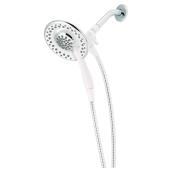 DELTA
In2ition shower combo
Format 2.0GPM
Details
Article #37355180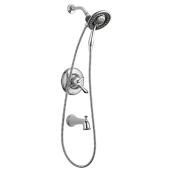 DELTA
1-Handle Bath and Shower Faucet "Linden"
Details
Article #37355246
My shower head moves too freely. Every-time I take the handheld out the main head moves. I have tried to tighten it but still doesn't do anything. Is there anything else I can do?
Hi Jonny Boy, thank you for your question. To better troubleshoot your inquiry, please contact us through this form https://www.deltafaucet.ca/service-parts/contact-us with as much information as possible. Best regards
Date published: 2022-02-03
I am confused with the hose length mentioned. is it 72 inches or 96 inches...hose size mentioned in description and dimensions are different.
Hi Born2conquer, thank you for your question. It is 72 inches long. We will contact Lowe's to correct the data on the product page. Best regards
Date published: 2022-02-03
I just got these dual showerhead and installed it the hand held price worked but when were changing the setting it quite working ..... any suggestions
Hi S helm, thank you for your question. To troubleshoot your inquiry, please get in contact with our customer service team through our contact form here https://www.deltafaucet.ca/service-parts/contact-us Best regards
Date published: 2022-02-03
Do you need 2 hose pipes as can see 2 on the picture? How's that work? I have a mixer tap with 1 shower hose connection in the middle.
This unit can be used to replace your existing showerhead. Simply unscrew your current showerhead and replace with this.
Date published: 2021-12-17
Where can I get a Delta satin nickel valve and trim to match this showerhead?
Browse the site for both Satin Nickel and Stainless finished shower products to find your best matches at Lowe's.
Date published: 2021-12-17
Is the hose 72 inches( 6 feet) or 96 inches ( 8 feet)? It says both in the online description.
The hose itself is 6' long. I measured it to be sure!
Date published: 2019-04-27
Will this fit into a wall mount with sliding holder for the showered?  Can provide picture of existing fixture.
This shower head comes with a holder that is connected to the wall outlet. It may or may not fit in a sliding holder depending on the size of the sliding holder.
Date published: 2019-06-22
I can't figure out how to turn hand held shower on. Water come out of rain shower part when I lift knob on faucet but hand held part doesn't work contracted didn't leave instructions that came with it. Help!
There's a lever on the main shower head
Date published: 2018-04-20
Delta In2ition Showerhead/Hand Shower - 5 Settings - Chrome
is rated out of
5
by
152
.
Rated

5

out of

5
by
Mary
from
Good for the price
So I wanted a large shower head for coverage and the flexibility of the handheld shower, plus I wanted lower water usage. This shower head fits all those needs. People were concerned with low water pressure. I did find that when using both heads together that the pressure isn't as strong, but this shower head is a considerably better experience than my 10 year old 3" handheld. If I need stronger flow, like when washing out shampoo or massage, I just switch to handheld only. The pressure is increased dramatically. I like the metal hose. Installation is super easy. My only ding my be the plastic heads, but So far, I'm very with with this purchase.
Date published: 2017-02-03
Rated

1

out of

5
by
alloro
from
Keeps Breaking
I bought one of these and after about 8 months the hose split up near the wand. I didn't realize at the time there was a lifetime warranty, so I bought a replacement. The hose on the replacement one split in the same way after only 6 months. I wrote Delta and they offered to send me the two replacement hoses. First the hoses were backordered, but did eventually ship after a few extra days. After waiting another week for them to get here I opened the package only to find they sent me those awful plastic coated stiff hoses and not the nice flexible kind that originally comes with the showerhead. I wrote back expressing my disappointment and a request for the correct hoses and have yet to hear from Delta.
Date published: 2017-02-16
Rated

5

out of

5
by
Phil
from
Great Value
The price point is perfect IMO, you get a quality product for what I feel is a reasonable price. I enhanced the shower experience by removing the flow restrictor (small white plastic thingy in the hand held) for an even better flow. With more water volume the rainfall feel is enhanced considerably. However I do not believe I'm using that much more water, as the rinse is done faster and is more complete - shower time is shorter. I'm buying two more for my Parents house this weekend. --Phil
Date published: 2015-03-18
Rated

3

out of

5
by
Low
from
A nice unit, but not good for a stall shower
I bought this to replace my leaky waterfall showerhead. I spent a little more because of the brand and the amount of features (the hose is metal, compared to the cheaper one with plastic hose). The head was wide, so hopefully I wouldn't miss my waterfall too much, and the removable handle would come in handy. Unfortunately I have a stall shower, so the bottom of the main unit sticks down so far that I had to remove my hanging basket, my only storage for shampoo and soap. The hose hung down exactly where the water control is. Very annoying and awkward. I decided to take it back and spend my $90 on another waterfall shower head.
Date published: 2016-07-23
Rated

5

out of

5
by
fitadude
from
Happy with this product
After reading the reviews I decided to make this purchase. I was very happy with the ease of installation. Even a person with little to no handy skills can handle this one. I have two daughters with longer hair and they were a bit disappointed with the pressure to rinse their hair. So I removed the water restrictor rubber o-ring. After this the pressure was great. The only part of the product that I was not impressed with was the Magnatite docking. It will hold the hand held unit but you still have to use the interlocking clips. should have spent less and just dropped down a model since you have to engage the clips anyway. Just my two cents. over all a great product. I have been a plumber for over 30 years so I have seen my share.
Date published: 2016-04-09
Rated

1

out of

5
by
Stevie
from
Steve
Loved how it was versatile and my wife and I would use different settings. After a few months it would not switch to the hand held sprayer. Called Delta and they sent me a brand new one at no cost. Every time that I switched settingsI I kept wondering if it would fail again. It did after about 4 months. I have always liked Delta faucets but this combo has a real design flaw. You can see when you take it off that the valve is not moving to provide water to the hand held. Two failed and that's enough. Purchasing another brand and more expensive. Just wondering how many of these have failed.
Date published: 2017-10-23
Rated

5

out of

5
by
Chaz
from
Worth The Money
I opted to go with this model because of the additional magnet the secures the hand shower piece. I'm glad I spent the additional $$. Installation was a breeze and was completed in a matter of minutes. The available water patterns are more than adequate and all have good water pressure. I like the flexibility of the hose compared to other handhelds I have purchased. Definitely would recommend this if you are looking for a new shower head.
Date published: 2015-03-15
Rated

5

out of

5
by
ChgoBob
from
Install was a breeze
Impressed with the simple install. I took Dave's advice and removed the purple restrictor. Water flow was heavy on all settings. Purple piece needs a good pull to remove, but it does snap out neatly if replacement is necessary. I would prefer to pay a few dollars more and have a separate connection that offers some swivel at the head. Had to lower our shampoo/soap rack a few inches so the hose handle would clear it at this angle. All in all, a great product at a great price. Since delivery was free, I ordered it online, and had it delivered to my door. It was packed well, and it arrived in 2 days.
Date published: 2016-02-07