Description
This Cub Cadet CC 30 mini rider lawn tractor features a 10.5 HP/344 cc Briggs & Stratton engine that delivers high-performance power to tackle your yardwork. It comes with a 3-year limited residential warranty. The mower's 6-speed transmission allows you to change speeds without stopping, and its step-thru frame design provides easier on and off access by providing more leg room. This model is ideal size for smaller or gated yards and will fit through most gates with the 30-in cutting deck. Finally, a telescoping steering wheel accommodates operators of any size.
The Cub Cadet CC 30 is powered by a 10.5HP Briggs and Stratton Engine
Convenient compact design with a 30-inch stamped, 14-gauge, single blade side discharge mowing deck with mulch kit included
3-Year Limited Warranty
Ideal for mowing up to 1 acre of mostly flat terrain and a few obstacles
Same Cub Cadet Signature Cut(TM) as our larger riders
Telescoping steering wheel accommodates any size operator
Product specifications
Base Warranty Labor(Months)
Base Warranty Parts(Months)
Battery Warranty Labor(Months)
Battery Warranty Parts(Months)
Blade Engagement Type (pto)
Cutting Range/yard Size (acres)
Engine Displacement (Cu. Centimeters)
Engine Warranty Labor(Months)
Engine Warranty Parts(Months)
File/Certification Number
Maximum Cutting Height(cm)
Maximum Cutting Height (in)
Maximum Cutting Height(mm)
Maximum Forward Speed(MPH)
Maximum Reverse Speed(MPH)
Minimum Cutting Height(cm)
Minimum Cutting Height (in)
Minimum Cutting Height(mm)
Number Of Deck/anti-scalp Wheels
Operator-controlled Mow-in-reverse
Overall Width with Deck(cm)
Overall Width With Deck (in)
Overall Width with Deck(mm)
Recommended For Terrain Type
Transmission Warranty Labor(Months)
Transmission Warranty Parts(Months)
Frequently bought together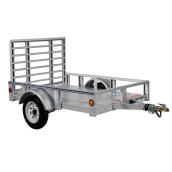 STIRLING TRAILERS
Stirling Trailers Steel Utility Trailer 4-ft x 6-ft with Ramp Gate
Format 4x6'
Details
Article #22435005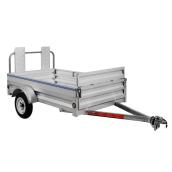 STIRLING TRAILERS
Galvanized Steel Expandable Trailer - 4-ft x 8-ft
Format 4x8'
Details
Article #22435000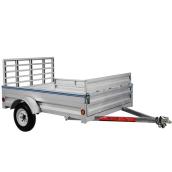 STIRLING TRAILERS
Galvanized Steel Expandable Trailer - 5' x 8'
Format 5x8'
Details
Article #22435001
can i tow a lawn roller
As a general rule of thumb, a properly maintained and adjusted tractor should be able to pull approximately half the weight of the tractor fairly safely and with control over level ground and over slopes less than 5 degrees. This riding mower weighs approximately 340 lbs. Be mindful of increased stopping distances when hauling loads behind any lawn tractor.
Date published: 2022-05-30
Can I purchase a grass bagging attachment for this mower?
Thank you for your question. Yes the twin bag grass catcher attachment for this riding mower is Lowe's Item # 433121 Manufacturer's model # 19A30014OEM
Date published: 2022-05-20
My yard is slopped, will this mower work over hills?
Thank you for your question. This powerful compact riding mower features a full lawn tractor transmission and variable speed drive system for plenty of pull. Use the slope gauge included as part of the owner's manual to measure slopes before operating this machine on a hilly area. For safety it is not recommended to operate any rider on slopes of more than 12 degrees.
Date published: 2022-05-20
Came with hitch plate , how does it install ?
Thank you for your question. Slide the Hitch Plate in between the frame and the rear cover on your riding mower. When the holes in the plate and the frame are aligned, install the two 5/16-18:0.63 Hex screws up through the frame and into the hitch plate. Securely tighten the hex screws. See page 12 of your rider's operator manual for an illustration.
Date published: 2022-05-13
Is it electric start
Thank you for your question. Yes this premium rear engine rider features an automotive style ignition, 12V battery and charging system. Simply turn the key to start the engine.
Date published: 2022-05-13
How do you clean under deck
Thank you for your question. This premium riding mower features a Deck Wash connection port. Simply attach your garden hose, turn on the water and engage the mowing blade for several minutes allowing the turbulence to thoroughly rinse the underside of the deck. See the included operating instructions for full details.
Date published: 2022-05-12
Cub Cadet CC 30 30-in Mini Rider Lawn Tractor - Black and Yellow
is rated out of
5
by
15
.
Rated

4

out of

5
by
DONUTS
from
good product
bought it a month a go works great starts right away
Date published: 2022-06-25
Rated

4

out of

5
by
Cottager
from
Cub Cadet CC30, 30 in Riding Mower
I bought this mower for my cottage and it's been used once so far. it will be used again this weekend. So far my adult son and daughter do the mowing and like this mower.
Date published: 2022-05-18
Rated

5

out of

5
by
Captain Patch
from
Great Mower
My wife shopped for a smaller mower that she could handle better than my old 42 inch which she found too big. She sat on a bunch of makes and models and the Cub Cadet CC30 worked best of all for her. No engine up front to obstruct her view while mowing around obstacles, was both slow and fast, easy to steer and easy get in and out of, she could operate all the switches and levers as needed. She liked it. It was a lot quieter than my old mower, and she could adjust her seat forward for a better fit there too, as she could hardly reach the pedals on my old mower. Came in a big box, read the manual first, this is key as there are some unique assembly aspects to know ahead of time, to make it much easier. I pulled all the parts out etc, but couldn't move the mower out of the wooden frame until I read the manual to figure out how the parking brake worked. Once I had installed the steering wheel with the gear shifter shroud, it indicated there that the parking brake was on, and how/where to properly position that lever to release the foot/parking brake. Then I could easily roll the unit out of the wood frame, as its very light and rolls well. It assembled very easily, if you follow the manual. Worked perfectly, all the parts were there and fit. Notice most of the fasteners are attached to the main unit, and need to be removed to install most of the items. Read all the notes in the manual as it describes exactly how its goes together. I filled it half full of gas, put on full choke, turn the key and it sparked to life immediately, dropped the throttle back to full power, ran like a top first time. Nice. Couple of negatives: It has a funny AGM battery with a rectangle block on the end of the positive and negative wires that needs to get installed inside a lead battery post. This was very odd to me, and I had never seen this before. Took awhile to figure out a trick or 2 to install the wires on the battery. Last the Speed level position indicator position numbers on the steering column shroud are not high lighted, and are difficult to see, especially for older folks, so I had to use a black marker to highlight the top of the plastic impressions to contrast them against the back ground yellow plastic. Last it would be nice if they included a long lanyard for the key so I don't loose it in the grass, and a nice Cub Cadet baseball cap to match the mower :-) As a small riding mower it has to be one of the better ones we could find. Works very well as designed for it purpose as a smaller mower with normal small mower limitations.
Date published: 2022-05-01
Rated

2

out of

5
by
cdnred
from
Not Ergonomic Friendly
Bought this Cub Cadet because I was looking to get a smaller tractor to fit thru my gate. I was looking forward to using it as it looked like a nice package. After the first time using it, I was quite disappointed. I found that ergonomically it wasn't what I liked. Shifters should have been placed with ergonomics in mind. I wish now that I should've looked at it better before buying.. Plus I HATE the fact that this website tracks me and I can't submit witthout disabling my adblocker..!!!!!
Date published: 2022-04-27
Rated

2

out of

5
by
Strokie
from
Great mower...
I bought my CC30 last year, I like this mower and you can cut the grass in reverse, nice feature...
Date published: 2022-06-01
Rated

5

out of

5
by
Kfgamer99
from
Just what I always wanted
Been waiting 14 years to buy a small tractor that meets my needs and fits on my baby barn
Date published: 2022-06-07
Rated

2

out of

5
by
Agra
from
Difficile à conduire
J'ai utilisé 2 fois mon tracteur neuf. Horreur. Le levier d'avance-neutre-recul est brusque et incontrolable. La conduite et l'arrêt donne un gros coup. C'est très désagréable. Deuxièment, ce modèle de tracteur ne peut pas couper le gazon en même temps que reculer. Dès qu'on met en marche arrière, le moteur étouffe. Ça complique le travail passablement. À ne pas acheter.
Date published: 2022-05-24
Rated

5

out of

5
by
Suzielan
from
Super!!!
J'adore mon p'tit tracteur! Il se conduit très bien!
Date published: 2022-06-23