Description
With its 5 peak horsepower motor, this Craftsman wet/dry vacuum makes it easy to keep your workshop tidy. This wet/dry vacuum features a 16-gallon tank (60.5 L), which is corrosion-resistant and equipped with heavy-duty wheels for easy mobility. It includes a 2.5 in. x 7 ft. hose, 2 extension wands, a utility nozzle, a cartridge filter and a tool holder. This product is backed by a 3-year limited warranty.
Positive lid latches keeps tank and lid from disengaging
Locking hose inlet prevents unexpected hose disconnects
Tank drain for easy emptying of liquids from tank
Rear blower port turns your vacuum into a powerful blower, for cleaning workbenches, outdoor living spaces, and garage floors
Product specifications
Base Warranty Labor(Months)
Base Warranty Parts(Months)
Battery Warranty Labor(Months)
Battery Warranty Parts(Months)
Built-in Attachment Storage
File/Certification Number
Hose And Accessory Diameter
Motor Warranty Labor(Months)
Motor Warranty Parts(Months)
Frequently bought together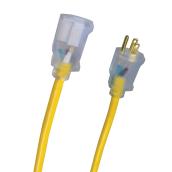 WOODS
Woods 12/3 Extension Cord 25' Yellow
Format 12/3 25'
Details
Article #74045239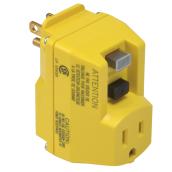 YELLOW JACKET
Single Outlet Portable GFCI Adapter - 1800 W - 15 A
Details
Article #32045050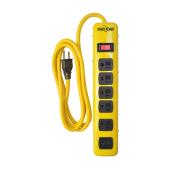 YELLOW JACKET
6-Outlet Power Bar with Surge Protection - 6' - Yellow
Format 1.8M
Details
Article #32045053
What is the replacement filter product code for this Wet/dry Vac from craftsman? I need a new one and they are not carried in my local store
craftsman company is out of business. Our vac didn't work and we couldn't get any satisfaction from anyone.
Date published: 2021-08-20
I want to know more about the shop vac someone gave me - Craftsman 60 litre, model # 113290680C. Can I get access to a manual online? Right now, I just want to know what sort of filters it needs fotr both wet and dry operation. Does it need bags for dry o
I use it to suck leaves and last bit of water out of my pool when cleaning it in spring with no filters. If sucking up wet junk I might use the foam filter. Paper filter if sucking up fine dry stuff. The cloth bag just keeps your paper filter clean longer but then you have to clean it. Mine was purchased 30 years ago and the motor bearings are shot so it howls but works. Price is right so I am replacing it.
Date published: 2021-06-10
Is this the same as  craftsman 314?  If so, what filter does it use?
Sorry, It was a Christmas gift and the recipient was delighted to receive it They said it works great but I have no other details to give you.
Date published: 2021-06-21
Why is this item labelled as 15 peak horsepower when the box says 5 peak HP? Which is it - 5 or 15??
its 5. I believe it is a marketing tool. Though it may reach 15 at a very brief second after turning on (not usable). Running power is a standard 5hp. The box I received shows 5.
Date published: 2021-06-10
Does this unit require a bag to handle dust? It seems to blow light dust out the back blower?!
all wet vac types do this. for no dust get hepa bag/filter.
Date published: 2021-06-10
Bonjour, comment un moteur de 10 ampères sur le 120 volts peut donner un moteur de 5 HP ? 1 HP est 745 watts . Merci.
How large is the actual vacuum canister?
does this one able to attache a kit for drywall taping and sanding?
Craftsman Wet/Dry Vacuum - 2.5-in x 7-ft - 16-gal. - 5-HP
is rated out of
5
by
338
.
Rated

5

out of

5
by
JMS578
from
I love my Craftsman 16 Gallon 5-HP Shop vacuum
[This review was collected as part of a promotion.] I bought a Gutter Cleaner from another company and needed a strong shop vac to use with it. I chose the Craftsman 16 Gallon 5-HP with the hose that is two and a half inches and it is just what I needed. It has powerful suction and cleaned out my gutters without any issues. I then used it in my garage to clean it up and this shop vac is easier to use than my house vacuum is. I had to pack it up some stairs and I am 69 years old and I had no trouble packing it up the stairs. It is lightweight and easy to move around and yet it has great suction to get heavy duty jobs finished up quickly! I am very happy with my purchase. If you need a good heavy duty Shop Vacuum, this is the one you want!
Date published: 2019-11-19
Rated

4

out of

5
by
Frank
from
Decent product
[This review was collected as part of a promotion.] I bought this vacuum on sale for Black Friday. It's a Shop-Vac with the Craftsman name on it so the Shop-Vac bags and attachments work with it. It works fine so far. My only complaint would be the smell of oil when it's running. The motor is supposed stay oiled for life so the fact that I'm smelling oil seems potentially fatal (to the vacuum).
Date published: 2018-12-09
Rated

5

out of

5
by
TenFingerB
from
This thing sucks. In a good way.
[This review was collected as part of a promotion.] Who doesn't need a shop vac? Sure, it's handy in the garage. But also around the house. I do a lot of woodworking, and have several pets. And I'm a bit clumsy. So this shop vac gets a good workout. It's got enough power to pick up sawdust and pet hair without having to get right on top of it. How did cat hair even get in the car? Who cares? Gone! Dropped another ornament when I bumped the tree? No need to tell my wife, just suck up the pieces and no one will know. It really does a good job, and it's not as loud as my last vac. Plus it looks a bit like a happy little robot. Oh, the hose screws on, rather than the old "press in, fall off". So I can drag it around. The wide-set wheels keep it from tipping. I picked this up for half off, and I probably would have paid full price if I wasn't so cheap. Because it sucks. But in a good way.
Date published: 2018-12-12
Rated

4

out of

5
by
Jeff
from
Great Vacuum
[This review was collected as part of a promotion.] I really like this vacuum. One of the best features is that the hose actually "screws" onto the vacuum so there is no chance the hose will detach while dragging it around by the hose. The one negative that keeps it from a five star is the tool caddy is not securely attached and tends to detach when removing the accessory from the holder.
Date published: 2018-11-16
Rated

5

out of

5
by
Al
from
Excellent for vacuuming cars
[This review was collected as part of a promotion.] This is a big improvement over my other 10 year old shop vac as it is quieter, has the 2 1/2 inch hose, includes two hose extensions, and a filter to help reduce the dustiness. The 5HP is pretty strong as it can pull up the floor mats in the car. The only downside is that its bulky at 16 gallons. Overall, its a great value with the sale price. Highly recommended.
Date published: 2018-11-26
Rated

5

out of

5
by
Hank
from
outstanding buy!
[This review was collected as part of a promotion.] Normally I am not a fan of CRAFTSMAN anything but I am really impressed with this shop vac. Like the squatty type base [less tip over], like the screw on hose [no pullout], like the 2 inch hose as opposed to 1 1/2 of others, like the exhaust port for converting it to a blower, like the three snaps that positively keep the top on when lifting it when it is nearly full! Since much of today's stainless rusts, I like the plastic construction. And lastly I like the drain for water disposal.
Date published: 2018-12-08
Rated

5

out of

5
by
tgcryder
from
It sucks in a good way.
[This review was collected as part of a promotion.] Had a leak in the basement, needed to get up half an inch of water, this vac took care of it fast. Filled the tank twice in just minutes, third round finished the job. Start to finish in less than 10 minutes. The top/lid stays on snug, no popping off when you give it a pull as you vacuum, the hose stays attached firmly and is a good length, long but not so long as to tangle and get in the way. Two extension tubes for even more reach. Make no mistake, this is not a little fella, it is a beast of a vacuum and I love it.
Date published: 2019-06-25
Rated

4

out of

5
by
Rando
from
New & Improved?
[This review was collected as part of a promotion.] Up front, I would rate this shop vac better than most at a comparable price point. However, for real "shop" use it doesn't quite perform like my 15 year old Craftsman vac it replaced. Great unit for light shop our commercial use and the test of time will tell. Doesn't seem to have the suction of my old vac and that may be due to a smaller filter which requires more frequent cleaning. Compared to other name brand vacs I've owned, this is the better buy for my application around the house and home wood shop.
Date published: 2019-04-19