Description
Sustainable Insulation is composed of non-organic glass fibres bonded with an organic, plant-based binder. It is used in residential and commercial constructions as a thermal and acoustical insulation. Excellent thermal comfort. Reduces energy demand and cost. Does not absorb moisture. Organic, plant-based binder. No formaldehyde, acrylics, dyes or fire-retardant chemicals. GREEN GUARD GOLD: Certified for superior indoor air quality (IAQ) performance. 1 TrueComfort bag = 2 to 3 bags of cellulose. Bag of 29 lb.


Ecological Attributes
This product is certified by GREENGUARD, attesting that it has less of an impact on indoor air quality. The concentrations of the total volatile organic compounds (VOCs) and formaldehyde are less than 0.5 mg/m3, reducing the impact on human health in the home.
You may also like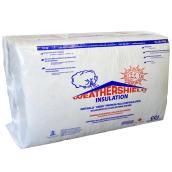 CAN-CELL
Weathershield ­Cellulose Blowing Insulation - Thermal Resistance - Fibre Component
Format 25LB
Details
Article #35475007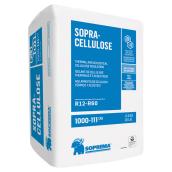 SOPREMA
Soprema Insulation - Thermal and Acoustic - Grey - R12-R60
Format R12-R60 11.3KG
Details
Article #62115003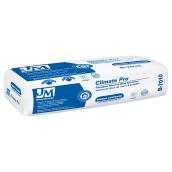 JOHNS MANVILLE
Fibreglass Blow-In-Insulation - R-40
Details
Article #21785003
What is the size dimensions of the blower? Do I need a van or will it fit in the back of an SUV?
Depends on if you have a big or small SUV. The blower can come apart into 2 sections. The lower half (with the augers and blower) is quite heavy. If you put your back seats down it should all fit in. (You won't be able to squeeze too many insulation bundles in with it, though.) It's best to call the tool rental of your local Lowes and ask the exact dimensions to be sure.
Date published: 2017-06-24
I have a space about 18 inches (soil to floor) below my 730 square foot cottage and wish to use blown in insulation...which product should I choose for R40 protection recognizing that that insulation might (rare but possible) be subject to being wet ?
Hi Bill to the best of my knowledge you can't use blown in insulation for crawl spaces especially if it's sitting on direct soil ... your best bet will be form board insulation ... or do it right and use spray foam ... quick note fiberglass insulation basically looses it's R value after It gets wet 
Date published: 2017-12-12
How much is the insulation blower to rent for the day?
It is free, if you buy 20 bags
Date published: 2017-12-12
whats the square fot per bar?
CertainTeed TrueComfort - R-19 Blowing Insulation - 29-lb - 89.9-sq. ft. - Fibreglass
is rated out of
5
by
1
.
Rated

4

out of

5
by
stphxu
from
Good product at a great price - Free Equitment
I purchased the insulation and received the blowing machine for free? The production is good and the project is not hard. The hardest part of the project is to getting prepared and setting up. The easiest part is the final blowing. BUT be careful about the equipment. They said to have 100 feet hose. But actually you get 2 50 feet ones. You need to make sure that the two hoses CAN connect properly; and the hose can be connected to the blowing machine properly. I did NOT check and ended up going back to the store to get everything in order. You do NOT want to go back to the store in the middle of your setup, which added more than two hours of my time. Other than the equipment issue, my project worked well. Fiberglass does not make a mess (dust) at your home. I will wait to see if the additional insulation really help to save energy bill. Lowes has good price and gives me free equipment rental. I saved over $100 for the project compared to its competitor. I would give 5 stars if I did not have the equipment issue.
Date published: 2016-10-28