Description
This utility trailer with rear ramp gate has the perfect size for carrying the lawn tractors. Its mesh flooring is practical and makes the construction lighter for less fuel consumption without sacrificing the results. It is equipped with 12'' (30.5cm) rated at 449kg (990 lb) each. It has an impressive payload of 737kg (1625 lb). 1 7/8'' (4.75cm) coupler with safety chains. The cambered axle of 907 kg (2000 lb). Black steel trailer of 5' x 8' (1.52 m x 2.44 m). (Note that the availability of this product may vary from store to store)
* Trailer license and registration are required when picking up this item.
Payload capacity: 1,650 lbs
12-in tires rated 990 lbs each
1-7/8-in coupler with safety chain
Made in the USA
12-In tires rated 990 lbs each
2-In coupler with safety chain
Made in the USA
Product is stored outside and is subject to weather conditions , Delivery not available
The trailer displayed is representative of Carry-On Trailer model# 5X8G (Lowe's item# 100369)
Product specifications
Product is stored outside and is subject to weather conditions; delivery not available at most locations
Manufacturer Color/finish
5-ft x 8-ft Wire Mesh Utility Trailer with Ramp Gate
Frequently bought together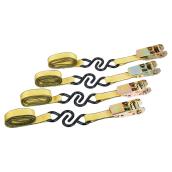 ERICKSON
Ratchet Tie-Down - 1'' x 10' - 900 lb - 4/PK
Format 1"x10' 900LB 4PK
Details
Article #16425000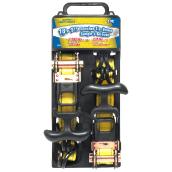 STINSON
Stinson T-Handle Ratchet Tie-Downs - Rubberized Handle - Vinyl-coated J-Hooks - 1 1/4-in W x 16-ft L - 2-Pack
Format 1 1/4"x16'xPK2
Details
Article #0033335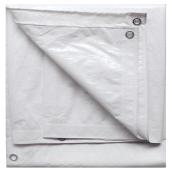 PROJECT SOURCE
Project Source Polyethylene Tarpaulin - 8-ft x 10-ft - White
Format 8'x10'
Details
Article #19595012
Does this have a VIN or do I need a VIN to legally use this trailer ?
It has a vin
Date published: 2020-11-03
what size is the grease seal on the wheel bearings part number please
The 5x8G model has a 1 1/16" spindle. The bearing size is 1 1/16" generic part# L-44649 and the grease seal is 1.25" inner diameter. Our part# for the bearing kit is 500T and the seal kit is 494T.
Date published: 2020-07-27
What is the tire size
5x8G model comes with 12" tire and wheels that are 5lug with 4.5" centers.
Date published: 2020-06-24
what are the bearings sizes for this trailer? I need to change mine.
This trailer has a 1 1/16" spindle. The bearing part # L-44649 or 1 1/16".
Date published: 2019-06-10
How high does the bottom of the bed sit from the ground, I'm curious the degree of angle the ramp is to the ground @ 4ft 9 inches long
Level height will be around 13 to 13.5".
Date published: 2020-07-27
This trailer should hold 2 canam outlander 400s no problem right?
5x8G model: Trailer Empty Weight 375lbs., Trailer Max. Payload Capacity 1,625lbs., Mesh Floors and Mesh Ramp Gates – If your cargo has a wheel base that does not fall on the support cross members of the trailer mesh floor or mesh ramp gate then runners or a sheet of plywood must be used to help evenly distribute the weight on the wheels. *The ramp gate is rated at 1,000lbs evenly distributed weight. Deck Length: 96", Deck Width: 60"
Date published: 2019-06-30
Do I have to grease the axles?
You have to grease any trailer axles. Usually you would pull the wheels, pull and check the bearings, if they are not scored at all you repack them with new grease and you are set for another year or so. Depends on how many miles you put on the trailer as to how often you check them. Some trailers are equipped with bearing buddies but these are not.
Date published: 2019-06-04
can you put the next size tire on or must you stay with 12in
Must use the size tire and wheel that came with it. If you put a larger tire and wheel on the trailer it will hit the fender.
Date published: 2019-05-17
Carry-On Utility Trailer - Black - 5' x 8'
is rated out of
5
by
422
.
Rated

4

out of

5
by
qualitymatters
from
5X8 Utility Trailer
Bought this trailer several days ago and am satisfied. On the way home, it trailed my vehicle with no problems or bounce. However, as many other reviewers noted, the wire mesh floor seems weak. I placed 3/4 inch plywood and a 2X8 piece of wood in the floor for better support. I drilled holes through the wood and metal support frame with self penetraiting screws and now I have a sturdy wood floor for a fraction of the cost if I had purchased the same trailer with a wood floor. If you purchase this trailer with mesh floor, take it from me and put the wood floor in. Also, I will be treating the wood to ensure a long lasting surface.
Date published: 2012-06-24
Rated

4

out of

5
by
Doorman
from
Good Light weight Trailer
I purchased this trailer 3 years ago to haul a 4-wheeler (approxamatly 800 lb load). It is great for that and light hauling. The trailer is easy to load, you can move it around by hand, and ther are plenty of places to use as tiedowns. I added a 3/4 inch plywood floor and sides to make hauling grass and brush easier. The only problem I have had is that my trailer came with 2 ply tires which are cut easly on rough rock roads causing a lot of flats. If you are looking for a trailer to haul heavy loads, you need to spend more money on a stronger trailer. But for 4 wheelers, lawn mowers, and light hauling this little trailer is great.
Date published: 2011-03-09
Rated

5

out of

5
by
JorR
from
Very very impressed
I bought this trailer a year ago when we sold our truck because of gas prices. We bought a 2013 Mazda cx-5 and this trailer to compensate for the loss of utility. I hardscaped the backyard and picked up several 1700 lb pallets of pavers with this trailer. I removed the gate to give it the extra weight allowance and so the forklift could drop the pallets right in. in my latest project I brought 4-50bag mulch pallets from lowes weighing about 1600 lbs each load. I am amazed at how well this little trailer holds up and how well it pulls. the mesh floor eventually breaks at several welds but that's the only bad thing I can say. extremely pleased.
Date published: 2013-05-08
Rated

3

out of

5
by
Anonymous
from
Ok light duty trailer
I read the other reviews which were very helpful and spot on. The paint job is sloppy, there are some minor rust spots and the metal mesh is not great. One of the lights was broken (I did not notice when I picked it up) but I plugged it in and all of the lights worked properly right away. I took the advice of others and have added a 3/4 treated plywood over the the mesh floor. I have only driven it empty but it went down the road at 50 mph with no problems. Despite all of the reviews I was surprised by the low quality of this trailer. It was pretty cheap but you are getting what you are paying for. I think this will be okay but nothing special.
Date published: 2012-07-16
Rated

5

out of

5
by
Georgia Cracker
from
Fantastic Trailer
I bought this trailer mainly to haul my lawn mowers and misc item for my kids. I like the size of it for all of my chores. It's easy to move by hand, and pulls easy behind my truck. I did put a sheet of 3/4 inch plywood on the floor to make it more sturdy, but hey, I didn't mind since the trailer didn't cost an arm an leg. I will admit if the price is now $728.00, I might not pay that much. I would put a bit more money with it and get a heavier duty trailer and bigger tires. However, I got mine a good while back for a lot, lot less. Therefore, I am happy with my purchase. It does exactly what I wanted and expected.
Date published: 2011-04-07
Rated

2

out of

5
by
donny
from
Good but weak
the mesh floor bends easy, I just put down 8' decking - no room to build up sides without drilling into the steel - its weak enough....so I won't be doing that..... Also when I got it there was a broken wire - fixed that when I got home. I had a choice of two left on the lowes lot, one was so rusty - and mine had the broke wire - I grabbed that one, I will say that the paint job is junk, runs and drips - the plus is the price, and another neat thing is that the tailgate hinges has grease fittings. All my friends that have trailers don't have the fittings so the hinges rust out and snap on them.... just my 2 cents
Date published: 2011-06-02
Rated

3

out of

5
by
Joe
from
Trailer issues
The trailer that i bought over 11 months ago just resently the wireing under the trailer which is unprotected rubed trough well driveing and shorted the wireing on the trailer and in the tow vichle causeing multiple issues with the car and the trailer which in turn i had to re wire and replace all the lights on the trailer. Also this issue could have been prevented if they just used some plastic split tubeing fot wires. Also i contacted the company that makes the trailer and they were no help at all so i ended up buying the replacement wireing and the lights and did the repair my self other then that the trailer is great
Date published: 2019-01-03
Rated

5

out of

5
by
Harleyman
from
Mesh Trailer 5' x 8'
I have owned one of these trailers since 2003 . It hauled many toys of mine through out the years . Perfect size to haul my JD lawn tractor , my 99 Yamaha Grizzly and I even installed a motorcycle tire chock on the front to haul my HD Fatboy when I went camping .Since I had a smaller pick-up...I would use this to haul sheets of drywall ,plywood and many other types of cargo. Back in the day I paid about 400 something bucks and after 13 years its been a great addition to my family .I've had many people barrow it over the years and its always held up great .Once in a while ide get 3 cans of spray paint and spruce it up, as I store it outdoors . The wire mesh floor was the way to go for me . Hope this helps...Ed
Date published: 2016-04-05