Description
Tape dispenser. 50 m x 48 mm. Made of plastic. 2 rolls included. Ideal for industrial packaging or for moving purposes.
Easy to use dispenser
Features a "crystal clear" acrylic adhesive for excellent transparency
Once applied, this tape won't turn yellow and resists U.V. rays
Product specifications
Dispenser with 2 Rolls (Boxed)
Frequently bought together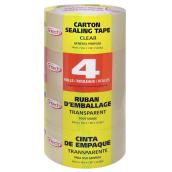 CANTECH
Cantech Packaging Tape Clear 48 mm x 50 m - Pack of 4
Format 48MMX50MXPK/4
Details
Article #0054216
Tape Dispenser
is rated out of
5
by
278
.
Rated

2

out of

5
by
BillG
from
Worst Tape Dispenser EVER
At work I use a very nice Scotch dispenser (similar to this one) and a not so great Scott tape dispenser. For my Ebay buisness, I bought an overpriced not-so-great Scotch Easy Grip dispenser (actually the dispenser wasn't over-priced, but the tape is). I decided to try this from a name I thought I could trust, but it is the worst dispenser I have ever tried to use. I am almost to the point where I'm going to remove the tape from the dispenser and just rip the tape manually. The tape folds up and gets stuck in the dispenser, I wasted a good 12 inches of tape between taping sessions because of it. Very unhappy with this product. I'll be keeping with Scotch, 3M or maybe store brand for my taping needs.
Date published: 2013-07-23
Rated

1

out of

5
by
Tired taper
from
How does this tape load?
I bought this because it looked good and sturdy but it is impossible to load the tape. I have watched several videos, they do not have this same unit. I have the foam handle with the clear tape. This is a waste of time.
Date published: 2016-04-17
Rated

1

out of

5
by
PJW
from
Terrible Tape Dispenser
Absolutely horrible tape dispenser and tape that came with it just as bad. After cutting tape, it then sticks to roll requiring you to remove the roll and try to find the end of the tape, unstick it, thread it back through and do another roll. This just starts the process all over again. Totally useless. Additionally the tape is very thin and probably not strong enough to hold a box with much weight to it. DO NOT WASTE YOUR MONEY!
Date published: 2017-11-14
Rated

1

out of

5
by
jbob
from
Save your money (and frustration)
I bought this tape gun for a move. I've managed to pack 4 boxes and have literally stopped what I'm doing to write this review. This is quite possibly the worst tape and tape gun I've ever used. The tape is as thin as tissue paper, which doesn't seem to cause a problem with the tape's strength, but it causes the tape to easily "flap around" sticking to just about everything but the intended target. The tape also frequently gets stuck to the metal arm that is supposed to keep it close to the wheel causing it to bind. I have easily spent two to three times more time "managing" the tape gun than I have actually using it. I'm going to go back to using the cheap disposable tape "gun" I have as it works better. Save the money and look for a better option.
Date published: 2014-11-27
Rated

5

out of

5
by
angelfire76
from
Excellent Tape Dispenser
[This review was collected as part of a promotion.] I have used all different types of tape dispensers and this one has been the best i have ever used. The foam handle is amazing. I no longer have to worry about my hand hurting or slipping off the handle. This foam handle helps you get a good grip and your hand will not hurt. The tape is strong and it is easy to tear off the dispenser. This tape dispenser has really helped me out. I do Christmas shopping all through the year and i put all the items in boxes. Now the kids or hubby can't get into the boxes without me knowing lol... This is a wonderful product. It has saved me so much time taping up boxes.
Date published: 2021-08-20
Rated

1

out of

5
by
Tay
from
FRUSTRATING !!!
I've had Duck tape guns and tape before and it worked like a charm. Guess Duck is asleep at the QC department. Spent LOTS of time trying differnt ways to get it to cut and different tapes. Nothing. Would end up with long pieces of tape that stuck to itself. Ugggh ! I compared it with my old gun (two are packing this time, each want their own gun) and it looks as if the teeth are set further back on the gun and does not cut easily. Anyway, w= I would not recommend and I am returning it to Lowes tomorrow.
Date published: 2018-06-04
Rated

5

out of

5
by
wilbont42
from
Fantastic!
[This review was collected as part of a promotion.] This Duck Packaging Tape Dispenser is great! The cushioned handle is an added feature that should be standard on all packaging tape dispensers. It is much easier to use with the padding on the handle and it doesn't hurt your hand. Taping a package or box is easier because you have more control over the tape dispenser and the package at the same time. The best thing about it is that it doesn't tire out your hand when using it. I also like the green color!! The tape goes on smoothly and you get a clean cut every time. The tape does not fold over either like some other brands.
Date published: 2021-09-02
Rated

3

out of

5
by
warewolf26
from
Not the best quality.
[This review was collected as part of a promotion.] This tape gun is great for one or two things needing to be taped in succession. I've found out how cheap this thing is trying to pack boxes to move with a poorly built model. With that said, the tensioner on the tape wheel is non-existent no matter how much you tighten it and instead used my thumb against the tape roll for tension, and teeth broke off or bent on the serrated cutter. It's a standard design of a tape gun which is great in that it is easy to operate and load. Overall, it's going straight in the trash after we move. Avoid this brand and get a 3M one.
Date published: 2018-12-11