Description
This Campbell Hausfeld® vertical air compressor gives you all the power you need to operate a variety of air tools. It is suitable as much for the serious DIY'er as for any professional or contractor. It is equipped with a 2 HP motor that can be operated on a 120 or 240 V current. The heavy-duty, 2-cylinder, oil-lubricated cast iron pump is quiet and provides 4.1 SCFM at 90 psi and 3.9 SCFM at 175 psi. Large semi-pneumatic wheels make the machine easy to move from one place to another. This portable compressor offers a lifespan of over 5000 hours and comes with a 3-year limited warranty on any manufacturing defect.
The compressor features an oil-lubricated, two stage pump to increase the compressor's longevity while reducing noise
The air compressor is designed to tackle a wide variety of jobs, from small projects and upholstery to heavy duty nailing
The dual voltage motor allows the unit to be ran on the household 120V or 240V for the professional or contractor
The fully enclosed metal belt guard offers protection from the air compressor's moving parts
Product specifications
Air Delivery SCFM @ 100PSI(CFM)
Air Delivery SCFM @ 175PSI(CFM)
Air Delivery SCFM @ 90PSI(CFM)
Base Warranty Labor(Months)
Base Warranty Parts(Months)
Battery Warranty Labor(Months)
Battery Warranty Parts(Months)
Engine Displacement (Cu. Centimeters)
File/Certification Number
For Use with Air Brushing
For Use with Brad Nailing/Stapling
For Use with Finish Nailing
For Use with Framing Nailing
For Use with HVLP Painting
For Use with Roof Nailing
For Use with Surface Prep
Standard (71 decibels or above)
Motor Warranty Labor(Months)
Motor Warranty Parts(Months)
Special Warranty Labor(Months)
Special Warranty Parts(Months)
Frequently bought together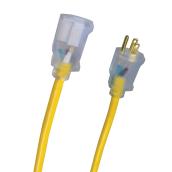 WOODS
Woods 12/3 Extension Cord 25' Yellow
Format 12/3 25'
Details
Article #74045239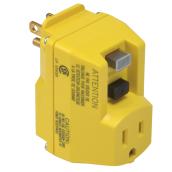 YELLOW JACKET
Single Outlet Portable GFCI Adapter - 1800 W - 15 A
Details
Article #32045050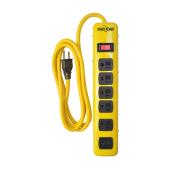 YELLOW JACKET
6-Outlet Power Bar with Surge Protection - 6' - Yellow
Format 1.8M
Details
Article #32045053
Wat is Two Stage?
Uses 2 pistons, 1st to increase air pressure to set a lower amount and then the air moves to the second piston (2nd stage) which increases to the max rated psi.
Date published: 2023-07-19
How efficient is this compressor running on 120 volts ?  Is it going to start up ok or pop breakers ? I want to run it on 120 volts only in a house garage. I am interested in this unit because it will be quieter than my oil less old one. Please advise. 
Runs well but i would have a20 amp breaker on its own circuit installed if you are going to use it where it will run steady. Jmho
Date published: 2023-01-16
Campbell Hausfeld 2-HP Vertical Air Compressor - 30-gal. - 175 psi - Navy
is rated out of
5
by
5
.
Rated

5

out of

5
by
Mitch
from
so far it's a night and day difference in the quietness compared to a oil free
Date published: 2022-03-10
Rated

5

out of

5
by
Rick980
from
Works Good
Have had this for closer to a year, have used it for various home garage enthusiast projects, keeps up well even with a portable sandblaster gun. I would not purchase it for a commercial use unless it's just for airbrushing or some other use other than multiple persons at once or auto painting but it can paint small things like a fender or something like that. I did have a 20 amp breaker installed on its own circuit to use it for 110v but i tried it on a regular 15 amp and had no issues i imagine if it were to run constantly while you are doing something you should book it up to 240 which i may have it done that way in the future Used a diegrnder,imoact gun,rivit gun,sandblaster gun,right angle socket wrench, grease gun, air blower to blow leaves out of my driveway, each time it was fine!
Date published: 2021-04-19
Rated

5

out of

5
by
Robert
from
Adequate air supply for a DIY homeowner.
Using an extension cord I needed to rewire for 220v to keep breaker from tripping, working great!
Date published: 2023-01-18
Rated

2

out of

5
by
Olsawblade
from
Disappointed with initial experience
Overall, I'm hoping this Campbell Hausfeld compressor proves to be reliable. But right-out-of-the box, it was a disappointment. The fittings (adapter and nipple) between the tank and the pressure switch had a huge leak (see photo). It was audible 35 feet away and caused the pressure switch to kick in every few minutes to keep up to the air loss. This fault came from the factory, which leads me to believe the unit was not quality checked, as the problem would have been very apparent. Unfortunately, the fix for this requires the removal of the pressure switch, so you can seal the fittings properly. This involves disconnecting the electrical wires in the motor and removing the check valve fitting, so you can rotate the pressure switch off. Then the adapter and nipple can be properly sealed and torqued. I contacted C-H customer service (contact on C-H website) to check if there is an easier fix. Their response was slow, taking days to get a reply. After a half-dozen emails back-and-forth (none of which included an apology for the inconvenience), it became clear that I would have to do the repair myself. I spent an hour doing so, and the unit is now operating properly. They offered me an air hose as compensation, but I already have enough. If this problem had occurred six months or a year after purchase, I might not have been so perturbed. But to have an expensive piece of equipment be unserviceable when you first unwrap it, well, it's frustrating -- particularly with a heavy device that is difficult to transport to a repair facility. The Kelowna RONA where I bought it is over an hour's drive away, so coupled with re-crating it, the trip would take about three hours. Otherwise, I would have taken it back for a full refund, and I would have purchased a different brand. And by-the-way, the Campbell Hausfeld claim that the unit is "Built in the USA" is a marketing ploy. In truth, all the major components, including the compressor and motor, are built in China. Final assembly happens in the USA, where the problem with my unit originated.
Date published: 2021-12-02
Rated

2

out of

5
by
PatrickAjax
from
No good blow fuses until you have 20 amps
Unless you have 20 amps breaker, will trip your breaker. Most of us only have standard 15 Amps. CH should disclose this info.
Date published: 2021-04-02