Description
This power cord with junction box is designed specifically for Bosch 300 series and above dishwashers equipped with a cold plug. This product is a must if your home has a hardwire plug and you don't want to upgrade your electrical connection to a receptacle. Backed by a 365-day warranty.
Product specifications
For 300, 500 and 800 Series dishwashers
Frequently bought together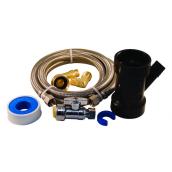 AQUA-DYNAMIC
Dishwasher Installation Kit - 60" Line
Format 60"-1/PK
Details
Article #01735488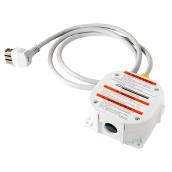 BOSCH
Bosch Dishwasher Junction Box with Power Cord
Details
Article #30855176
Bosch Dishwasher Junction Box with Power Cord
is rated out of
5
by
60
.
Rated

1

out of

5
by
SpiderDan
from
Picture and description do not sync! Watch out!!
The description tells you: Gray Dishwasher Appliance Power Cord: The picture is NOT that! What arrived as my online order was NOT the junction box shown in the picture, but rather the actual GRAY power cord that originally came with the unit. Be extra careful that you actually GET the junction box and NOT the power cord!! If you have an existing hard wired dishwasher, you WILL need (depending on the model) either the junction box OR a regular 3 prong outlet under the cabinet OR your own PLan B. My model SHXM4AY55N/26 would NOT allow a hardwire into it. When it arrived, I had to get a 3 prong outlet installed. I *thought* I had done my homework, but apparently I didn't research well enough.
Date published: 2020-03-18
Rated

3

out of

5
by
Anonymous
from
Keep it simple, Bosch.
It's pretty ridiculous that I have to pay for an accessory in order to use the existing wiring in my home. The plug should be the accessory and not the other way around. It would be cheaper for Bosch and for me if they just have hardwiring as the standard. This is my second Bosch and 5th dishwasher overall that I've installed in my homes and the first time I've experienced this where there's no option to simply connect the wires to the dishwasher. This extra box made it difficult the push my dishwasher against the wall as well, just as other reviews have noted.
Date published: 2021-08-09
Rated

5

out of

5
by
baubdaluzer
from
Makes hardwiring easy
Newer Bosch dishwashers use a special power cord that plugs into the back of the unit. It comes with a standard 3-prong cord that works if you have an outlet for power. If you have a hardwired dishwasher, this box allows for an easy-to-wire junction box with a white, black and green terminal. Just feed your Romex thru the opening, wire to proper color, and tighten cable clamp. The junction box can be mounted in an adjoining cabinet.
Date published: 2020-12-25
Rated

5

out of

5
by
steve
from
well made product. easy to open and wire up
[This review was collected as part of a promotion.] well made product. easy to open and wire up. very pleased Lowe's had this in stock when all the other home improvement stores can't get them. thank you
Date published: 2019-10-01
Rated

1

out of

5
by
Mark
from
The installer did not use these parts!
This dishwasher replaced a similar BOSCH unit that was only 5 years old. The installer was able to reuse the existing electrical connection. Do I get a refund?
Date published: 2021-04-26
Rated

2

out of

5
by
Joey
from
Junction Box too big
The junction box on this cord is too big to fit behind the dishwasher, it has to be mounted in a nearby cabinet. That was not communicated before purchase.
Date published: 2021-03-23
Rated

1

out of

5
by
Dishwasherman
from
Annoyingly unnecessary
Just give me a regular 3-prong plug. How hard is that?
Date published: 2021-08-12
Rated

5

out of

5
by
JZ
from
Purchased this item to hardwire my Bosch dishwasher. This item made it easier to hardwire and it mounted on the wall which keep wires out of the way.
Date published: 2020-06-17