Bosh 800 Series 21-cu ft French Door Refrigerator with FarmFresh System - Black Stainless Steel
Article #30855140
Model #B36CT80SNB
Format 21CFT-36"
This item is not currently available for immediate purchase, but can be ordered by visiting the selected store.
Description
Combining a sleek black stainless steel exterior with multiples convenient features on the inside, this 21-cu ft refrigerator from Bosch has it all! Its revolutionary FarmFresh System combines 4 innovative technologies: VitaFreshPro, FreshProtect, AirFresh and MultiAirFlow. This Energy Star-certified appliance features bright LED lighting from corner to corner, and is equipped with an internal water dispenser and an ice maker. Its SuperCool and SuperFreeze functions rapidly drop the temperature in the refrigerator or freezer, and the appliance is also equipped with VitaFreshPro drawers which automatically balance temperature and humidity to keep fruits and vegetables, meats and cheeses in an optimal environment. The adjustable FlexBar creates more storage space in the back of the fridge with a variety of hanging shelves which are perfect for wine bottles, eggs, condiments are more. In addition, the Home Connect app allows you to remotely monitor and control your refrigerator from your smartphone or tablet.


Ecological Attributes
This refrigerator is ENERGY STAR® certified to save up to 10% in energy.
Product specifications
Air filter: AirFresh® - Water filter: UltraClarityPro™ - Ethylene filter: FreshProtect™
Limited: 1 year on entire appliance / 2 years on non-electronic components / 5 years on electronic components / lifetime for rust on stainless steel
5 glass shelves (4 adjustable), 6 door bins (3 with gallon storage), FlexBar™, 2 VitaFreshPro™ drawers
Reversible Door Swing (Y/N)
Useful information
DELIVERY AND INSTALLATION
Our experts are dedicated to ensuring your new appliance is delivered with the utmost care.
Learn More
PROTECTION PLAN
Enjoy exclusive privileges.
Learn More
RETURNS AND REFUNDS
We stand behind every product we sell.
Learn More
Credit available
Frequently bought together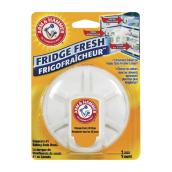 ARM & HAMMER
"Fridge Fresh" Refrigerator Air Filter
Details
Article #53975000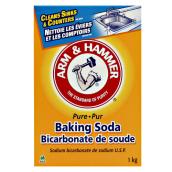 ARM & HAMMER
Arm & Hammer Baking Soda Household Cleaner - Natural - Powder - 1-kg
Format 1KG
Details
Article #53975001
Bosh 800 Series 21-cu ft French Door Refrigerator with FarmFresh System - Black Stainless Steel
is rated out of
5
by
67
.
Rated

5

out of

5
by
Wick
from
Absolutely Amazing Appliance
(This review was collected as part of a promotion.) This refrigerator has taught me just how good a refrigerator can be. Refrigerator is roomy, shelving great, high quality, fresh fruits and vegetables stay fresh long, no freezing lettuce, great filter, water dispenser totally thought out. Freezer is roomy, lots of shelves so no food stacking, the ice cubes are not broken up, great size, fast ice making, and both refrigerator, and ice maker almost silent. Great straight lines to profile. This appliance got me excited about what a great refrigerator could be. No issues , no problems, wifi connection app great. This is in a top class of its own.
Date published: 2021-07-30
Rated

5

out of

5
by
NCML
from
Food stays fresh much longer!
So many aspects to admire: the storage options, the interior lighting, the water dispenser, the freezer drawer storage, the care-free exterior. The most surprising, almost shocking, finding is the extended time that food stays fresh. For instance, the sell-by date on half-and-half used to mean the curdle-by date! Now we laugh at that date because more than ten days later that product is still good! This happens regularly. And the cheese stays fresh, and the vegetables are crisp, and, and, and…
Date published: 2021-06-06
Rated

5

out of

5
by
MarkG
from
Love my new Bosch
(This review was collected as part of a promotion.) I selected this Bosch Fridge because of the know good quality and features that I wanted. It was also available immediately which was a necessity because my old fridge made a funny noise one evening and never started again. With all the pandenic supply chain problems I wanted a good quality fridge that was available immediately. The Bosch fit my requirements. Once it was delivered it was obvious I made the right choice. The interior and exterior finishing and well designed shelving options were very nice. I biggest problem I am having is figuring out how to arrange all the shelves. So far very happy with this purchase.
Date published: 2022-03-07
Rated

1

out of

5
by
Bhupesh
from
Misleading definition of counter depth
This fridge is Counter depth and requires 36 inches wide opening as per specification given. We have 39 inches wide opening. The doors are designed to open beyond the fridge which is 35 and 5/8 inches. The doors are hitting the sides. In reality you need almost 40+ inches opening to be used as counter depth. This fridge can only be stored with 5 inches out of counter depth as picture attached. This is totally misleading defined as counter depth and customers pay higher value for counter depth. Bosch approved techician was also unable to resolve the issue and was unable to explain why is this fridge counter depth.
Date published: 2022-04-13
Rated

5

out of

5
by
Piggy
from
Amazed by the usable size with 21.0 cubic feet
(This review was collected as part of a promotion.) We brought this fridge last month to replace our full size 25.6 cubic feet fridge. This fridge has amazing usable volume, even it has 21 cubic feet. This Bosch fridge has such better shelving arrangements that it can host more stuff and has good accessibilty to food and drink compartments. Other positive observations are the convienent hidden water supply, great lighting in the fridge compartments, the wifi reminder of the fridge status, the quietness of the compressors and the fruits and veggetables stay fresh longer. We love it. Highly recommend.
Date published: 2021-03-01
Rated

4

out of

5
by
Carole
from
Pas seulement beau!
[Cet avis a été recueilli dans le cadre d'une promotion.] Le look est super - moderne mais chaleureux et chic dehors comme dedans. La plus grande capacité dans cette catégorie de refrigérateur. Aménagement facile et on voit bien les produits. Distributeur a glace très efficace et distributeur a eau beaucoup plus rapide que mon ancien frigo. Manipulation une main pour l'eau vraiment interessant. Conservation des aliments vraiment supérieur aux autres. Compartiment fruits et légumes un peu petits mais j'ai de la place pour rajouter des contenants de conservations fruits/legumes sur les tablettes.
Date published: 2021-05-02
Rated

3

out of

5
by
Brooks
from
Questionable engineering
(This review was collected as part of a promotion.) The lowest shelf which spans the whole fridge is not strong enough to support any weight; it bows down in the center with a small load. The full width drawer which hangs from this shelf therefore doesn't seat quite right. The flexbar bottle holder does not stably cradle a standard wine bottle. It would fall off with the slightest bump. You cannot open the left side crisper drawer without opening both doors because it misses clearing by less than an inch. Ice in the ice drawer can fall out under the freezer if you scoop backwards because they left a gap at the back. Just a lot of silly design errors for a fridge commanding a huge premium price....
Date published: 2021-12-22
Rated

5

out of

5
by
Hoomanhr3
from
Elegant design, great performance...
(This review was collected as part of a promotion.) We did a major renovation a few months ago, and that was when we upgraded all of our appliances to Bosch appliances. We didn't want to go with a design that had an external water/ice dispenser as some valuable fridge space should have been sacrificed. I love that the water dispenser on this fridge is inside the fridge and doesn't take any of the fridge space. The options to monitor and control the fridge/freezer on the home connect app is great. It is super convenient to independently adjust the temperature/humidity settings in each of fridge's compartments. I only wish that the upper drawer of the freezer could have been pulled out fully to provide better access to the items stored on the top drawer.
Date published: 2020-11-30