Description
Get this Bosch orbit sander for fast removal and ultra-smooth finish. It features a pad brake system that removes swirl marks on the surface. The hook and loop disc attachment provides a solid grip of the disk. This random orbit sander has a filter system that traps dust particles. Its backing pad is flexible to provide a smooth finish on all surfaces.
Integral pad dampening brake system helps prevent swirl marks
Bosch's hook-and-loop disc attachment delivers secure fit
Microcellular backing pad for smooth, fine finishes
Variable-speed control to match speed to workpiece and task
Adjustable from between 7,500 and 12,000 OPM
Optimal on-board system for filtering fine dust
Soft-grip top and body
Low-vibration operation
Sanding disc, vacuum hose adapter and carrying bag
Product specifications
Base Warranty Labor(Months)
Base Warranty Parts(Months)
Battery Warranty Labor(Months)
Battery Warranty Parts(Months)
File/Certification Number
In-use/lifestyle images: accessories not included
Motor Warranty Labor(Months)
Motor Warranty Parts(Months)
5-in 8-Hole Hook and Loop Discs (Pad for PSA discs is sold separately)
Special Warranty Labor(Months)
Special Warranty Parts(Months)
Frequently bought together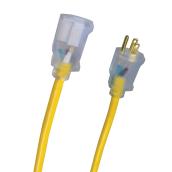 WOODS
Woods 12/3 Extension Cord 25' Yellow
Format 12/3 25'
Details
Article #74045239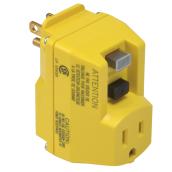 YELLOW JACKET
Single Outlet Portable GFCI Adapter - 1800 W - 15 A
Details
Article #32045050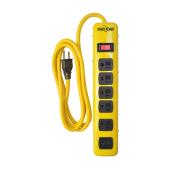 YELLOW JACKET
6-Outlet Power Bar with Surge Protection - 6' - Yellow
Format 1.8M
Details
Article #32045053
how is the sanding disc fitted to the sander, is it easy to change, and is it secure when operating
Very secure very easy to replace
Date published: 2019-07-16
can you use this orbital polisher to was and polish your car with?
Bosch 5-in Corded Random Orbit Sander - 2.5-Amp Motor - 12,000 OPM - Variable Speed
is rated out of
5
by
207
.
Rated

3

out of

5
by
dritteske
from
Quality control issues with the pad
[This review was collected as part of a promotion.] I read reviews on several sites before buying. I saw a lot of comments about the sanding pad being cupped, but I figured Bosch would have fixed that by now so I bought the sander anyway. The pad was cupped. I compared it with my other RO sander of a different brand and that one was flat. I've heard good things about Bosch customer service though, so I sent them an email to see what happens. I'm still tempted to return this because now rather than using my sander this weekend I have to wait to see if Bosch will mail me a pad that isn't defective.
Date published: 2019-06-30
Rated

5

out of

5
by
edZik
from
Great dust collection!
I did own Craftsman Professional (C.P.) and Milwaukee 5 inches orbital sanders in the past. So, let me tell you what do I think about this Bosch sander if I compare it to two another tools. 1. Noise level: C.P.<Bosch<Milwaukee 2. Vibration: C.P<Bosch<Milwaukee 3. Efficiency or productivity while sanding wood: Bosch=Milwaukee> C.P. 4. Wood dust collection: Bosch>>C.P.>Milwaukee 5. Hand gets tired and num using Milwaukee much faster than Bosch or C.P. So, overall..... Bosch sander is a very good tool to have. Flooring, woodworking would complement most. Fine dust collection is a huge plus for drywall work! This Bosch orbital sander comes in a handy bag with enough room for sandpaper.
Date published: 2013-09-14
Rated

4

out of

5
by
eagerhomeowner
from
for the price , a great sander
so far i have used it for two different projects. One to take down my wooden flooring and the other to scuff/buff my painted wall. With the 320 disc on low setting , it did exactly what i had intended it to do which is take down the previous home owners numerous patchwork/nail holes and make the drywall smooth again. On the high setting with an 80 disc it took the protective coating off the old Parque flooring i have without taking too much material. its all about keeping in a steady progressive motion with little to no pressure needed. all this while keep dust at a minimal with the filter attachment... GREAT
Date published: 2013-08-10
Rated

5

out of

5
by
Southern gal
from
Really impressive!
We purchased this sander to strip layers of old paint from our porch railings for repainting. Previous homeowners had really layered it on without the proper prep work and we had paint chipping everywhere. This sander ripped through 5 layers of paint and we were able to bring it back to bare wood. Don't be stingy with the sanding pads, because it's going to burn them up pretty fast. We ran this tool for hours at the time and other than stopping to change pads or empty the filter, it just kept performing. It's unusual to find a tool that's comfortable to use for both a man and a woman, but it was light enough for me to use and still tough enough for him. I was amazed at what it could do. Turned areas and flat, this little guy kicks butt! Our porch rails look fantastic! Now about that coffee table........
Date published: 2011-11-11
Rated

5

out of

5
by
Allan
from
Makes Sanding Pleasurable
I recently bought a home and then did a top to bottom renovation. In order to save cash I decided I would tape spackle sand and paint the home myself. Wow there are few things I enjoy more than getting high and whooping this bad boy out to do some sanding. It is nearly as messy as any other sander. I would say it probably offers a 30-40 percent dust reduction, and the little debri catchment is fairly easy to use and change out. But for the money? It is genuinely worth it. Just spend the extra cash and get this baby. It's like one night out, the difference is negligible.
Date published: 2013-11-09
Rated

5

out of

5
by
PatK
from
Excellent!
Our newest house needs lots of wall repair, sanding and painting. He did one room with his old sander and I was about nuts with the dust! So I insisted he had to have a new sander and he chose this one. He loves it because it is smaller and lighter and the grip is more ergonomic! I love it because the dust collector REALLY WORKS! He hooks it to his little shop vac and sands walls and ceilings and the difference is AMAZING! It doesn't catch every bit of dust but I'd estimate 95% and to me, THAT'S HEAVENLY!
Date published: 2013-10-22
Rated

5

out of

5
by
Sands-a-lot
from
Very good quality, no issues
A very good overall design and seems to be a long lasting product after many hours of use. My only issue is the apparent lack of more finer sanding grinds in the 8 hole disks. Haven't checked an automotive/paint supply house but part of my intended use is finish metal painting so hope my search is successful. This can be used like a palm sander but with low noise and vibration so fatigue isn't a factor and following simple start up suggestions I haven't seen a swirl mark in either wood or auto finish.
Date published: 2013-08-28
Rated

5

out of

5
by
HomePro51
from
Another Quality Bosch Tool
I'll keep this short because all of what I have to say that's positive has been said, and I don't have anything negative to say. I am a fan of Bosch tools because I have yet to be disappointed by one. My experience (40 years) is as a home owner who typically remodels extensively, so I depend on my tools to perform as expected and without having to replace fequently. I am very pleased with the performance of this sander after three days of almost continuous work, stopping only to replace paper (about 30 seconds) and to give myself a break. The dust trap filter does clog up more frequently than the need to replace the paper (and dependant upon the material of course), but it takes less than a minute to clean and you're back at it - a shopvac connection (when appropriate) would eliminate this all together. A great sander!
Date published: 2012-07-19