Description
This high performance Furno 500 heat gun is designed for professional use. It has 12 temperature settings from 150 to 1200 °F, 2 speeds and 1 cool-down setting, power of 1500 watts, LED screen, 2 nozzles and ceramic element. Made for projects such as removing paint, drying spackle, thawing pipes and removing decals. 1-year warranty.
Product specifications
2 speeds and 1 cool-down speed
Frequently bought together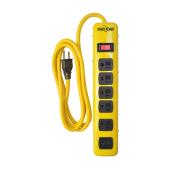 YELLOW JACKET
6-Outlet Power Bar with Surge Protection - 6' - Yellow
Format 1.8M
Details
Article #32045053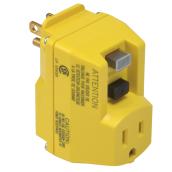 YELLOW JACKET
Single Outlet Portable GFCI Adapter - 1800 W - 15 A
Details
Article #32045050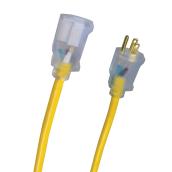 WOODS
12/3 Extension Cord - 25' - Red
Format 12/3 25'
Details
Article #74045239
You may also like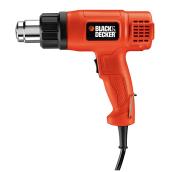 BLACK & DECKER
Black & Decker - Heat Gun - 1350 W - 1000°F
Format 1350W
Details
Article #00275614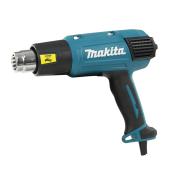 MAKITA
Heat Gun - 2 Power Levels - 1560 W - 13 A - Teal Blue
Format 12AM
Details
Article #11975417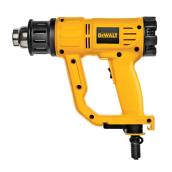 DEWALT
Heat Gun - 1550 W - 13 A
Format 1550Wx13AM
Details
Article #00275726
Please describe the two nozzels that are included. Thank you
Pro Heat Gun - Furno 500 - Yellow and Black
is rated out of
5
by
15
.
Rated

5

out of

5
by
JCarsonkit
from
Versatility
I was asked to review this as part of the review crew. I have used it on the following jobs: 1. to shrink shrink tubing while repairing wiring under a car dash. 2. Setting the decal on a car (after you apply to heat up the decal to set it). 3. Removing stubborn paint from a piece of wood trim. What makes all these different jobs possibile are all the different settings, 2 fan speeds and 6 heat settings. What I really liked was the cooling feature, it will not shut off until it has cooled the tip. Great job and worth the money and the only one you will ever need. [This review was collected as part of a promotion.]
Date published: 2018-02-24
Rated

4

out of

5
by
Rick1200
from
Furno500 Heats it up
Product packaged well and included 2 attachments (diffuser & window shield). Used to flare a piece of PVC with excellent results and to try and clean haze of an auto headlight (would not recommend for this). Easy to operate with clear instruction manual. Would give a full 5 stars if: 1. Cord was easily detachable from the heat gun. Once cord is attached it no longer fits in original packaging which I use for storage. 2. The heat level was brighter as it can not be easily seen when working out doors. Nice addition to tools. I am looking forward to trying it out with wall paper and paint removal on future projects. [This review was collected as part of a promotion.]
Date published: 2018-02-23
Rated

5

out of

5
by
Dan 0351
from
Has the feel and performance of a quality product
I bought this for hobbies and DIY house work and it has been amazingly helpful. Fixing bent fletching on arrows,working out rusted screws, drying glue, warming up wax, peeling paint, it handled it all without a problem. The design and settings are easy to understand after a quick reference to the manual. The gun heats up very quick, and it has an nice power cord that is beefy in the best of ways. I also like how clear the LED screen is and the built in stand on the butt. The attachments and case are something I want, just to make a good thing better!
Date published: 2018-10-02
Rated

5

out of

5
by
Texgal64
from
Great Design
the design of this heat gun makes it easy for anyone to use. The grip work for even small hands. The nozzle goes well past the heating element and keeps the heated air directed at your target and not coming back on your hand or face. The light weight design makes it easy to handle for long period of time without straining my arms. [This review was collected as part of a promotion.]
Date published: 2018-04-12
Rated

5

out of

5
by
jack of all trades
from
Well Design Heat-gun with intuitive features.
I held off writing this review until I was able to use the gun a bit and provide an unbiased opinion. First let me say that I have used heat-guns for many many years for MANY types of work and projects. I've used heat-guns for bending and shaping plexiglass, PVC, other plastics, auto body work, electric work in applying heat shrink, drying paint in damp or cold conditions, applying and removal of vinyl wrap material and of course paint removal. Upon opening the box, the Wagner heat-gun comes with two attachments for directing the heat application, a cord that you need to snap into place into the bottom of the handle, and a small instruction booklet that is a short read and easy to understand. The gun it self is made from a durable plastic, same as Wagner's other current items which is nice because it can handle some abuse and not break. I know this from owning some of their other products. The heat-gun offers a simple and intuitive control panel on the top of the handle area and also a tag attached to the cord at the base of the handle that is a reference chart for selecting the appropriate heat range. The power cord once clicked into the base of the heat-gun is secured and fixed. It does not come back out easily as you must to use a small flat screw driver to apply pressure to the release mechanism of the clip in order to remove the power cord once again. This is rather difficult which makes me think Wagner doesn't really want you to remove the cord and that is should just remain in permanently once attached. The heat-gun has several nice features in its design. One is that the back of the gun acts as a stand allowing it be safely placed in an upright position so as not to burn anything between use or to let it cool safely until it can be put away. My last gun was not nearly as well made or as accurate as this Wagner heat-gun. I had many times scorched surfaces with the old generic gun because it did not offer the variable heat range and was much more difficult to use. The Wagner takes all the guess work out of what is too hot or not hot enough letting you jump directly into your work/project not have to spend trial and error time of heat range and testing. Just press and go. I would easily recommend this heat gun to anyone needing one and to avoid the cheap versions out there. This product will give you professional results for many years. [This review was collected as part of a promotion.]
Date published: 2018-02-25
Rated

5

out of

5
by
Hooterman
from
What a HELP!!
I got this a few weeks ago. We just moved to a house that was suppose to have been remodeled . All the hinges and strikers were painted. Poorly may I add. Used the Furno 500 to heat the paint and then it was easy to remove. A great time savings for me and easier to get paint off. Next, wall paper. [This review was collected as part of a promotion.]
Date published: 2018-02-23
Rated

5

out of

5
by
RBaerman
from
very versitile
Have used the Furno 500 for numerous projects from removing stickers to heating nuts and bolt. The heat range works well it's, both very east to see what temp settings are and easy to use. The cool down is nice when done cuts the put away time way down. [This review was collected as part of a promotion.]
Date published: 2018-02-20
Rated

5

out of

5
by
tool user
from
wagner furno500
Used to form PVC archery bows. This is the best heat gun I have used. The display is great and easy to follow. More flexibility in temp and air flow then my previous gun. [This review was collected as part of a promotion.]
Date published: 2018-02-27