 PRO Program for
Business Owners
Build more every day with VIPpro
LOWE'S, RONA and RÉNO-DÉPÔT are coming together to provide PROS with more.
Preferred Pricing | Priority Service | Strong Network
Benefit from the largest network of home improvement centers in Canada and the same PROS advantages.
DISCOVER THE VIPpro PROGRAM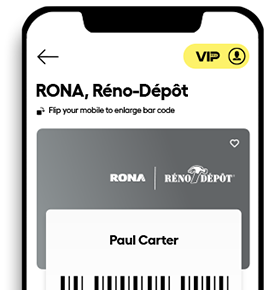 ORDER ONLINE AND GET YOUR

VIPpro

DISCOUNTS◊ ON YOUR PURCHASES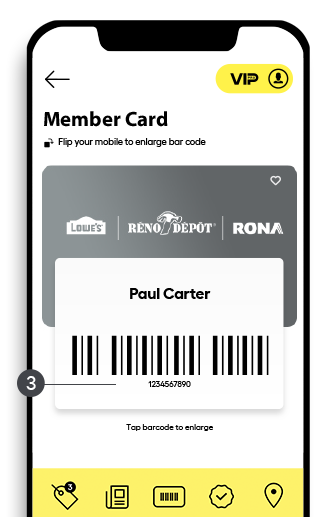 Login to your online account.
Don't have one?  You can create it here.
You must use the same email address you used to open your VIPpro mobile app account.

Go to My Personal Information section

Edit your information to add your RONA VIPpro account number

Your VIPpro discounts will now apply to your online purchases!
Shop now
Everyday deals for Contractors and Business Owners
---

Customer service
For prompt answers to all your questions you can visit your home store. Should you require further information or if you have some comments, please contact us by email or by phone.
COMMERCIAL CREDIT CARD
Notice for RONA credit card cardholder
End of Program as of January 31, 2021
Details
­
A truly integrated payment solution that lets you centralize all of your purchases for the construction, renovation and maintenance products you need for your buildings or your office.


◊Online purchases Lowe's Canada VIPpro Program:
This program is available to LOWE'S, RONA and RÉNO-DÉPÔT Canadian customers involved in construction, renovation, maintenance and building renovations who have a pros account member or at the opening of a pros account member. Pros Members benefit from a 10% off discount on the regular price of products in the paint category, as well as a 5% off discount on the regular price of products of all other categories, subject to the exceptions mentioned hereunder. Some product categories may be excluded from time to time at LOWE'S, RONA and RÉNO-DÉPÔT sole discretion. The Pros Member discount apply before taxes, on the regular price of applicable products and does not apply to items on sale, online exclusive products or non-discountable items including without limitation the following branded products : Sico Évolution, Sico Muse, Amazon, Canexel, Rockwool, Dyson, Google Home, Nest, Ecobee, Broil King, Kamado Joe, Napoléon, Traeger, Weber, Arlo, Samsung Smart Home, iRobot, Ring, Lutron Caseta, Ariens, Husqvarna, EGO. LOWE'S, RONA and RÉNO-DÉPÔT reserves the right to change their non-discountable assortment at any time. We reserve the right to limit quantities. Cannot be combined with any other offer. Only purchases at regular price paid in credit card or paypal are eligible. VIPpro charge account customers cannot buy online and pay by putting their purchases on their charge account. More specifically, this offer does not apply on prices that indissociably covers not only the product, but also installation services (such as hard surface countertops prices). Cannot be used in conjunction with any other coupon, discount, instant savings or rebates on kitchen cabinets or promotional offer including; LOWE'S, RONA and RÉNO-DÉPÔT employee discounts, LOWE'S, RONA and RÉNO-DÉPÔT low price guarantee, Build up plan incentives, or any other special pricing programs. Cannot be used in conjunction with the following products and/or services: extended protection plans, installation, shipping, assembly, rentals, cut-shop service, delivery charges, service purchases, labour, tool rentals etc. or previous sales. Gift card, special orders or purchases made with in-store accounts or purchases made by clients with a specific contractual agreement executed with LOWE'S, RONA and RÉNO-DÉPÔT are not eligible for this offer. Doesn't apply to previous purchases and layaways. Not convertible into cash. If you have monthly price lists (commitment) or have a current quote, the prices will not apply to your online purchases. Eligibility to a preferred pricing under the Program is conditional upon the Pros Member ID being active. The Pros Member understands that his purchases will be monitored periodically. Additional conditions apply and all applicable terms and conditions regarding the PRO Member Program are available here :
www.vip-pro.ca
.
◊◊Same-day delivery service is only available for select in-store items in sufficient stock through selected participating stores. Delivery address must be within delivery zone of the selected participating store. Weight limit of 1,475 Kg (3,250 lbs) per order. Service must be requested before 2:00 p.m. on weekdays and before noon on Saturdays (local time). Same-day delivery is not available on Sundays nor on provincial and federal holidays. Service may not be available due notably to high in-store traffic, bad weather conditions or any other situation affecting the availability of the service.
Until Wednesday, browse our selection of curated products for PROS.
Until Wednesday, browse our selection of curated products for PROS.
© RONA 2022, All Rights Reserved