Description
Post level, 3 vials. Plumbs or levels in one easy hand-free reading.
Related Projects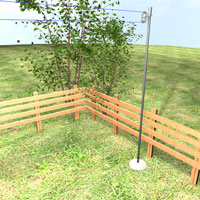 Install a clothesline post
There is no laundry detergent, fabric softener or dryer sheet on the market that leaves clothes smelling as fresh as ones that are dried on an outdoor line. And...Learn more
Post level
is rated out of
5
by
19
.
Rated

5

out of

5
by
al
from
saves trouble leveling posts
I put 10 fence posts in without this level using a standard 2 foot level. Then I bought this for the next 30 posts. It saved me having to use one hand to hold the level and allowed me to level in two directions at the same time. It was a good purchase.
Date published: 2018-06-01
Rated

4

out of

5
by
Paul
from
Be careful where you place it
The level works fine, like you would expect a level to work.... but, be careful where you place it. Even moving it a few inches up or down the fence post can change the reading significantly. Some of the post have gouges in them which affect the reading on the level. After I had set a post and the concrete had hardened, I noticed that it did not look plumb. After checking in different spots, I noticed that the level gave me different readings almost everywhere I placed it. As I said, the level works find, just make sure you place it on a smooth place on the post and then stand back and look at it before you put the concrete in the ground and set the post. [This review was collected as part of a promotion.]
Date published: 2019-07-05
Rated

1

out of

5
by
nick
from
static electricity effects bubble
there was some dust on the bubble glass that i wiped off with some leather gloves i was wearing and the bubble started moving left and right well past the lines while i was watching it. at first i didnt notice that it was my glove and thought the post went out of plumb but then i realized the post wasnt moving. but not after a few posts had to re-positioned due to the inaccuracy of the this. get something else that is not effected by static electricity.
Date published: 2018-04-30
Rated

5

out of

5
by
Rod
from
good addition to the tool kit!
I should have purchased a long time ago. Makes setting posts a breeze. have also used it just as a level for footings for a deck. The elastic strap is great so you don't have to hold it in place. It worked well on the 6x6 posts that I set myself. [This review was collected as part of a promotion.]
Date published: 2019-06-11
Rated

5

out of

5
by
Victor
from
Awesome product
This is a true case of "where has this been all my life?" When setting a piece of PVC in the ground and in concrete for my flag pole, I of course wanted the PVC to be plumb. By using this little gem, I did not have to use a hand-held level and move it back and forth between the 2 sides. Easy to read "bubbles", the device stays in place nicely and my flagpole flies high and straight. Great job! [This review was collected as part of a promotion.]
Date published: 2019-07-09
Rated

4

out of

5
by
Jaxon
from
Great concept
Dropped it one star because the rubber band can cause a mis-reading on precise leveling, I removed it and hold it in place with one hand when leveling. Could be operator error, but I tried it with the band several times and got slightly different readings than when holding it in place. Durable, and gives accurate readings. [This review was collected as part of a promotion.]
Date published: 2019-07-08
Rated

4

out of

5
by
Rick
from
Post level
Good fence post level, works great for the DIY person. Easy to use and simple to install, only downside it's plastic housing. Mine started to crack when I threw it in my tool bag, while working from job to job [This review was collected as part of a promotion.]
Date published: 2019-06-05
Rated

5

out of

5
by
John
from
Worked great for for truing up my mail box post. I am now some what looking forward to expanding my fence in the back yard minus digging the holes. [This review was collected as part of a promotion.]
Date published: 2019-07-02