TUFF-TITE - Drains and Accessories (2)
Maintain an agricultural environment with
underground drains
featuring multiple sizes and material options. Flexible drain pipes are ideal for narrow spaces, allowing navigation around corners for an efficient drain system. Drains and 
drain accessories
offer a simple way to maintain basements and outdoor areas in an efficient way.
Expandable drainage pipes enable simple customization to fit them to existing piping structures, and you can find models with varying angles. Versatile
septic tanks and accessories
feature high-density plastic material similar to select
plumbing drains
, ensuring acid resistance, which is essential for hazardous workplaces.
---
Find a variety of parts for
underground drains
 in multiple sizes and designs. They come in metal, PVC, and high-density polyethylene options. Poly and metal accessories have durable designs resistant to rust and corrosion, providing long service and reliable performance. Plastic pipes and fittings are easy to cut and fit, and their smooth surfaces prevent roots from anchoring. Choose from different sizes of agricultural pipes for small, medium, and large irrigation and water supply systems. Expandable universal drainage pipes are suitable for use above and below the ground, and feature lightweight, compact durable designs. Adapters allow pipe connections of different materials for new installations, and for repair projects. There are male and female adapters. Some operate by a twist and seal mechanism and require glue to create watertight connections. Downspout adapters connect spouts to water sewer drains, and select kits include installation hardware.
Versatile connectors simplify drain jobs by matching up with different sizes of corrugated and PVC pipes. They flex and bend to create varied angle connections. Other connectors include T-junction fittings for three pipe connections and elbow connectors for 90-degree hookups.
Drain accessories
such as tight sewage basin lids are also available. They work well with radon mitigation systems, preventing the collection of radon gas in a sewage basin or sump that could penetrate a building. Other accessories for
plumbing drains
, such as cap drain insert plugs and plastic atrium grates, help prevent debris and dead animals from clogging drainage systems. Grates come in various designs that install flush with paved areas. Storm drain inline basins are available for residential and commercial applications. You can connect storm drains to mole-pipe or storm water pipes with a bottom or end outlet, or an inline collection pit. Use sump pits for residential exterior water management applications. Some combine with a submersible sump pump that treats water before removal.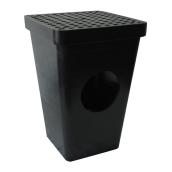 TUFF-TITE
Tuf-Tite 2-Hole Catch Basin - Polyethylene - 11-in L x 11-in W x 15 1/2-in H - Fits 4-in dia Pipe
Format 11x11x15.5"
Details
Article #8747012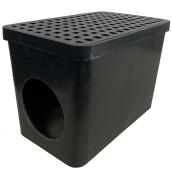 TUFF-TITE
Big O Catch Basin - Outdoor Drainage - Black - 9-in L x 9-in W x 4-in dia
Format 9x9x14"
Details
Article #8747016