Pits, vaults and holding tank treatment
Article #06735002
Model #3100101
RONA Langdon Hardware Ltd. / Fort Erie
(289) 320-8250
Description
MrGreen PVH uses all natural plant based micronutrients to eliminate odours, reduce sludge, and extend the lifespan of outhouses and holding tanks. Helps to reduce flies and mosquitos. Does not contain chemicals, bacteria, or enzymes. Ecologo approved. Is also unaffected by hot weather and heavy use. Guaranteed to perform as claimed when used as directed. 1L format.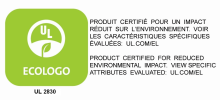 Ecological advantages
Ecological Attributes
This product is certified by ECOLOGO (UL 2830: Septic Tank Additives) which attests a continuing effort to improve or maintain the quality of the environment by reducing material and energy consumption, minimizing production impacts, as well as impacts from the use and the disposal of the product.
Environmental Issues
This product is eco-responsible because it reduces the impacts associated with the following environmental issues: