Description
With over 100 years of experience under its belt, the Pfister brand knows a thing or two about designing quality plumbing fixtures. This superb polished chrome tub and shower faucet is no exception, as it features a high-precision Permabalance valve that provides precise temperature balancing. Your shower experience won't be the same ever again thanks to the shower head's rain effect, which provides more covering. What's more, the Wipe Clean nozzles allow you to wipe away mineral deposits effortlessly. This product is covered by a limited lifetime warranty.
Frequently bought together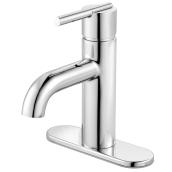 PFISTER
Pfister Fullerton Lavatory Faucet - Polished Chrome - 1 Handle
Details
Article #56305187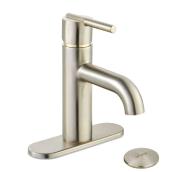 PFISTER
Pfister Fullerton Lavatory Faucet - Brushed Nickel - 1 Handle
Details
Article #56305188
I have purchased this Shower and installed the Roughing and now tiled the wall I need top perform adjustment to handle as with Factory setting Handle goes in too deep I would like to bring handle Out How can I loose the Brass ring inside the handle
To troubleshoot and ask the necessary questions to be able to properly provide the correct solution, please contact Pfister Consumer Service at 1-800-732-8238 for further assistance with your product and possible warranty parts or product.
Date published: 2018-02-19
Do you have to install the tub faucet or can you omit that??
Pfister Model # 8P8-FTCC can be installed as shower only configuration. The complete valve installation instructions can be viewed here. http://s7d1.scene7.com/is/content/Pfister/28371-0800
Date published: 2018-02-19
Pfister Fullerton Tub and Shower Faucet - 1 Handle - Modern Style - Polished Chrome
is rated out of
5
by
5
.
Rated

5

out of

5
by
Contact
from
Great Faucet
I've used this faucet in at least 10 bathrooms now and never had an issue that was the fixture. The hot water on most fixtures is set very low to avoid scalding people so it generally needs to be adjusted hotter before use but is easy to do. I did experience one time where the water was leaking out the shower and after calling support they asked me to check the tub spout line and confirm it was copper - it wasnt. Even good plumbing companies can have techs that take shortcuts and pex cant be used after the mixing valve as its sensitive to pressure and can cause leaking through the shower head when diverter is not pulled. It was easily fixed and in short I suspect other reviewers are blaming the faucet for their own errors.
Date published: 2020-01-29
Rated

1

out of

5
by
Jazzyjeramia
from
Disappointing
Just installed according to install instructions and now the shower head leaks water while the faucet is selected. Mixer valve doesn't really mix it's either very hot or very cold. The handle was very difficult to get aligned in a vertical position without it being slightly angled. I would not recommend this faucet as good as it looks it's full of flaws.
Date published: 2017-08-06
Rated

1

out of

5
by
kamlesh
from
no water pressure
I just got it installed brand new in all my 3 washrooms..but the water pressure is very low..what do I do..Please Advice how to fix that..Thanks
Date published: 2019-08-06
Rated

5

out of

5
by
raymondzzd
from
Have it for 2 years now. Need to just hot water limiter before first use. Looks very nice and works perfectly. Easy to clean.
Date published: 2019-05-09
Rated

1

out of

5
by
DisappointedToronto
from
Terrible Quality
I don't know what the underlying issue could be but this faucet is terrible. 1. I have to turn it to almost max level to get a decent level of hot water. However, the handle itself is "loose" so I always have to turn it up high and wiggle and jiggle the handle and tap it up and down to get a to satisfactory temperature to bath my kids in. 2. The spout is always dripping still when the tab is pulled for shower mode. 3. When you turn off the shower, the tab doesn't automatically "drop" like all my other faucets. I've had guests use my shower and not realize that the showerhead has been left dripping endlessly over night because water is still running through the pipes. You have to manually depressed the spout tab to truly turn off the water. 4. I have to REALLY crank the handle to completely shut off the water and even then, sometimes it doesn't work. I have to turn the water back on fully and shut if off fast but cranking the handle faster to ensure there are no drips.
Date published: 2019-02-26