Description
Being 3 inches taller than a standard counter-depth refrigerator, this appliance can fill the gap often left above the refrigerator, for a more integrated look. It has a pull-out freezer drawer with 3 levels so you can easily organize your items and features the ExtendFresh(TM) temperature system that keeps your ingredients at an optimal temperature to maximize their flavour and texture. This panel-ready refrigerator also has an interior water dispenser, a FreshChill(TM) pantry which allows you to adjust the temperature manually, as well as a produce preserver that absorbs ethylene gas emitted by fruits and vegetables to extend their freshness. Custom panels and handles are sold separately.
Product specifications
5 shelves, 1 temperature-controlled drawer, 2 humidity-controlled crispers, 6 door bins
1 metal basket, 1 wire basket, 1 plastic basket
Reversible Door Swing (Y/N)
Frequently bought together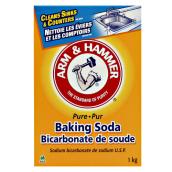 ARM & HAMMER
Baking Soda
Format 1KG
Details
Article #53975001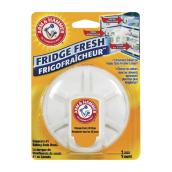 ARM & HAMMER
"Fridge Fresh" Refrigerator Air Filter
Details
Article #53975000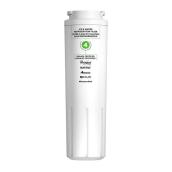 EVERYDROP
Refrigerator Water Filter - Everydrop(TM) #4
Format #4
Details
Article #30005202
Panel-Ready Refrigerator - 22 cu. ft. - Sand
is rated out of
5
by
75
.
Rated

4

out of

5
by
oregon mama
from
Good Fridge.
I bought this fridge at the beginning of the summer. We just had the cabinet doors put on,and it looks awesome. This is the first cabinet ready appliance we have purchased. It is annoying that they cost more than the ones with doors and handles,it does not make sense to me. The fridge it self has been good, the pull out freezer drawer is not as sturdy as the built in option we looked at. If I got the opportinity to do it all over again, I think I would have considered the built in option more serioulsy. I am very happy with how it looks, but I think the built in models are just better quality. [This review was collected as part of a promotion.]
Date published: 2015-10-19
Rated

1

out of

5
by
Poor design For a fridge
from
Sticks out
I completely agree about the comments of the fridge sticking out. I realized it is counter depth not built-in and expected the panel doors Not to be flush with the counter. What they don't mention is that it sticks out an additional 4 inches to accommodate the width of the doors. Doesn't this make the idea of a counter depth panel ready fridge completely misleading? I would never have spent the extra money to make it look like have a tree if it was just going to stick out like a sore thumb
Date published: 2020-01-20
Rated

1

out of

5
by
CRuiz
from
Heartbroken!
I am extremely heartbroken. I wish I would have read all these reviews BEFORE buying this awful thing! My husband and I have recently built a brand new home. I was so excited to have this beautiful custom kitchen until now! If I would have known this door issue, I would have never bought it. You can't push it in because then the doors won't open. Since the cabinets are complete, you cannot redo the cabinets but even if you could, I don't think it would help. I guess I am stupid because I thought buying a Kitchenaid product, I was buying quality. Boy was I wrong!
Date published: 2019-06-11
Rated

5

out of

5
by
Betty
from
Love my Counter Depth Refrigerator
Love everything about my refrigerator. Counter-depth is perfect - I also had the studs turned to gain another 2-1/2" to recess the refrigerator further to align with the counters. Love the storage capacity, love the interior water dispenser, there is more than enough space for everything, and for keeping items easily accessible and organized. Food stays fresher, longer. Storage bins keep produce fresh, shelves are plentiful and I'm able to keep foods organized. Freezer drawers are perfect for organizing various shapes/sizes and find items easily. [This review was collected as part of a promotion.]
Date published: 2016-08-05
Rated

3

out of

5
by
Kellie Lynch
from
Nice fridge, but....
I bought this for my new kitchen to be panel ready. It works great and we like the icemaker and water dispenser but it's black and I have an all white kitchen. You might think that it should not matter because I put white panels on the front but it sticks out a few inches from the counter in order for the doors to open and the exposed section is black. It just looks ugly. Don't know why they don't offer it in other colors, they should if you ask me! [This review was collected as part of a promotion.]
Date published: 2016-10-09
Rated

2

out of

5
by
Linda
from
Flaws in design
I loved my previous built-in Kitchenaid refrigerator so when we remodeled another home, I ordered this "counter depth" one, unaware of the black sides which was going into my white kitchen. After having a hissy fit over that, I have finally gotten used to it. However, I just spent the past hour cleaning up a spilt chocolate pudding that ran down the entire back wall of my refrigerator. Whoever thought it was a good idea to NOT extend the glass shelves all the way to the back wall!!! There is a 2-3 inch gap that I have spent countless time trying to retrieve items that have fallen off the shelves. Thank God it wasn't fish because I would have had to trash the entire refrigerator. There is no way even after removing every drawer and shelf to get at the nooks and crannies to properly clean up the mess. [This review was collected as part of a promotion.]
Date published: 2017-07-22
Rated

5

out of

5
by
tacmike
from
Good Looking Unit with Matching Cabinet Doors
We bought this unit primarily because it allowed us to install our matching cabinet doors panels on it. It is priced many $1,000's below the next available unit that allows cabinet doors to be attached. We also like the layout inside and the adjustability of the shelves. The freezer unit is spacious and very easy to find items. This unit costs $1,000 - $1,500 more than other comparable sized and units that do not allows us to attach our cabinet doors. We just hope it last a very long time for this extra investment. Like most refrigerator/freezers, this one makes some noises, but they are very low and not distracting like other units we have used. [This review was collected as part of a promotion.]
Date published: 2019-05-20
Rated

4

out of

5
by
Glowplugv
from
Measure twice cut once!
I just installed this model in my totally remodeled kitchen so I am going to focus on the install to provide some warnings for next buyer. My kitchen contractor (who does a lot of work with Kitchenaid appliances) created a cabinet for the normal counter depth. The problem is that there are water lines run along the back of the refrigerator. These are strong, stiff lines and instead of having a elbow to enter frig, they are bowed outward (see picture). The end result is that the frig cannot be moved closer to the back wall than 1.5 to 1.75 inches. You do not want to force these lines as they will not bend. Another depth eater is the electrical plug (second picture). It is right angle plug but it is at least 0.5 in high. There are flatter plugs that could have been added to the electrical line to save space. While not related to Kitchenaid, I would recommend that the open end of the water valve be directed to the left. In my case the water valve was slightly to the right and that made it difficult to coil the line. Just something to be aware of when you have the connections placed. The two Kitchenaid problems will require that we add wood strips to the current cabinet enclosure to build it out (fortunately it will work with the rest of the cabinets). We may even do a cut-out in the wall board so the water line can go bit into the wall. These are things you might not catch from the specs, so be sure to consider them in your install. Given we have only operated for 4 days, the frig is very quiet, ice making looks to be plentiful and the cold water feature is great. I highly recommend this non-through the door setup for ice as when I was reviewing the refrigerators the common complaint was the small size of the ice capacity and failures with the ice maker/delivery system. This configuration should provide the most reliability and is great for us since we have only two of us in the home. I'll report more on it when I've had it in operation for awhile. [This review was collected as part of a promotion.]
Date published: 2017-07-23
Rated

5

out of

5
by
Jayf
from
Caveat Emptor
I go back every couple of months or so and read the reviews on this much misunderstood refrigerator. It drives me nuts to read all the complaints that this fridge is not counter depth. This is a true counter-depth fridge, with the cabinet being 24" deep, which is the standard for free standing counter depth fridges. Almost all counter-depth fridges (panelled or not) that are free standing have to have the doors extending beyond the edge of the cabinets so that they can open. There is currently only one CD fridge that will flush mount with panels, and that's a Fisher-Paykel, due to it's articulated hinges. It's unfortunate on the Kitchen Aid that the side panels and door edges are black, what with the popularity of white cabints, but that's the way it is. When shopping for a panel ready fridge, the customer needs to understand this, and the salesperson needs to explain this in detail to the prospective customer, to avoid the multiple disappointments expressed in all the reviews. If you want a fridge that takes custom panels, and will mount flush in a 36" opening, you need to look at units by Fisher-Paykel (the least expensive), SubZero, Thermador, etc. These are termed built in units. Give Kitchen Aid a break! Shop for your appliances where the salespeople know what they're talking about.
Date published: 2018-10-02
Rated

5

out of

5
by
walnutlover
from
specs
Those who complained about the counter depth being too deep are making a misleading review. All counter depth fridges are 27" - 30" deeo including the door and handles. If you are using a standard fridge with stianless, white or black, the fridge comes flush to the base cabinet. The door and handes always stick out past the base cabinets. When using a panel ready unit the cabinet maker/installer has to make the allowances with the cabinet. So the end panel or custom built refrigerator cabinet has to be deeper by that 2-4" of the door. Also Kitchenaid provides the specifications which clearly state the depth of the fridge with door and handles, with door and no handles and with no door or handles. While I feel sorry for those who are left with a bad look , if I wree them I would be blaming the cabinet maker or installer.
Date published: 2019-12-03
Rated

1

out of

5
by
Grant
from
Terrible Fridge - Such a disappointment
We bought this fridge for a white kitchen. The refrigerator that we received was black. This fridge is designed so that in order for the doors to open, there is a metal part of the refrigerator doors showing. As a result, there is a black outline around the refrigerator. This outline shows even after panel installation based on the fact that the doors are black and the fact that the fridge has to stick out of the hole for the doors to open. This is FALSE marketing! Do not buy this refrigerator if you plan to put it in a white kitchen. Never again kitchen aid! [This review was collected as part of a promotion.]
Date published: 2015-12-30
Rated

2

out of

5
by
Loren
from
Totally agree with other posters and bad design.
I don't need to beat a dead horse. If Kitchenaid cared they would post a picture of the black sides that stick out once you panel this refrigerator and also note the side clearance needed. I promise that one little additional picture would make customers feel like there was no deceptive marketing here. [This review was collected as part of a promotion.]
Date published: 2016-11-29
Rated

1

out of

5
by
Disappointedandangry
from
DO NOT BUY - FALSE CLAIMS
DO NOT BUY! You will not get the custom look you are hoping for! The doors on this model must protrude 2-3 inches plus the depth of the custom panels when the cabinets are built to the specifications on Kitchen Aid's website! The door sides are black and unattractive, and they must show. Our custom panels are off white! There is plenty of space in our cabinet to push the unit back flush, but if you do, the doors will not open at all. Why would anyone purposely buy a counter depth refrigerator then pull it out into the kitchen several inches? It is blatant deception on Kitchen Aid's part. I see that people have complained for a couple of years and yet nothing has changed. A Kitchen Aid customer service supervisor in Tennessee basically said "tough luck". He blamed my cabinetmaker for using the specs on the Kitchen Aid website. It will not work with the specs in the manual either. (Which are different, by the way.) Cabinet makers build the cabinets before the appliances arrive, and so must depend on the information a company posts on their website. If Kitchen Aid knows the information is incorrect, why don"t they change it?? What company would leave incorrect information on their website? On the Kitchen Aid website, on the page for this model, the photo of a refrigerator with custom door panels under "features", is a different refrigerator! The interior features are not as deluxe as those on my 9 year old Kenmore. The cubic footage is the same as the Kenmore, but there is much less usable space. This is my first and last Kitchen Aid appliance purchase. Kitchen Aid's attitude really solidified my resolve to never buy Kitchen Aid again.
Date published: 2017-12-29
Rated

5

out of

5
by
tata1309
from
Practical and elegant!
We bought this KitchenAid refrigerator about a month ago. The unit is solid build and runs really quiet. It has a very practical layout with dedicated drawers for fruits, which is great to store boxed items like strawberries and tomatoes we get from the farmers' market. The freezer drawer is nicely divided into sections for easy sorting of frozen goods. We're very happy with this model!
Date published: 2018-06-18
Rated

1

out of

5
by
Jim
from
Picture showing the wood panels is not this Refrigerator
Watch if you are looking at this refrigerator. The picture with the wood panels is actually of one of their built in units not this cabinet depth model and this refrigerator will look totally different. I was looking at it online and glad I actually found one at a retail store to see what it really looked like. Because it really wasn't going to give the look I wanted and I didn't want to pay double the cost for the built in unit I want with a black stainless which looks nice. I was replacing an older Amana that has wood panels and had a stainless trim around the edge of the door. There are few units on the market now that you can put wood panels on and none of then give a great look since there is no trim on the door edge so you see 2.5" of the black color of the door edge and then the wood panel on the front. They really should change the picture to one of the actual refrigerator and not the built in unit as it is really misleading. The rating I gave is because of the looks not the refrigerator itself.
Date published: 2017-09-11
Rated

5

out of

5
by
JaneyG
from
Sleek design
We recently moved and are going to be renovating the kitchen, we begrudgingly left our Kitchenaid appliances in with the sale of our last house. When purchasing new it was between Bosch and Kitchenaid as we have owned both and loved them. We decided to stick with Kitchenaid as they have great features and I love the black stainless look, much easier to keep clean than regular stainless and plenty of room in the counter depth fridge/freezer. I highly recommend Kitchenaid appliances! [This review was collected as part of a promotion.]
Date published: 2019-04-25
Rated

5

out of

5
by
Appliance guy
from
your salesman didn't do his job
i am an appliance salesman and have this fridge at my house personally. This is a counterdepth fridge NOT a built in fridge. Kitchenaid did not mislead anyone the salesman who sold you the fridge didn't do his job in explaining the difference between a counterdepth fridge and a built in fridge. I could go on for days about this but after reading most of the reviews the problem is not the fridge it is either the salesman didn't inform the comsumer properly or the customer just ordered without knowing truly what they were buying. This is a great fridge and it doesn't deserve the reviews that his gotten. BY far hands down the most popular item i sale when it comes to counterdepth refrigerators. Has been for years. [This review was collected as part of a promotion.]
Date published: 2016-07-12
Rated

5

out of

5
by
BaseballMom
from
Everything We Need
We are happy with this fridge for our busy family...including the ice maker with scoop, water dispenser, wine rack, cheese/dairy drawer, digital temp controls, and subtle alarm when you leave the door open. The freezer has a nice rolling rack and enough space. We're happy with this fridge! As well, KitchenAid provides good customer service. [This review was collected as part of a promotion.]
Date published: 2019-10-16
Rated

5

out of

5
by
td46
from
Great Interior functional design
I bought this a few months ago. I really like the French door configuration since it has so much more easy access to every thing compared to the GE side by side that I had. The only thing I see that needs improvement is the shelf standards on the left and right sides. These standards need to have holes that are lower. This would allow the shelves to be placed lower. The center standard for shelves is OK, The slide out Deli shelf is great! [This review was collected as part of a promotion.]
Date published: 2018-08-12
Rated

1

out of

5
by
Palm Beach Paula
from
DO NOT BUY THIS FRIDGE
DO NOT BUY THIS FRIDGE! You will be shocked! It looks nothing like the pictures on the website.This fridge is black and ugly. The black doors have to stick out 4-5 inches in order for the doors to open and not bang into your cabinetry. The hinges used on this fridge make no sense, the top of the paneled door keeps banging into the cabinets on the side of the fridge. My kitchen designer and contractor are stupefied by this fridge, no one knows what to do. It has ruined my new kitchen. I have spent the last 3 months with my cabinet makers to come up with a solution and still have not. There is NOTHING "intergrated" about this fridge. I will pursue Kitchen Aid and the store I ordered the fridge from until I get a new fridge, this model is a lemon! [This review was collected as part of a promotion.]
Date published: 2016-05-26
Rated

1

out of

5
by
Adrienne
from
False Advertising
We bought 7 (Yes, 7!) KitchenAid appliances for our newly built home. Three of them were panel ready. This refrigerator was the worst. The image displayed on the website is incorrect. The advertising implies that you will achieve a built-in look - you won't. To make matters worse, KitchenAid seems to be unapologetic to the concerns of its customers - the extra time, cost and creative measures they have to pursue to try to get this terribly designed appliance to fit in with their kitchen designs. My cabinet installer is still wrestling with this. I will tell him about the 1/4" panels that another poster suggested. I wish this feedback was available when we originally purchased prior to construction. I would have gone with another manufacturer. I WILL NEVER buy another KitchenAid appliance. I've already posted on BBB. If you are considering this appliance, please know that it is not as advertised. [This review was collected as part of a promotion.]
Date published: 2017-01-24
Rated

1

out of

5
by
ErinJC5
from
Big Headache
This refrigerator has been more trouble than it's worth. I was excited to find a panel ready refrigerator within my budget but have had nothing but problems since buying it. It does not have a true integrated design which I was unaware of when I bought it. The openers manual that I received does not specify panel/handle installation which I have had to do extensive research on. Sides are black and stick out like a sore thumb against white cabinets. Inside shelves have large gap causing food to fall behind. Very disappointing product.
Date published: 2019-02-04
Rated

4

out of

5
by
Dr Tasso Pappas
from
Gotta say I like I - the reviews are true, but it is NICE.
I would carefully read the reviews. It's true that this is not a built-in looking refrigerator. It is counter depth but for the doors to open there's gonna be some of the black sides exposed. I'll try to post pictures later. But our white kitchen with a black island looks perfect with these exposed sides. It's a really useful refrigerator with lots of interior room and we love the water dispenser and the overall look. The one big negative it is loud for a refrigerator, in the sense that it always can be heard humming. Not terribly loud but constant and continuous gentle humming. Overall we still love it we paid her sears clearance price for it was certainly worth it. [This review was collected as part of a promotion.]
Date published: 2017-06-24
Rated

5

out of

5
by
Darlene Wesbrook
from
Love-Love-Love this refrigerator
I bought 2 counter depth, Panel Ready Kitchen Aid Refrigerators. One is hooked up and we love it. French Doors are a godsend, great storage. Interior is easy to access, great lighting and the crisp drawers work great! The bottom freezer drawers are easy to use. If you are 88 years young as I am, throw out your old single door regular depth refrigerator and buy one of these. [This review was collected as part of a promotion.]
Date published: 2019-05-16
Rated

4

out of

5
by
Sandro P
from
A great look but you'll need careful planning
This fridge was in my budget for a panel ready fridge. I read all the reviews and many people were upset about how the fridge sticks out and so on. I have been in the kitchen design industry as a designer for 20 years and I wanted to share how I was able to achieve a flush look. Bascially, you will need a minimum gap at the sides and top of 1-1/2" in order to open the doors at slightly past 90 degrees. Becuase the hinges want to open further you will end up having to put clear bumpers on the inside to provide a little cushion when the doors open. fridge. I have 3/4" panels on this fridge. If I could change anything I would recommend 5/8" thich panels and an opening on the sides of 2", this way the doors will open much wider and it'll be a bit improved. Anyway, I am very happy with the results.I hope the images I posted help you. Get a good reputable kitchen company to help you and also a good appliance installer, this unit only has front leveling legs and in my case I need shims at the rear. The unit has to be perfect level!
Date published: 2019-10-16
Rated

4

out of

5
by
Builder
from
Not so awful as these amateurs think
This refrigerator will work if you have any common sense. The dimensions and rough openings are listed. I would bet that most of the custom kitchen cabinets were bought at a discount major retail dealer where the customer and the salesman had no clue about what they were doing. If you had a cabinet shop build your cabinets, you picked the wrong shop. I build houses and I build cabinets. I don't have a problem with this. It makes me laugh to read these reviews. You people are something.
Date published: 2017-09-19
Rated

1

out of

5
by
Newenglandmom
from
Terrible! Do not buy
I agree with all the other negative reviews. I bought this when I was looking for a higher end panel ready fridge. I thought I'd save money and bought this instead of the Sub Zero I had been interested in, opting to spend that money elsewhere in my new kitchen. Within 3 weeks of moving in we had the rubber door gasket fail not once, but TWICE. Like completely rip and fall off. The panels are constantly falling off due to the poor, cheap quality and poorly designed attachment brackets. The sides are black. The fridge sticks out of my white cabinetry (I was sort of ok with these two things but it's not ideal and was a surprise). Despite it sticking out like it is supposed to, to allow room for the doors to open fully, when the panels move (because the attachment is poor), it hits the surrounding cabinetry anyway and the door panels touch in the middle. My panels are now damaged from the rubbing. The shelves allow for things to fall behind and the water filter is nearly impossible to remove. Overall, the whole fridge is a terrible design. We decided to live with it and the next time we have a problem it is going. It is going to cost us around $10,000 to redo the cabinetry, panels and buy the Sub Zero we should have gotten in the first place. No problems with my other appliances including the panel ready dishwasher (different brand). The only good thing? The service from the store where we bought it is top-notch. Thankfully.
Date published: 2018-05-10
Rated

3

out of

5
by
Steve
from
Watch out for door clearance
Interior of refrigerator is well designed. Installation directions are less than helpful. They call for 1/2" space for the cabinet all around the unit. The doors will not open with 1/2" clearance. For flush mount of the custom panels, we needed 1 1/4" clearance for the doors to open. [This review was collected as part of a promotion.]
Date published: 2016-06-04
Rated

1

out of

5
by
Dawn
from
So disappointed!!!
I wish I had read Gigi's review before purchasing this refrigerator. We have the exact same problem, the refrigerator sticks out 5 inches into the middle of our brand new beautiful, expensive kitchen. The pictures on the website are false advertising and deceiving. There is no way the refrigerator doors can open on that picture. The doors hit and mark our cabinets even when out 5 inches. This is in no way a counter depth refrigerator unless you do not open it. [This review was collected as part of a promotion.]
Date published: 2015-12-08
Rated

4

out of

5
by
Susan
from
Regarding black strips from the doors
Have used this refrigerator several times for various clients, as well as myself - we have had the black sides painted to match the cabinetry - electrostatic painters can do this. Just make sure to remove everything from the freezer and fridge before painting if already installed.
Date published: 2017-09-20