Description
Being 3 inches taller than a standard counter-depth refrigerator, this appliance can fill the gap often left above the refrigerator, for a more integrated look. It has a pull-out freezer drawer with 3 levels so you can easily organize your items and features the ExtendFresh(TM) temperature system that keeps your ingredients at an optimal temperature to maximize their flavour and texture. This panel-ready refrigerator also has an interior water dispenser, a FreshChill(TM) pantry which allows you to adjust the temperature manually, as well as a produce preserver that absorbs ethylene gas emitted by fruits and vegetables to extend their freshness. Custom panels and handles are sold separately.
Product specifications
5 shelves, 1 temperature-controlled drawer, 2 humidity-controlled crispers, 6 door bins
1 metal basket, 1 wire basket, 1 plastic basket
Reversible Door Swing (Y/N)
Frequently bought together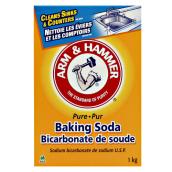 ARM & HAMMER
Baking Soda
Format 1KG
Details
Article #53975001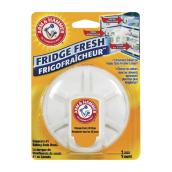 ARM & HAMMER
"Fridge Fresh" Refrigerator Air Filter
Details
Article #53975000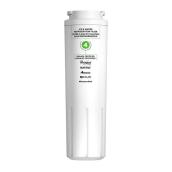 EVERYDROP
Refrigerator Water Filter - Everydrop(TM) #4
Format #4
Details
Article #30005202
Panel-Ready Refrigerator - 22 cu. ft. - Sand
is rated out of
5
by
75
.
Rated

1

out of

5
by
Debbie
from
SOOOOOOO disappointed!
Apparently, all of us who purchased this refrigerator are not very smart because we expected this to sit flush with our expensive built-in cabinets. The ad refers to it as counter depth and integrated. No way is this integrated, it sticks out like a sore thumb! From all of the reviews that I've read, KitchenAid has disappointed many faithful customers. This is my third KitchenAid kitchen and it will be my last. KitchenAid has done nothing but give lame apologies, nothing to really accept any blame or give any sort of consideration Shame on you KitchenAid!! Very, very misleading product. [This review was collected as part of a promotion.]
Date published: 2016-08-15
Rated

2

out of

5
by
Unhappy
from
DO NOT BUY THIS FRIDGE
We purchased this fridge hoping to have the built in/paneled fridge shown in the picture. Instead we have the same hideous 5 inch black gap that everyone is talking about on a white paneled fridge. Building in a refrigerator is not cheap and time consuming, so what a disappointment and loss to then not be satisfied...all because the appliance design doesn't enable your cabinet builder to make the job right. When we purchased this fridge for our kitchen the reviews on this site did not yet exist and now....they do. For all of our new appliances we put a large effort into researching to try to put the best things in our forever home. Such a disappointment. [This review was collected as part of a promotion.]
Date published: 2016-03-01
Rated

5

out of

5
by
Pro Install
from
Depth of unit black band
To respond to purchasers who complain about the "black band" showing, I blame that 100% on installer error. I am a building contractor for 35 years,and if it's the flush built in panel look a client is after, it's obvious by the closed unit dimension without handles, which l believe to be 27.5", common sense tells you a pocket needs to be constructed behind the fridge to allow the unit to become flush to the wall and base unit doors. My advice on a resolution, research your contractor's experience in kitchen installs. This is NO WAY a manufacturer issue, more like contractor /home owner ignorance. [This review was collected as part of a promotion.]
Date published: 2016-03-08
Rated

5

out of

5
by
TXAPP
from
EXACTLY AS DESCRIBED
I felt compelled to write a review that was not bashing the refrigerator. I have been in the business for awhile so I think I know what I am talking about. 1) 100% COUNTER DEPTH FREESTANDING PANEL READY REFRIGERATOR. I believe most of the mistakes that people have encountered installing is they thought it was a true built in. IT IS NOT A BUILT IN it is FREESTANDING. Point I am trying to make is there are literally only 2 companies that make a TRUE FREESTANDING PANEL READY FRIDGE (JENNAIR is the other). So get your facts straight before you just bash a company to death.
Date published: 2019-02-06
Rated

5

out of

5
by
Quinner
from
Perfect fit
Our pre-retirement check off list consisted of making sure we purchased big ticket items that might require replacement in the immediate future. Our old fridge never fit the preexisting cupboard space and was showing some signs of old age. The requirements were tight, requiring a counter depth but shorter height fridge. The one fit like a glove. Apart from the fit, the interior is a design plus. With the personal addition of a few "lazy susan's" to maximize space for minimally used jars of sauces and condiments, the smaller cubic foot size is not an issue...everything at a quick arm's reach without moving things around. [This review was collected as part of a promotion.]
Date published: 2016-07-22
Rated

1

out of

5
by
Ron
from
Not up to snuff
We are remodeling a condominium unit for a client and they selected this refrigerator assuming is was counter depth......well it isn't. As previous reviewers stated with the unit installed it sticks out the thickness of the doors plus panels. And the doors are black......It is not designed as a counter depth refrigerator and should not be advertised as one. In order to make the installation even look passable, we are going to have to cut the back of the wall out to move the unit further back to hide the black doors. Then expand the opening in the built in cabinet to accept the swing of the doors beyond 90 degrees. If we don't you can't get the drawers out. Incredible [This review was collected as part of a promotion.]
Date published: 2016-11-01
Rated

5

out of

5
by
Creative Homeowner
from
'Black band' solution
We had our cabinet maker create 1/4"-plywood pieces in the same finish as the door panels, and then attached adhesive magnetic strips to the back of the pieces. They hold to the sides of the doors and freezer drawer and create the custom finished look that everyone is hoping to achieve. You just have to measure below the hinges and inside the gasket seal for a proper fit. (Approx: doors 43 x 2-1/4", drawers 23 x 2-1/4") [This review was collected as part of a promotion.]
Date published: 2016-03-20
Rated

2

out of

5
by
bcplymouth
from
Great Fridge - Don't purchase panel option
We have a 15 year old kitchen and needed to replace our fridg. We decided to go with our original design with matching cabinet panel inserts. I would heavily discourage anyone from doing this unless it's a new kitchen and all new cabinets are going in. We have gone to at least 6 cabinet vendors and nobody wants to touch this job. 1) It's too small of a job 2) color matching is a big deal 3) It's about 75% cost of a new fridg. I'm hoping I can help anyone else from getting into this predicament! 1+ year later and we are looking at an unfinished ugly black refrigerator. It works well though....
Date published: 2020-01-11