Shed Packages
prebuilt frame components make each shed a fast and easy-to-build project that you can do yourself.
With two styles and several sizes to choose from
we're sure to have a garden shed package to fit your storage requirements, yard size and budget. You will be proud of your DIY shed.
Garage and Shed packages are currently available in Western provinces only; coming soon to the rest of Canada.
Shed styles
Choose from our 2 available models: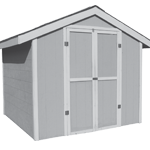 Gable
Choose from 10 standard sizes or design your own with the help of our experts
| | | | | | |
| --- | --- | --- | --- | --- | --- |
| 6'x8' | 6'x10' | non standard | non standard | non standard | non standard |
| 8'x8' | 8'x10' | 8'x12' | non standard | non standard | non standard |
| non standard | 10'x10' | 10'x12' | 10'x14' | 10'x16' | 10'x18' |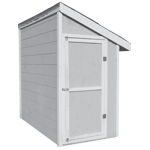 Half-Gable
Choose from 3 standard sizes. Ideal for alongside your home or garage.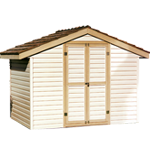 Custom Sizes
If you need to customize the length of your shed, we can help.
Bring in your idea and measurements and the knowledgeable salespeople at RONA can help you plan your new shed right from the start. They will quote your project and provide a list of materials you'll need at time of purchase.
Shed features
Select the features that suit your needs
Shed Standard Features
Kiln-dried spruce prebuilt frame components
Solid 19/32" OSB oriented strand-board floor sheating
3/8" grooved OSB for wall
3/8" regular OSB for roof
Roofing shingles in your choice of colour
Roof vent
Undereave soffit and fascia board
Dry spruce door trim, casing and corner trim
Door, hinges and hardware
All required nails and fasteners
Other shed options
Everything you need to complete your shed project
Shed Options Exterior Wall Finish
Vinyl siding packages are available for your new garden shed
so you can match your home and finish the job right. If you prefer not to use siding or stucco, you must stain or paint the OSB walls of the shed to protect against the elements. Grooved OSB is a structurally sound exterior sheathing that will simulate channel siding and last for many years when properly finished.
Fibreglass Shingles
RONA Sheds include brand name fibreglass roofing shingles with a limited lifetime warranty.
You can choose from several popular in-stock colours to match your home or garage. Upgrade from the standard package for specialty features like interlocking tabs or shadowlines. Ask us about our wide selection of dependable brand name shingles.
Treated Ground Supports
To ensure the long-lasting use of your shed,
we recommend it to be built on pressure treated posts or landscape ties as "skids." Pressure treated wood products are guaranteed to last.
Aluminum Soffit and Fascia
If you plan to match your shed to your home or to your garage,
you may need our aluminum soffit and fascia package in the matching colour.
Wall Vent, Window
Turn your shed into a mini garage by adding vents and windows.
A number of different styles and sizes of windows are available.
Insulation or Poly
Finish the interior of your shed with fibreglass insulation in the walls and ceiling.
Drywall or other inexpensive panels can be used to finish the interior walls.
Storage Hooks, Shelving, Brackets
We offer a full line of storage aids
to make the most of your shed space.
Interior Wall Liner Panels
Finish off the interior
with plywood or drywall products.
Security Padlock
Keep your valuable tools and equipment safe
with a locking system.
Need to know
Everything you need to finalize your shed project
Need to know
Attention: It is the responsibility of the customer to attain the required building permits and to abide by specific building codes, bylaws and rules applicable to their property or construction site. Customers are responsible to contact utility providers to identity and mark the location of underground utility pipes and cables before digging on their construction site. The customer assumes all risks associated with the construction of their building project.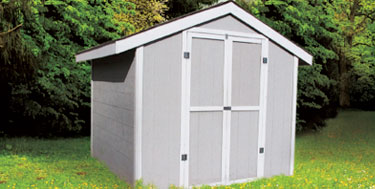 In addition to decks, other types of kits are available
Deck Packages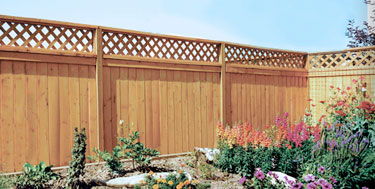 Fences Packages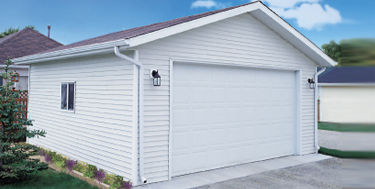 Garage Packages
© RONA 2023, All Rights Reserved