Description
Save valuable space in your kitchen with this low-profile Whirlpool(R) microwave oven. Enjoy the multi-functions of this 900 W versatile appliance. The electronic touch controls navigate through cooking modes and options with controls that are easy to use as they are to clean. Quickly set the microwave timer to 30 seconds or add it to cooking time with the touch of a button. You can quickly get rid of cooking odours after meal preparation with two different fan speed settings. Keep an eye on what's cooking below the microwave, thanks to the adjustable cooktop lighting. Clean up the spills on the glass turntable by simply putting it in the dishwasher. This appliance is backed by a 1-year limited warranty, parts and labour.
Product specifications
Over-the-range microwave oven
Popcorn, potato, pizza, cook, reheat, soften/melt, cook time, cook power, defrost
Dishwasher-safe glass turntable, stoppable
Clock, timer, add 30 seconds, control lock
Frequently bought together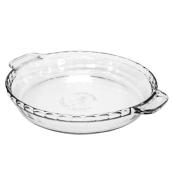 Pie Plate - Glass - 1 5/8" x 9" - Clear
Details
Article #97737604
Custard Cups - Pack of 4 - 177 ml - Glass - Clear
Details
Article #97737605
Can this model be used as recirculation with no outside venting?
I did not think so. Per installation manual it required 6" vent go outside.
Date published: 2019-01-15
how do you install the microwave on top of the stove
first secure and level bottom mounting bracket to wall (studs).Then drill holes for plug-in and screws to secure top of microwave through top cupboard.Then you'll need two people to first put microwave on bottom bracket and then someone to fish plug-in as you bring up microwave to top cupboard and screw in screws through cupboard in top of microwave.
Date published: 2019-01-14
What is the meaning of HS or HZ at the end of the product code? YWMH31017HZ
Hi Totter218, "HS" or "HZ"; last two letters represent our generation code (year of release) and colour/finish of the appliance. For example "S" represents Stainless Steel and "Z" represents Fingerprint Resistant Stainless Steel. Hope this helps, thank you for your question!
Date published: 2019-01-05
Can the rangehood be vented outside?
Yes the microwave can be vented outside through either the rear or the top. 
Date published: 2019-01-05
Can this microwave vent directly outside?
Hi Jem18, YWMH31017HW can be Vented to Exterior or can be setup as Recirculating. Hope this helps, thank you for your question!
Date published: 2018-09-06
Can the filter be easily removed and washed, or do you have to buy filters?
Hello lori2018, Grease filters are on the underside of microwave oven. Clean monthly with mild soap and water or dishwasher The charcoal filter is behind the vent grille at the top front of the microwave oven. The charcoal filter cannot be cleaned and should be replaced about every 6 months. Thank you, for contacting us and we look forward serving you.
Date published: 2018-12-02
Can Lowes arrange someone to install this?
Over-the-Range Microwave Oven - 1.7 cu. ft. - 900 W - Black
is rated out of
5
by
3343
.
Rated

1

out of

5
by
WOTfun
from
WMH31017HZ - error codes right out of the box
I purchased Whirlpool Microwave part number WMH31017HZ new from Lowe's. I took it home, unpacked it following directions to get it ready for use, plugged it in, and put it in demo mode to test it before installing. The display immediately flashed error codes. I called the Whirlpool customer service number and was told they would have to schedule a service call. I said no thanks and promptly returned the microwave to Lowe's. I initially picked this unit because the vast majority of reviews were very positive. However, there were some that described experiences similar to mine. My conclusion? Most of them are probably pretty good; some are total junk; and you never know which you'll get.
Date published: 2019-05-08
Rated

3

out of

5
by
Stephanie
from
Lasted 2.5 years only
This was part of our builder grade appliance package. From the beginning, the food wouldn't cook evenly and the fan was extremely loud. I can live with those things even though annoying. But then about 3 months ago the inside wouldn't turn on or cook anything (the fan and night light still worked.) Then randomly it would go on/off again until it completely died. After hours of work and my husband replacing all 3 door switches, we concluded the motherboard is shot. For a microwave in a brand new home to go out in 2.5 years it has to be terrible quality.
Date published: 2018-04-08
Rated

1

out of

5
by
Meki
from
Do Not Buy - Lasted Less Than 2 Years
I bought this in Feb 2017 because the reviews were good. It worked great at first. The light started flickering but the microwave worked. A couple of days ago it acted like it couldn't tell the door was shut one time. Thus morning it barely heated my food. Then tried it again, wouldn't recognize the door being shut. Unplugged it and plugged it back in. Without touching any buttons, shut the door. Now the turntable slowly turns and makes a weird sound. Hitting cancel won't stop it. Have to either open the door or unplug it. What a piece of junk. My previous microwave lasted 20+ years (it was not a Whirlpool). This did not make it 2 years. Will not buy Whirlpool again. Do not recommend anyone buy this product.
Date published: 2019-01-27
Rated

1

out of

5
by
Mauima
from
Lasted less than 2 years!
My last Whirlpool microwave wasn't broken after 15 years but I bought this over range microwave to go with rest of appliance package 21 months ago. Immediately I noticed the fan does not have enough power as when you boil water on the range the front fogs up. Then two weeks ago the light began to flicker when you opened the door. Yesterday the panel throws an F1E4 error and does not run at all. Repairman said the board needs to be replaced and part is so expensive plus labor it will be less costly to replace the entire microwave. Very Earth non friendly company to make appliances of this size with a less than 2 year life expectancy! Guess it is time to find a different company to use on my house renos. [This review was collected as part of a promotion.]
Date published: 2018-09-12
Rated

5

out of

5
by
Wayner
from
Great Microwave - (we own 2)
We just remodeled our entire kitchen less than a year ago and decided to go with Kenmore Elite for all appliances. I can honestly say that the Kenmore Elite microwave is the worst microwave we've ever owned. Noisy, uneven cooking, annoying end of heating beeper, just among a few. Our vacation home has this Whirlpool microwave oven and we love it so much we ditched our Kenmore Elite and replaced it with another Whirlpool. This is a great oven. Simple, even cooking and simple to use.
Date published: 2018-03-11
Rated

5

out of

5
by
Duane
from
Good Microwave
Easy do it yourself install if its a replacement. May be a little complicated if it's a new install and you have never installed one before. I was replacing a microwave of a different brand just replaced the old bracket using the provided template and drilled two new holes hung it and plugged it in. Simple straight forward controls and looks great. No bells and whistles' just good functionality.
Date published: 2018-07-16
Rated

3

out of

5
by
Tony
from
Model #: WMH31017HB
Basic over the range micro. Installation was easy, somewhat noisy using top/front exhaust. only been using for a month and already had a couple door not closed errors, when door was closed(first couple of times used, then seemed to go away. Time will tell.). Multiple steps to activate control panel, i.e. Soften/melt has 8 different categories with multiple quantities, took time to figure out sequence. Will have to do more testing to see what settings work best for different food types (kind of complicated for a basic micro). Overall OK for the price. [This review was collected as part of a promotion.]
Date published: 2018-12-05
Rated

5

out of

5
by
Adam
from
Very satisfied!
Very simple install, everything needed was explained and since it's a standard size - easy to swap with your old unit. Very satisfied with the product. Runs better than expected and lights under are brighter than expected. [This review was collected as part of a promotion.]
Date published: 2019-03-08