Description
This over-the-range microwave from Whirlpool (TM) is an ideal product for small kitchens. This microwave, which needs to be installed above a conventional oven or a cooktop, features a charcoal filter and a 4-speed exhaust fan. The CleanRelease (R) non-stick interior can be cleaned with a damp cloth without special cleaning solution. The detection cooking function monitors the cooking progress of your food and adjusts the time as needed while the turntable on/off option allows the microwave to be used at full capacity. This microwave is equipped with easy-to-use touch-sensitive electronic controls. This product is backed by a 1-year limited warranty on parts and labor.
Product specifications
Beverage, dinner plate, fresh vegetable, frozen vegetable, frozen entree, pizza, popcorn, potato
Updraft centrifugal, 4 speeds
Add 30 seconds, control lock, cook power, cook time, defrost, end of cycle signal, keep warm, off/cancel, pause, reheat, soften/melt, steam
Frequently bought together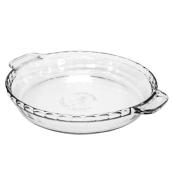 Pie Plate - Glass - 1 5/8" x 9" - Clear
Details
Article #97737604
Custard Cups - Pack of 4 - 177 ml - Glass - Clear
Details
Article #97737605
What are the interior dimensions of this microwave?
Hi CaraC, thank you for your question. Please find the dimensions available for this Microwave : Capacity(FT3,cubic feet) 2.10 Depth With Door Open 90 Degree(IN,inches) 39 3/8 Depth(IN,inches) 16 Height(IN,inches) 17 1/8 Width (IN,inches) 29.938 I hope this information is helpful. Whirlpool Central
Date published: 2019-09-17
Is the microwave sufficient for a Gas range for exhaust
Yes
Date published: 2019-07-31
Some pictures on websites for this model show a little shelf rack inside, does it come with that?
Yes it comes with the removable rack
Date published: 2019-05-17
Hi, My electician needs to know what the amperage for the breaker and wiring, could you please let me know if it's 15 or 20 amps? Thank you, Jonathan
We used a 15 amp breaker.
Date published: 2019-05-09
Does this Over the range vent outside ? or is this only recirculating air inside the room?
In the specs for the machine it stated that it can do either. We hooked ours up to circulate inside.
Date published: 2019-05-02
What is the interior colour of this microwave
Hi Flyingfish, YWMH53521HZ interior colour is gray. A great feature of this Microwave Hood Combination is that it allows you to choose whether the turntable rotates or not to accommodate a wide range of dish sizes. Hope this helps, thank you for your question!
Date published: 2018-11-15
Will this install with outside exhaust fan vent ?
Yes, top of unit has a louvered vent that I'd guess is about 2" x 10" (identical size and shape to the decades old Panasonic that it replaced, so must be a standard size).
Date published: 2019-05-01
On aimerait changer notre four micro ondes hotte, ayant les dimensions suivantes : 29 7/8 x 16 7/16 x 14 7/8. Pourriez vous me recommander un autre appareil de couleur blanc avec les specficiations ci-haut ?
Over-The-Range Microwave - 2.1 cu. ft. - Black
is rated out of
5
by
1673
.
Rated

5

out of

5
by
Boo
from
Love the microwave we purchased. It wasn't the one we went in to buy but glad we changed our minds. Cleaning surface inside microwave is very easy to wipe down. Rack comes out with ease. Cooking times are much lower because the microwave has more amps than our last one. Installation took about 30 mins and took two of us to do. I also love the ventless front of it. No more trying to clean louvre vents that get sticky because they above the stove. Not to mention this one is very quiet when you do use the vent and it doesn't have to vent outside if you don't want it to. Highly recommend this one! [This review was collected as part of a promotion.]
Date published: 2019-04-01
Rated

4

out of

5
by
DES
from
Good Overall Replacement
Purchased this unit for replacement of old microwave. Wanted the same 4-speed fan removing 400 cfm. While the interior and glass turntable is larger, the turntable is not flush with the bottom. Compared to my last Whirlpool microwave, the interior light is dimmer and there is only one light, which is situated underneath in the rear of the unit, not two located towards the front - like my last one had. This makes it harder to see what you are cooking on the stove. Because of this I couldn't rate 5 stars. My disappointment is that there are no color options (white, almond, etc.). Usage instructions could be better written. [This review was collected as part of a promotion.]
Date published: 2019-04-04
Rated

4

out of

5
by
Bubblehog
from
Great microwave, needs more light
The microwave and exhaust fan functions of this unit are excellent. It's easy to use, very quiet, and roomy. The only disappointing thing is the light, which is weak and too far to the rear. It used a small, dim, 'appliance' incandescent bulb, and the lamp won't hold anything more powerful or even accept an LED light bulb. The lamp fitting is long enough to accept a much more powerful bulb, but since the socket is mounted across the rectangular lens instead of along the long axis, only the small incandescent 'appliance' bulbs will fit. It's a fault on an otherwise fine appliance. [This review was collected as part of a promotion.]
Date published: 2019-06-18
Rated

3

out of

5
by
ccdovetx
from
Missing Common Microwave Features
Although the microwave does an excellent job of warming and cooking food up, it's just missing some of the more common features that are expected. There is no end of cycle chime, so unless you are standing next to the microwave you don't realize the food is done. It's missing the quick start options that I had in my last over-range GE unit - 1 =1 min, 2=2min, etc. This only has Pizza, Potato, Dinner Plate, etc. From there you have to select from sub-menu before it starts. The popcorn button consistently only pops about 1/2 a bag so I stopped using. The Over-Range fan and light work really well.
Date published: 2017-11-16
Rated

2

out of

5
by
Richard
from
Known issue with door sensor
I bought this microwave a little under 2 years ago (January 2017). I went with this model for the design and it match my other Whilpool applinaces. The microwave worked great until a couple of months ago when I started having trouble with the door sensors. The problem is a known issue with the door sensors that make the unit unoperatable. The sensors think the door is open so the microwave won't start. At first it happend sporaditically. But over a few weeks it got to the point where I can't use it at all. This is a known issue (do a google search) that Whirlpool hasn't seemed to address. Unfortunate that they are ruining their reputation over a door sensor. [This review was collected as part of a promotion.]
Date published: 2018-11-22
Rated

1

out of

5
by
Ray
from
Defective Microwave
After installing this microwave, the door wasn't flushed with the right side of microwave. Mostly every time when used, the power would go off. I would have to push on door and restart to get it working again. And if you pushed on the microwave door when you started it, it would cause the electrical breaker to trip. After 19 days of having this microwave, I returned it and I traded it for a Frigidaire microwave FGMV176NTF. Lowes was kind enough to swap the Whirlpool microwave for the Frigidaire microwave for the same price. Frigidaire has a much heavier door compared to the Whirlpool's door which is very flimsy. [This review was collected as part of a promotion.]
Date published: 2019-01-01
Rated

3

out of

5
by
R.Litza
from
Room for Improvement
I purchased this particular model because it was rated #1 by Consumer Reports. I sorely miss the one-button 1 to 6 minutes cook feature that I used on a daily basis on my previous GE microwave. (Press 1: cook time 1 minute; press 2: cook time 2 minutes etc.). In my opinion, the sensor steaming feature on this model needs an adjustment. It seems to run for too long which tends to overcook the food. The light inside the unit is very dim and does not illuminate the space satisfactorily. I feel, that I inadvertently downgraded from the GE Profile product that I had before. [This review was collected as part of a promotion.]
Date published: 2019-01-26
Rated

5

out of

5
by
Johnwuo
from
Whirlpool microwave
I bought this today to replace an older Whirlpool microwave. I was very pleased to find it fit in the opening. I was able to use to existing mounting bracket from the old Whirlpool microwave. The vent cutout for the older microwave matched the new microwave perfectly. I think this backward compatibility is a wonderful feature and appreciate Whirlpool Engineering doing this. I like Whirlpool products and I hoped the new microwave would fit and have the same dimensional cutouts as the old one. This was one of the main reasons I went with the Whirlpool brand. The microwave works perfectly and is a very nice unit
Date published: 2018-11-24