Over-The-Range Microwave - 2.1 cu. ft. - 950W - Black S.Steel
Article #22945173
Model #ME21M706BAG
Format 2.1CFT 400CFM 950W
This item is not currently available for immediate purchase, but can be ordered by visiting the selected store. Orders typically take 3-7 days from date of order to be received at your selected store.
Description
Sensor cooking on this Samsung Over-The-Range microwave optimizes time and power settings for superior results. With its large capacity, the microwave accommodates a variety of bigger dishes that can feed the entire family easily. The 9 pre-set cook modes and 10 power settings offer a wide range of cooking functions to tackle all your favorite meals. Ceramic inside is a breeze to keep clean, with a smooth surface that requires no scrubbing and resists discoloration, scratches, and corrosion. Wide monitor-style glass door makes it easy to check on food while it's cooking. A 400 cu. ft. per minute ventilation system clears the air, and Brilliant Dual LED lighting illuminates your cooktop.
Product specifications
Over-the-range microwave oven
10 Power levels and 9 Preset codes
Frequently bought together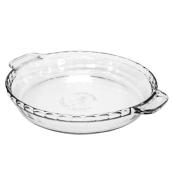 Pie Plate - Glass - 1 5/8" x 9" - Clear
Details
Article #97737604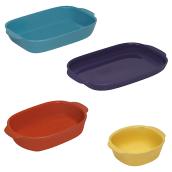 CORNINGWARE
Ceramic Casserole Dish Set - Vibrant Colors - 4-Pack
Details
Article #97737825
Custard Cups - Pack of 4 - 177 ml - Glass - Clear
Details
Article #97737605
What's the distance from top of stove to bottom of over the counter microwave 
The distance is 20 3/4 inches from stove top to bottom of microwave. I have a slide in range with no back, the microwave comes down even to the bottom of the upper cabinets. It is a stunning microwave, we love it. 
Date published: 2019-06-13
doe this microwave have zero clearance door?
Ours does not
Date published: 2019-04-15
Can this microwave be fitted above a wall oven
Yes it could and the width would be the correct match for a 30"wall oven, however the venting system and lighting wouldn't be functional if being installed into a cabinet. I believe there are better options/products for "in cabinet" mounting if that is the case.
Date published: 2019-01-07
Does This Model come with an inside Rack/wire shelf?
Yes it does
Date published: 2018-10-03
What is the CFM, and how many watts?
Hello Ambo Thank you for your question. This Over-the-Range Microwave has a silent system that clears the air with 400 cubic feet per minute (CFM) of turbo ventilation. It has 950 watts of cooking power and the ceramic enamel interior is easy to clean and scratch free. Our eco mode button conserves power by turning off the display when not in use. Thank you for choosing Samsung!
Date published: 2018-05-01
Does it vent outside. Does it need vent hook up to outside?
You can do either: The unit comes with a charcoal filter to vent inside if you don't have access to outside venting, as well as a one-way trap door to connect to an outside vent if available (that's the better option, obviously, but not always possible). If venting out through upper cabinet, make sure to cut the whole as per provided template as opposed to just the size of the flipper door (top of microwave) -- otherwise mounting the unit becomes impossible with the flip door attached).
Date published: 2019-01-09
Is this a real convection mic please?
Over-The-Range Microwave - 2.1 cu. ft. - 950W - Black S.Steel
is rated out of
5
by
92
.
Rated

5

out of

5
by
BamaMom
from
Microwave by Samsung
We love our new Samsung microwave! I really like the black stainless fingerprint resistance. The no handle was hard to get use to but now I just love how it looks and operates. There isn't a how to operate booklet with this but it's pretty simple to figure out and right inside the door is some cooking instructions. There is a instruction booklet that came with it to install it was pretty simple after we bought a subway tile drill bit to hang the hardware. I would highly recommend this microwave. I looked and looked and read many many reviews before deciding on this one. It did not disappoint! [This review was collected as part of a promotion.]
Date published: 2019-03-03
Rated

5

out of

5
by
Klownr02
from
Why the negative reviews?
I'm 33, this is my 4th microwave. First two GE's magnetrons broke (under warranty and two different models), my Whirlpool vent stopped after 8 years. I'm speechless as well this Samsung Microwave performs. We are movie watchers, so the popcorn setting MUST WORK, and we are not disappointed. Installation is no different than any other microwave. I made sure to install a dedicated 20 amp fuse to this beast. (It pulls nearly 17 amps on high) The ventilation is as advertised,turbo! I love the overall design of this appliance. It really looks as though it's a huge microwave, and it has enough space to boast it. I've owned for 6 months and have nothing negative to say about it. If I HAD to think of one...ummm... they should include 3 stud mounting screws instead of the one and of course the already prepackaged two drywall wall mounting screws. I am curious how my first carbon filter change is going to go, though :)
Date published: 2018-02-19
Rated

5

out of

5
by
Pat
from
Beautiful appliance. A lot harder to install than we thought.
Date published: 2018-02-05
Rated

1

out of

5
by
Tim
from
Horrible quality control
1st One the quick start label was upside down so you could see the text through the opening for the handle in the door. Samsung said they do not sell the labels and to return it. 2nd one when I was starting one of the screws in the top the nut inside of the microwave came off. I had to cut the bolt off to remove the microwave.
Date published: 2017-12-30
Rated

1

out of

5
by
Donna
from
Don't buy
Just over a year after we bought this, it started giving us a -SE- error code. Locking up the machine and rendering it useless for hours at a time. It even does it when no one is using it, or cooking underneath it. And since we're just out of the one year warrenty, we are out of luck. Have to get a new microwave. A microwave should last longer than 14 months.
Date published: 2018-02-02
Rated

1

out of

5
by
Bob
from
Roll your own dice
We just had the Microwave installed. The installer had his blanket catch on fire. When he lifted the Microwave to install it he apparently hit a knob on the electric range. When I turned the Microwave Fan on there was air coming thru the power cord hole. Seemed fine after I sealed that hole with Aluminum tape I wanted to set the clock on the Microwave but there is no Clock button and NO USERS MANUAL. I guess as we go forward it will be by Trial and Error and Guesswork. I would not recommend this product only because there is NO USERS MANUAL. As for operation, time will tell
Date published: 2017-12-14
Rated

5

out of

5
by
AlandJewels
from
Clean look
We purchased this microwave 6 months ago and it has worked flawlessly. Very impressed with multi-speed vent, it does an excellent job from the lowest speed to the highest, depending on our needs. We mostly use it for re-heating so I can't really comment on how well it actually cooks food, but I'm sure it works as well as any microwave can. Installation was a breeze and everything necessary to install the oven was included. We especially love the clean look of this microwave with it's handle-less door system. Highly recommended.
Date published: 2018-10-03
Rated

1

out of

5
by
RBM
from
Stopped Working
I purchased all new black stainless steel Samsung appliances from Lowe's to update the kitchen. The microwave stopped working after 26 months. Repairman came to look at unit and said computer board is not turning on the magnetron. The cost of repairs was not economical and I am forced to purchase a new microwave. I feel strongly that a microwave at this price range should have lasted longer without having to repair the unit.
Date published: 2018-06-07