Description
Install this microwave oven above your kitchen range, and use it as a range hood at the same time! This appliance will save you storage space in your kitchen. Its 1000 W power and 10 power levels offer a great versatility. This microwave oven is equipped with electronic touch controls and with a high-capacity exhaust fan (300 CFM) venting system. Easy Mount installation. One-year limited warranty on full appliance, parts and in-home labour.
Product specifications
Over-the-range microwave oven
Frequently bought together
Custard Cups - Pack of 4 - 177 ml - Glass - Clear
Details
Article #97737605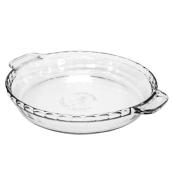 Pie Plate - Glass - 1 5/8" x 9" - Clear
Details
Article #97737604
Is this product noisy when in use??
This microwave is very, very quiet!
Date published: 2019-02-14
Can this microwave be vented from the rear to an outside wall?
can this microwave be vented from the rear to an outside wall?
Date published: 2019-07-06
The product description says charcoal filter. Does that mean it's included with the microwave purchase or does it mean that a charcoal filter is optional and much be purchased separately?
Can this range go over a dual fuel stove?
do the control panel light up
Over-The-Range Microwave - 1.6 cu. ft. - Slate
is rated out of
5
by
12
.
Rated

1

out of

5
by
unhappy79
from
Can only be installed by a professional
My partner and I bought this a month ago to replace an 8 year old GE model that died on us. We wrongly assumed the power cord outlet and top air vent would match the old model (so we wouldn't have to drill new holes in our cabinets). Suffice to say nothing matches the old model, from the bracket holes on the back and top, to the power cable and air vent on top. In addition the GE provided paper template did not match the dimensions of the new microwave. When I called GE the agent was very unhelpful and somewhat clueless. Lesson learned is there is no advantage to buying a similar make and model when it comes to GE and you will need a professional to install this, which is an additional $200 to $300. We regret buying this microwave.
Date published: 2019-03-12
Rated

2

out of

5
by
Seal Swimmer
from
There are better choices
The actual machine seems to work well but the installation instructions and the paper template were completely useless. The digital display is impossible to read. The numbers are too close together and poorly designed with dashes and gaps. Unless you are very close you will have no idea what the display says. The options require several taps to get to what you want and seem old fashioned. Not impressed. I am sure there are better options out there but this is what I am stuck with now.
Date published: 2019-09-03
Rated

1

out of

5
by
BradB
from
Short Lived
I purchased 2 of this model, one for upstairs and one for downstairs. I renovated my house and unfortunately I didn't start using them until about 10 months into the 12 month warranty. After approximately 3 months of light use, they both started tripping the breaker periodically. The wiring in the house is all brand new and they are each on dedicated 20 amp circuits. I'm going to let the staff at the store I purchased them know how disappointed I am.
Date published: 2018-09-06
Rated

1

out of

5
by
Jdpcactus
from
Stay Away
First thing first, the handle is not stainless steel. If you have a gas range, there's a good possibility that the stainless (plastic) handle will start peeling. See photo. A new handle is $265 and can only be installed by a professional. The service call plus part are more than a new microwave. After about a year, the turntable stopped working. We had to jerry rig it to get it going again (on and off). Then it started going through the undermounted light every week. I would not recommend this product.
Date published: 2019-03-16
Rated

1

out of

5
by
Ang88
from
Worst experience, 1st one defective
Worst experience with microwaves The first one was delivered more than a week late only to discover after it was installed it NEVER shut off open or closed door. Had to pack it up, return it and reorder. Wait for another one to be delivered late again worked for just over a year and is dead. I had purchased all GE products for my kitchen and am in the process of replacing them with an alternative brand.
Date published: 2020-02-23
Rated

2

out of

5
by
Alex
from
Stupid Microwave Won't Stop Beeping
This is a fine microwave except for one super annoying feature. When it's done cooking, it will beep. If you don't come get your food, it will beep again. And again. And again. I do not work for you, stupid microwave. There is no way to turn the beep feature off, or to turn the sound off.
Date published: 2015-07-01
Rated

5

out of

5
by
HAC11
from
Great Value
We've had this unit for over a year now and it is used everyday. No problems and loads of features for a very reasonable price.
Date published: 2018-11-15
Rated

1

out of

5
by
WeeMar68
from
Looks great
That's as far as it goes. Had this microwave for almost 3 years. I have been waiting for it to break down. It finally has. Within the first year I heard a strange noise every so often. The fan is inefficient and does not remove steam. I bought 5 GE appliances and have lived to regret it. Both my washer and dryer have had problems, and dishwasher sucks too.
Date published: 2019-10-09