Description
The Oklahoma Joe's(R) Longhorn charcoal and gas smoker is perfect for a day of smoking and grilling. This three-in-one combo grill and smoker combines the convenience of an electronic ignition with a rugged offset firebox giving you BBQ just the way you want it. Porcelain-coated cast-iron cooking grates and stainless steel burners are durable. Three main burners produce 36,000 BTU and a side burner, 12,000-BTU, so you can cook multiple meals at the same time quickly and flawlessly. The gas grill features electronic ignition for quick and easy start-ups, while a fixed side shelf gives you more space for large meal prep. High-quality integrated temperature gauge means you can easily monitor heat level, and large wheels ensure easy mobility when moving your smoker.
Product specifications
Porcelain-coated cast iron
Primary cooking area: 750 sq. in., total cooking area: 1060 sq. in.
Frequently bought together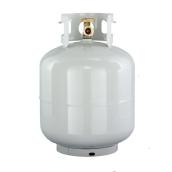 WORTHINGTON
Worthington Propane Gas Cylinder - Steel - 20 lbs
Format 20LB
Details
Article #1718026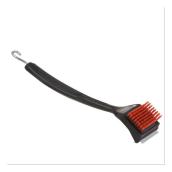 CHAR-BROIL
Char-Broil Barbecue Grill Brush - Nylon - Cool-Clean
Format 18"
Details
Article #07325068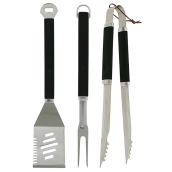 MR. BAR-B-Q
Barbecue Tool Set - 3 Pieces - Stainless Steel
Format SET3
Details
Article #34085090
What gauge steel is used for shell?
About 2 mm thick
Date published: 2020-05-24
How hard is the assembly? I need to get it to my cottage and I would like to know the size of the box as well. Need to know if it will fit in the back of my SUV.       Thanks 
Lowes has a free assembly option when you order online. They delivered it to my house assembled and I used it the same day.
Date published: 2018-05-30
Can this unit be converted to natural gas
Is it possible to use a universal rotisserie kit with this? My current Vermont Castings Barbecue cannot accept a universal rotisserie
Je voulais savoir si je pouvais l'utiliser comme un bbq normal au propane
Can anyone recommend a cover for this thing?
Can I get this in natural gas? 
Oklahoma Joe Longhorn Combo Smoker - Gas
is rated out of
5
by
194
.
Rated

5

out of

5
by
David
from
Great grill
I've owned my grill for about a year now. I've used it about 2 to 3 times a week since buying it. Lowe's offer free assembly and delivery but I decided just to bring it home and put it together myself. It was a little difficult to put together by myself but not too bad. It would have been a lot easier with two people. Extremely satisfied with the way the charcoal and smoker side work. The gas side to get lower temperatures it's a little tricky, and the gas valve seems to stick sometimes, but it's fairly easy to reset and everything lights up right away. Overall I would probably consider this one of the better grills I've owned.
Date published: 2017-05-15
Rated

5

out of

5
by
Rick
from
Awesome Grill/Smoker
Ok, first off I'm a charcoal guy, so having a gas grill alone was not an option. But the convenience of having both is great. My first use of the grill was to smoke some ribs and chicken for a family day. The smoker worked great. From keeping the temp in range, to adding charcoal and wood chips as the day went on. About an hour and a half before dinner, I fired up the gas side and threw in some corn and potatoes wrapped in tinfoil. Again, easy to keep the right temp. The meat was perfect and all the corn and potatoes were too. Folks, you cannot go wrong with this setup, it's just an awesome experience in grilling and smoking.
Date published: 2018-03-01
Rated

4

out of

5
by
bradddddddd123465
from
great first smoker/grill
I bought this smoker for Christmas for the house, assembly was pretty easy, did have one thermometer that was broken upon opening but was planning on replacing them anyways so no big deal. smoke chamber does need to be sealed with some hi temp sealant as well as the smoke stack as they do leak a good amount, this will greatly help with temp control on the smoker side. I seasoned it with some peanut oil on the inside and WD40 on the outside but at the end of the day there is still gonna be some rust. Went the cheap route and bought a tarp at ace hardware to use as a cover, not pretty but it works well and is cheap. All in all i love this smoker
Date published: 2016-02-04
Rated

5

out of

5
by
JoeW
from
Great grill, horrible wheels
This grill is solidly built, and very heavy. It was easy to assemble, but will definitely take two individuals. The only issue I had with the overall build of the grill is that the wheels are cast iron, and sit towed in which seems to make it difficult to maneuver. Other than that it's solidly built, and works beautifully. I love the versatility of being able to grill something quickly on gas, or try out my grilling skills with the smoker and coals. Best value I could find for the features and quality. I would definitely recommend this grill to the weekend warrior. Not sure that it would hold up to professional standards, but definitely a great buy.
Date published: 2015-10-02
Rated

5

out of

5
by
JlaB
from
Absolutely love this grill
I never owned a brand new grill before, saw this one in the store, and I wanted it, both me and my brother-in-law bought one the same day, took mine back to my house put it all together it took about an hour and a half, used it the next day to smoke some ribs and grill up some steaks, and they turned out great. only downside to this grill is that there is no grill cover made for it, though I did find one to use , it almost doesn't fit around the sides, the OU or OSO football logo-ed covers will work if given no better option. Other than that this grill is amazing, been using it several times a week, and finding any excuse to get family over so I can use it.
Date published: 2015-06-08
Rated

5

out of

5
by
NoJo
from
BEST GRILL/SMOKER I EVER OWNED
Ok, so what I don't like about this unit. no ash tray for removal of charcoal residue. The fix! put charcoal in a cooking tin! worked like a charm and made it easier to regulate my heat from my smoker. wish it had a bigger smoking area. What I like about this unit! EVERYTHING! It was perfect, someone said something about the doors not be set properly, if that was the case they did not have Lowes put it together for them. I had Lowes assemble it and i have no issues with smoke being released where it shouldn't. Ease of access putting in my wood, and ease of temperature regulation on charcoal side. Quick and easy transition from Smoking to Gas Heat to finish off the cooking process. Or a good transition from searing to smoking back to cooking. I LOVE THIS UNIT!! Perfection! Durable! and most of all HAPPY COOKING!
Date published: 2015-06-15
Rated

5

out of

5
by
Nate
from
Great quality for the price
I decided to buy the grill online an unassebmled because it was easier to transport in the box. Once home it took about an hour and a half to get everything together. I was able to get it assembled by my self, though putting the offset fit box on would be easier with an assistant. As for performance, the propane side heats up super fast and provides a good sear with the cast iron grates. The side burner I nice to have to lighting charcoal chimneys and doing small pots. Still working on learning the arts of smoking and regulating temps but the smoker offers a good size fire box and enough room for 3-4 racks of ribs laid flat. First cook did a reverse dear steak and smoked some corn on the cob. Definitely would recommend [This review was collected as part of a promotion.]
Date published: 2018-09-17
Rated

3

out of

5
by
BajaelJefe
from
Legs rusted out prematurely
I've owned this grill for 2 years and four months now. Two concerns: 1) The legs rusted out completely prematurely. I had to order legs at about $10 a piece to replace. Time, more than the money is the main annoyance. Also, the rusted legs (now reduced to jagged stumps) stained my pool deck. 2) No easy way to clean out the charcoal put (main). For an impressively heavy grill, it's not as heavy-duty as it appears. My thoughts are that it's made from cheap Chinese metal. Great Texas grill botched up by corporate cost cutting. Spend a few hundred more and get a "real" heavy duty smoker made of thicker gauge, and American made, steel. [This review was collected as part of a promotion.]
Date published: 2018-10-19