Description
The Highland offset smoker by Oklahoma Joe's delivers 2-in-1 performance for all your grilling and smoking needs. It offers a generous 900 square inch cooking area, and is equipped with cool-to-touch handles. This smoker has durable porcelain-coated cast-iron cooking grates, a front shelf, and a professional grade temperature gauge to ensure the smoker maintains optimal temperature. You can open the lid to quickly tend to the fire, while the two 10-inch wheels simplify moving the smoker around. This product is backed by a 2-year limited warranty.
Product specifications
Professional grade, hood-mounted
Charcoal barbecue with smoker
Frequently bought together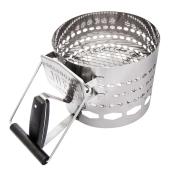 CHAR-BROIL
Charcoal Starter - 7.75" x 13.1" - Stainless Steel
Details
Article #07325145
OKLAHOMA JOE'S
Oklahoma Joe's Highland Smoker Cover - 58.5-in - PVC - Polyester Backing
Format 58.5"
Details
Article #18615013
How many square inches is the grill?
This Highland Offset Smoker has 879 sq. in. of total cooking area.
Date published: 2019-09-13
Do you recommend to spray or do anything to protect it from rust ???
I use the specific Oaklahoma Joe cover for the smoker. There is no sense in re painting when the paint will only cookoff due to the heat of your cooking fuel.
Date published: 2020-05-23
Has anyone who has one of these and done any mods to it thought about or has used an oven door gasket instead of the silicone? 
Works fine as is I did buy another thermometer. The left side is consistently 25 to 30 degrees Fahrenheit lower. Which works fine as I regularly do different types of meat on the same smoke.
Date published: 2019-08-01
Can you use wood with this grill?
Yes !
Date published: 2020-05-23
Does this unit include the charcoal basket?
Unfortunately this item is not included. Regards
Date published: 2019-05-19
How is it at holding temperature and how thick is the steel and does it have a drain valve 
There is a drain hole on one end. You will need to seal the firebox gap with high temperature food grade silicon, and install a seal for the edge of the door, otherwise the smoke leaks on these places. Other than that is a good smoker.
Date published: 2020-05-23
Does everything come in one box? Wondering if i need truck to pick up
Hi ! Everything comes in one box. I think A SUV would do the job. I carried out mine with a Jeep Grand Cherokee. However you need a second pair of hand to unload the box which is quite heavy. Kind Regards.
Date published: 2019-04-07
Is this electric? 
No it is not electric, it has a side burner box where you put your heat source, wood, charcoal etc.
Date published: 2018-07-23
Oklahoma Joe's Highland Charcoal Offset Smoker - 900-sq. in. - Steel/Black
is rated out of
5
by
22
.
Rated

5

out of

5
by
Anonymous
from
Great Entry Level Offset!
This is a great entry level offset stick burner. With a few mods it can be a great unit for frequent use. Seal the cooking chamber door, use hi temp silicone when assembling to seal the firebox, use the firebox cook grates to baffle the side where heat enters the cook chamber, make a charcoal basket out of some expanded metal, get a metal water pan for the wall between chambers and get an accurate thermometer. That's it, that's all, competition results! Wait for it to go on sale which it does regularly also.
Date published: 2019-12-21
Rated

5

out of

5
by
Pilman
from
Easy assembly and works great
My wife bought me this smoker for my birthday and I love it. I had been doing some research for the past few months, and with never owning or operating a smoker before I found this one. We didn't want to spend a bunch of money on one and found that this was the best deal around. The quality of the Oklahoma Joes Smoker is fantastic! I was also very impressed with the easy assembly. I am experanced at building things but even a beginner could put this together (took me a hr). I have used it a few times with some success but my technique needs a little work(not the smokers fault haha). I am very impressed and excited for the next years with my Oklahoma Joe's Smoker.
Date published: 2018-09-10
Rated

5

out of

5
by
Big John
from
Greatest new toy of the year.
Just picked one up for work to replace an old smoker that broke last year. Started with high quality charcoal in furnace then added wet apple wood chips. Same high quality charcoal in main chamber but not as hot this time. Used soaked cedar planks right on grill with skinless fresh salmon. Remove from grills when golden, served right from planks in Chaffing dishes. Bride, groom and many, many guests came to tell me how much they loved the final product. Awesome new toy for my catering company. Only big down side is it's really heavy to lift. But if you're just wheeling around on ground it's nice and easy, just make sure the bolts securing the legs are super tight.
Date published: 2016-07-17
Rated

5

out of

5
by
Smokin fer dayz
from
WIcked Good Smoker
I bought this smoker is the spring, after having smaller cheaper ones for years. I should have bought this one years ago. I did add a 1/4 inch baffle system to the bottom to even the heat out, as well as putting a 3 inch vent elbow to the chimney (which fit perfectly) to get rid of the cooler heavy smoke. The smoker is good heavy steel, and has lots of space in the cooking chamber. The fire pit is the right size to use 16 inch pieces of wood cut into 2 x 2 pieces (no more taking firewood to the chop saw and risk losing a hand cutting uneven pieces of wood smaller...that's what made me go buy this bigger one). Overall, its a wicked toy to have if you enjoy bbq like I do, and it looks really good on the deck.
Date published: 2016-10-19
Rated

4

out of

5
by
Francky77
from
J'adore!
J'ai acheté ce fumoir il y a 2 semaine et je suis 100% satisfait de mon achat. Fabrication très solide. La seule chose idéalement vous devez achetez un bac a feu pour ne pas mettre votre feu à température élevé directement dans le fond du baril car la chaleur fera partir peinture à cet endroit. La trappe d'air du baril ne sera pas fonctionnel si la braise y touche et créer un lousse sur le mécanisme qui fait en sorte que la trappe ne tiens plus en place un coup très chaud. Donc idéalement c'est de ne pas mettre le feu proche de cette trappe. Si non c'est une petite merveille à avoir pour les repas du weekend!
Date published: 2021-04-21
Rated

5

out of

5
by
Guy from Montreal
from
Solid like a truck
Very well made, heavy gauge steel, and works just great. I am a newbie in charcoal cooking but was recommended this smoker by an experienced smoker who only swears by it. And I have to say, it is pretty easy to control and my first few cooks were a success. So, yes definitively, I will recommend this Smoker/grill to anybody wanting to venture in meat smoking and charcoal cooking
Date published: 2018-07-18
Rated

4

out of

5
by
JP from PP
from
Don't expect a high end smoker
Reasonable value for the price. Typical of lower end units, the components don't always line up or fit 100%. I've been following the suggested mods for this unit. A heat baffle will be needed to have even temps across the grill, but that is very typical. To make this unit perform better buy at least the following: High heat RTV silicone for around the firebox and chimney pipe Fireplace gasket for around the firebox Nomex gasket for the cook chamber lid Heat baffle for the cook chamber Other mods can be done too as your needs arise.
Date published: 2018-03-27
Rated

5

out of

5
by
Smoker_in_training
from
Great Smoker
Recently purchased. Easy to assemble. Works very well. I did not use any high temp silicone sealant and have found very little smoke leakage at joints and bolt holes. However I will look into adding a gasket around the lids of the smoke box and fire box for to reduce smoke leakage and better control temperature. I have noticed potentially big temperature differences between both sides of the smoke box which I believe will be reduced by adding a baffle at the side of the fire box. This is a great buy - I love it. It also keeps the mosquitoes away. Cheers
Date published: 2018-06-13