Description
Get great cutting results with this Kobalt mitre saw with its tool-less adjustable laser system. This mitre saw has a 10 A ball-bearing motor that delivers 5000-RPM performance for superior cutting power. The versatile cutting capacity allows a wide range of smooth, easy cuts and the large base provides more work support. 3-Year warranty. UL-certified product.
Frequently bought together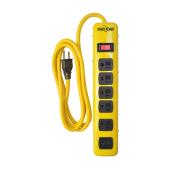 YELLOW JACKET
6-Outlet Power Bar with Surge Protection - 6' - Yellow
Format 1.8M
Details
Article #32045053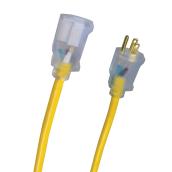 WOODS
12/3 Extension Cord - 25' - Red
Format 12/3 25'
Details
Article #74045239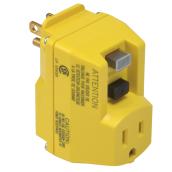 YELLOW JACKET
Single Outlet Portable GFCI Adapter - 1800 W - 15 A
Details
Article #32045050
 How big of a piece of wood will it cut 
You're going to have to build a jig if you want to cut crown moulding without having to deal spring angles. And the crown moulding is going to be limited in size (5 inch tall is pushing it) due to the small saw blade and all the anchors & motors getting in the way of the cut.
Date published: 2020-09-21
Can this saw cut threw a 4x4 in one shot without having to flip it around to cut all the way threw?
for sure it cannot, not even for 3 inch
Date published: 2020-09-11
Is there a kobalt brand stand for this saw? I went to the store where I bought it and they told me no. 
I made my own
Date published: 2020-05-14
Can you adjust depth of cut? (would like to use it for fretting?)
This one has nothing that will control the depth of cut.
Date published: 2020-08-23
will this saw cut through a 2 x 10 board?
It will if you turn the piece over and finish the cut by making a second cut on the other side. The question should be .. Why do you want to cut a 2 x 10 with this size of saw. This is a thin Kref saw that should be used for a more precise cut in trim and mouldings. Even then it took me about 40 minutes to adjust the saw so it would cut at 90 degrees. Buy a 10 in sliding saw if you want to cut these bigger, heavier pieces safely and more easily..
Date published: 2020-08-15
where is the button to open up the saw
Its located to the side where the joint is. Where it opens up.
Date published: 2019-02-19
can it cut 6 inches tall baseboard?
Yes it can cut a 6 inches tall baseboard X 1 1/2 inches thick. 
Date published: 2020-08-15
what is the max width you can cut this saw?
From the specs: Maximum crosscut up to 2-in x 8-in (dimensional) at 90° and 2-in x 6-in at 45°
Date published: 2020-02-22
Mitre Saw - 7 1/4" - 10 A
is rated out of
5
by
249
.
Rated

5

out of

5
by
Outback
from
Great lil' saw!
As a professional furniture and cabinet maker I was tired of carrying a heavy miter saw to a job site for just a few cuts. I had looked at this saw for some time but wasn't sure of it capabilities. So finally decided to give one a try. While it appears to be a newer version I think it's an improvement over what I used to look over on the displays. Out of the box it was close to "true" but was very easy to set and I'm surprised at the accuracy. I added a my own per-scission fence and bed plus a fine cut blade ( I didn't try the stock blade so no review on that but it does appear to be a good blade). [This review was collected as part of a promotion.]
Date published: 2018-12-08
Rated

4

out of

5
by
lign
from
Portable and light yet big capacity and accurate
What a Dandy little saw this is! It is exactly what I wanted! I already have a 12" chop saw that is great to keep in my shop but too heavy and bulky to drag around (even with the fancy folding stand it is on). I wanted a saw that I could throw in the back of the truck easily and take with me. I bought a non-sliding little Delta chopsaw but the capacity was terrible. This little Kobalt excels because of the slide. I did knock off a star because there is no decent carry handle for one-handed carry. Not a big deal but would've made a big difference. The laser is icing on the cake AND it is easily adjustable! What a deal! Go get one! [This review was collected as part of a promotion.]
Date published: 2019-05-04
Rated

5

out of

5
by
sunsetquest
from
The saw works pretty good and is a good price
For the price, this seams like a great saw. It made my flooring job much easier! drawbacks =================== I wish it did have a slightly larger blade so I did not need to slide it as much but that is minor. The saw dust bag does not capture much dust. When I cut at 90 degrees it did not seem to be perfectly square. Maybe there is an adjustment that I need to make. advantages =================== great price had enough power to cut pretty quick. lots of degrees of movement (angle, blade angle, sliding) its not to heavy the angle is pretty east to read and adjustments are easy to make. Overall, I am happy with my purchace and am glad I got this one.
Date published: 2018-04-30
Rated

5

out of

5
by
Daiosama
from
Great little saw
Got this last week to do some projects around the house. I built some outdoor steps with it. The cuts were precise and smooth. The laser is easy to adjust. However, the laser wasn't bright enough to see with the garage door open and the sun shining in. With the garage door closed, it was fine. The blade cut smoothly and quickly. The slider was was precise and smooth. The dust collector worked great. Great little saw for the price. It won't do 4 inch thick lumber, but for anything less is great. [This review was collected as part of a promotion.]
Date published: 2018-08-19
Rated

4

out of

5
by
Andy
from
good little saw for the money
have a 12" slider for bigger jobs and projects. this little guy is replacing an old 10" that has seen better days and has a lot of oomph. crazy light for portability. Even though it's pretty square for most uses out of the box I would still square off the blade and fence. laser is pretty lame and extremely hard to center...mine won't center but then again I don't use lasers much...I like seeing the stopped blade touch the workpiece for better accuracy. 4 stars because im impressed so far but it's still new to me. one thing-the stock blade is ok for rough cuts but I recommend at least a 40 tooth for molding... this size blade with 24 teeth will tear a bit.
Date published: 2019-10-29
Rated

5

out of

5
by
Rick
from
Great lightweight saw
I have been using this saw for about a month. I bought this to cut 2x4 framing and interior/exterior pine trim boards for my camp. Did not want to take my 12" saw back and forth from home due to weight and the hassle of dismounting/ remounting from my saw bench. This Kobalt saw was the perfect solution. When I go to help my kids at their house with a project it fits easily in the trunk of the Toyota Camry. I don't need to take the pick up truck. Only 2 shortcomings: Need to flip boards to make opposing miter cuts, and the laser could be brighter. Otherwise I think it is a good addition to my tool collection. [This review was collected as part of a promotion.]
Date published: 2019-09-29
Rated

5

out of

5
by
woodbutcher
from
Five Stars to factory quality control ***** WOW
This is the first time I have purchased a tool that didn't require adjustment out of the box. Kobalt listened to a lot of the complaints they had on the old unit. The laser was so close to accurate I had to get my machinist rule out. The red pointers were the only thing that needed to be tweaked since I felt like I needed to adjust something. After all the checking and ready to finally cut, I had to read further down the manual to see how to start the darn thing and finally figured out how operate that yellow safety switch.
Date published: 2018-04-25
Rated

5

out of

5
by
Leo
from
Kobalt 7 1/4"
I'm impressed with this "little giant great job saw!" Lightweight, easy to carry on, I don't have to use my 12" DeWalt or 10" Makita anymore to do small remodeling projects like steps, frame, shelvings, fence boards, even laminate and hardwood floors! Excellent and perfect cut, laser works good, all is great all the way! Highly recommend! Thank you Kobalt designers! Leo. Amwall Interior Sioux Falls, SD [This review was collected as part of a promotion.]
Date published: 2019-01-13