Description
Save a lot of space in your kitchen with this Kitchen Aid under-counter microwave oven. Its simple drawer design makes it easy to use when your hands are full. This appliance, which can be flush-mounted, provides a large capacity of 1.2 cu. ft. and a 950 W 11-level cooking power. In addition, there are several features available, including timed defrosting and keep warm option which emits short heat pulses equivalent to 50% of the regular oven power. Backed by a 1-year limited warranty on parts and labor.
Product specifications
Add A Minute, Auto Cook, Beverage, Control Lock, Cook, Cook Power, Cook Time, Defrost, End of Cycle Signal, Fresh Vegetable, Frozen Entree, Frozen Vegetable, Languages - English/French, Off/Cancel, Popcorn, Potato, Reheat, Soften/Melt, Sound On/Off, Soup, Timer
Frequently bought together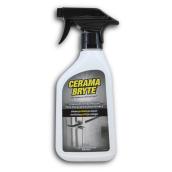 CERAMA BRYTE
Stainless Steel Cleaner
Format 474ML
Details
Article #8307003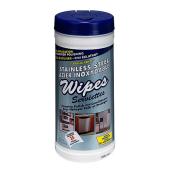 CERAMA BRYTE
Stainless Steel Cleaning Wipes
Format 35/PK
Details
Article #8307005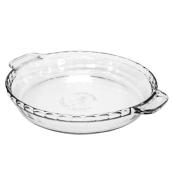 Pie Plate - Glass - 1 5/8" x 9" - Clear
Details
Article #97737604
Microwave Oven Drawer - Under-Counter - 24" - Stainless Steel
is rated out of
5
by
145
.
Rated

1

out of

5
by
Sue
from
Burn, baby, burn . . .
Yes, this almost burned my house down. Problem is it's easy to accidentally turn it on by bumping into it. There's no handle sticking out to shield the controls. I had a bunch of friends over- someone accidentally turned it on- and no one knew because the room was noisy and the microwave is quiet. It ran so long the countertop and front of microwave were too hot to touch- and there was a definite hot, burning smell. It does have a control panel lock feature but people forget to put it back on. My solution is I'm ordering a suction towel bar to put on the front to make it harder to knock against the control panel. A dangerous, terrible design flaw. [This review was collected as part of a promotion.]
Date published: 2019-04-20
Rated

4

out of

5
by
sarahmac
from
Fits nicely
I bought this because I wanted to avoid the over the range microwave that doesn't vent well. This fits nicely into a base cabinet designed for the microwave drawer. My only complaint is that the buttons are difficult to see without bending down. It would also help if they were illuminated from behind. I'm not sure if there are any models available with these features, but that is probably the only change I would make if I had it to do over. [This review was collected as part of a promotion.]
Date published: 2018-07-27
Rated

4

out of

5
by
mandmtoy
from
Almost perfect...
Overall very happy with the microwave drawer. Love the convenience. Not quite as powerful as our old microwave (a large over-the-range style), but with good space. The only complaint is the control placement. Anytime someone touches the microwave as they pass it, or while working at the counter or reaching for the higher shelves, it activates. We now keep a bowl of water in the oven to prevent disaster...Sharp solved the problem by having a "flip out" control panel (which also prevents having to lean over to see the controls). Hopefully KitchenAid will try something similar. [This review was collected as part of a promotion.]
Date published: 2019-10-28
Rated

3

out of

5
by
arodriguez522
from
Good, but needs design improvements
I love that this microwave fits hidden under the counter and we don't have to bend down to see in, however, it would be so much more convenient if the buttons lit up so we could see them easily. We still have to bend down to see what buttons we are pushing, which is what we were trying to avoid with a drawer model. Please note it is also not as tall on the inside as a regular microwave, so some items (i.e. food in microwaveable pouches - rice, soups, etc.) will not stand up. [This review was collected as part of a promotion.]
Date published: 2019-01-31
Rated

2

out of

5
by
Captain326
from
Not very impressed.
I purchased the KitchenAid microwave drawer because all my other new appliances were KitchenAid and I wanted them to match. I have been using the microwave now for about two months and really wish I had not purchased it. It is very very difficult to see the control panel unless you either have a flashlight or turn on all the lights in the kitchen. It's really a nuisance. I have also yet to take out a plate of food that I was trying to reheat that it's very hot around the edges and still cold in the center. I have read that this microwave does not need a turntable because the heating element is on the top but I totally disagree.
Date published: 2020-04-16
Rated

3

out of

5
by
cjns
from
Poorly designed control panel-can be dangerous
I really like the concept of a microwave drawer however the control panel is poorly designed. It is flush with the front of the drawer and whenever someone brushes by it or leans against the countertop it opens up. My dog and grandchildren have not only opened the drawer but have started the microwave which can be dangerous and bad for the appliance. There is a "lock" button to prevent this but who wants to stand there holding a button for 5-10 seconds before and after each use. The panel should be a flip down, recessed or on top of the drawer (as some dishwashers have) to prevent this.
Date published: 2019-11-06
Rated

1

out of

5
by
peter peter pumpkin eater
from
Frustrating
This microwave works fine, but is not intuitive on any front. You cannot adjust the beeper volume. Not a big deal except when everyone is sleeping and you want to reheat your coffee and the beeper wakes them. It does not have the instant time buttons for 30 seconds or push the 1 number for 1 minute and 2 for 2 minutes, etc... a simple feature that I used to used all the time. And lastly, a under countertop microwave is just plain inconvenient... it looks cool but is too difficult to use because it is too low and one has to bend over or get on your knee to put item in and take them out.
Date published: 2019-10-29
Rated

4

out of

5
by
MrComa
from
Good Microwave
Disclosure- this is our first experience with a drawer-style microwave. Cooking function is excellent. Basic defrost and pre-programmed settings work well. Our only issue is that the buttons are front located and so sensitive that clothing frequently opens the drawer as we walk by. We have been locking the controls when not in use to prevent the frustration, but it is not ideal. Front mounted controls also take getting used to as you need to lean over a bit to see them. Top mounted controls, like a dishwasher, would be very nice. Again, this is a great appliance that we a gradually getting accustomed to. [This review was collected as part of a promotion.]
Date published: 2020-01-08