Description
The Metabo HPT® 15 Amp 10'' compound mitre saw is ideal for trim carpenters, framers, and woodworkers who demand precision, reliability and versatility on the job. The 15 amp motor generates a no-load speed of up to 5,000 RPM for making crosscuts and mitres with ease, even on the toughest cutting jobs. This mitre saw model is lighter than its predecessor (model C10FCE2) weighing just 24.2 lb for easier transport. It/s the lightest 10'' compound mitre saw in its class to date. It has a large table with a vice-clamping system to hold your workpiece safely in place. The thumb-actuated positive mitre stops allow for simple mitre adjustments. 0° To 52° mitre angle range, to the right and left for increased flexibility. 0° To 48° bevel range, to the left with adjustable bevel stops for precision cuts. It also comports a large extended flip fence which rises to 4'' to allow accurate cutting of large workpieces. To keep your workspace clean and safe, a dust collector attachment is included. This product is backed by Metabo HPT's 5-year warranty.
Product specifications
Dust collector attachment
Frequently bought together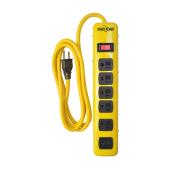 YELLOW JACKET
6-Outlet Power Bar with Surge Protection - 6' - Yellow
Format 1.8M
Details
Article #32045053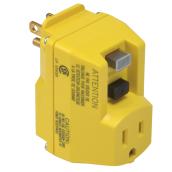 YELLOW JACKET
Single Outlet Portable GFCI Adapter - 1800 W - 15 A
Details
Article #32045050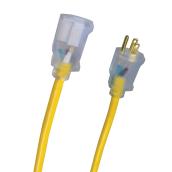 WOODS
12/3 Extension Cord - 25' - Red
Format 12/3 25'
Details
Article #74045239
This is regarding Metabo HPT 10-in Compound Mite Saw. Would you be able to tell if this item goes on sale again? If yes approximately when. Thank you.  
Metabo HPT Single Bevel Compound Mitre Saw - 10'' - 15 A
is rated out of
5
by
24
.
Rated

4

out of

5
by
Olivier212
from
Excellent value when on sale
I got this during the Black Friday week for a lot less than its advertised price, but closer how much it is sold for on the big online retailer. So from my point of view I bought the cheapest branded mitre saw on the market and my review will keep that in mind. The saw comes in a fairly small box which is great as I can re-use it for storage. This is a non-sliding saw so it is limited in what it can do, but it met my needs for my project and buying this was essentially the same price as renting one, but it met my expectations in terms of the quality of the cut. The metal base feels cheap, I know they market it as light and it is heavy enough not to move when you push the trigger, but be careful not to drop it. The angle indicator could have been better, the line on the sticker is not at the same angle as the line on the clip you push to rotate it, this is annoying but in the end if you align the tip of the sticker you still get the proper angle. The dust collection bag does its job well, however the saw will send wood dust everywhere. I would say 2/3rd of the dust ended up outside of the bag, and I even replaced the bag with the ShopVac and it didn't help much. Plastics feel a bit cheap, but nothing that worries me. Like I said, for the low price I paid it was money well spent. This is not a professional unit but for the occasional home project, it will be perfect.
Date published: 2019-12-18
Rated

4

out of

5
by
NJ homeowner
from
10" Compound Miter Saw C10FCG(S) | Metabo HPT
Good for homeowners, I couldn't pass it up for the price. I will use it mostly for trim work but it will cut deck boards. Pretty powerful. I was using a hand miter saw and this is a dream compared to that. Miters are pretty close out of the box and I have made adjustments to get them closer. A wider range on the miters would have been nice as would a hex bolt in lieu of a hex socket to attach the blade. It's light weight is good for portability, I made a platform to clamp to sawhorses until I get a saw stand.
Date published: 2020-03-07
Rated

3

out of

5
by
gonzosoldier
from
Holy Dust!!!
Fair for the price, does not hold the sawdust inside the bag rather all over the floor, next time I will consider a miter saw with a Laser guide, with all the dust really need help finding where I need to make the cuts.
Date published: 2020-06-20
Rated

5

out of

5
by
Mzteek
from
Gets the job done
Nothing fancy about this saw but it gets the job done. If you just need to do some basic projects this does the trick. I picked it up on sale and couldn't be more pleased with it.
Date published: 2020-01-01
Rated

4

out of

5
by
Josh13
from
My First Miter Saw
Overall a good saw. It has been able to do everything that ive asked out of it. The only issues that im currently having with it are that sometimes when i let go of the trigger, it takes a while for it to slow down. Other times it cuts off pretty fast. The only other issue that ive come across is that more saw dust ends up on the floor rather than in the bag. Not quite sure why, but not a big issue for the price.
Date published: 2020-06-05
Rated

4

out of

5
by
NEWTON
from
Not bad for the price
Cuts straight at 0*, but when cutting 45* from both sides there is about 1/2* gap. When you cut a small piece at 0*, then rotate 90* and give another cut, there is that 1/2* error in being exactly a 90* angle. Tried two different speed squares and one combination square and none would show exactly 90*. Just need to have a Metabo tech tell or show me how to adjust the blade to be 45* & 90* exactly.
Date published: 2020-05-30
Rated

5

out of

5
by
CanuckHBR
from
Good compound miter saw.
I purchased this saw as a replacement for one that I killed. I have other HPT products, and I am impressed with the build quality of those tools. This saw did not disappoint. It is well built, and cuts very accurately (right out of the box). Dust extraction is not stellar, even with vacuum assist. Not a deal breaker however.
Date published: 2020-01-22
Rated

4

out of

5
by
Anonymous
from
MVP FOORING CONTRACTOR
This saw has worked like a charm Sense I've gotten it. It overall is easy to work and the operation is seamless. Only thing I've found to be a little on the downer side, is that it feel a little week in power for a chop saw. But yet it still cuts everything I've asked it to do, so who's complaining.
Date published: 2020-01-29