Description
Keep your grocery items in a spacious refrigeration unit! This Maytag(R) refrigerator features the PowerCold feature that quickly brings every item at the right temperature, ensuring optimal food preservation. BrightSeries LED lighting emits a bright white light, which consumes less energy than incandescent lighting and gives you a clear idea of your fridge's contents at any time of the day. Up-front electronic temperature controls make it easy to maintain the coolness of your refrigerator with the touch of a button. This black-finish refrigerator is backed by a 1-year limited warranty on parts and labour, and a limited warranty from 2nd to 10th year on compressor only, labour not included.
Product specifications
Upper-freezer refrigerator
Number of Refrigerator Shelves
2nd-10th year limited warranty on compressor only, labour not included
2 fixed door bins, 3 adjustable half-width door bins, dairy compartment, 2 humidity-controlled crispers, 3 full-width shelves, full-width deli drawer
2 fixed door bins, wire shelf
Reversible Door Swing (Y/N)
Frequently bought together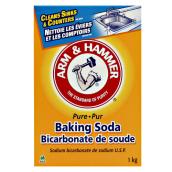 ARM & HAMMER
Baking Soda
Format 1KG
Details
Article #53975001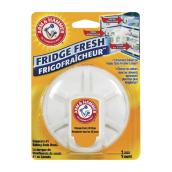 ARM & HAMMER
"Fridge Fresh" Refrigerator Air Filter
Details
Article #53975000
Maytag(R) Top-Freezer Refrigerator - 33" - 21 cu. ft. - Black
is rated out of
5
by
364
.
Rated

3

out of

5
by
BTH
from
Freezing Up In Less Than A Year
Fridge was "okay" for the first 6-7 months then the coils in the freezer froze over eventually causing the fridge section to go to 68 degrees and the freezer to 45 degrees. I had to take the freezer apart, defrost the coils and reassemble - Took about 3 hours to accomplish. Temps dropped back to 34 in the fridge a -4 in the freezer within 12 hours. Now a month later I have the same situation so I am guessing the defrosting sensor is not functioning to keep ice from forming on the coils. Took everything apart again, defrosted and reassembled. Checked temps the next morning and are back to normal. Will have to keep checking on it and have the sensor / defrosting unit replaced. Picture of frozen coils before + after below...
Date published: 2018-07-13
Rated

3

out of

5
by
WegoMac
from
Good but could be excellent
There are two shortcomings to this refrigerator that keep it from being excellent. I wish I could talk with the engineers who designed this product to ask them what they were thinking. First is the LED lighting in the refrigerator. The light is located at the top of the refrigerator compartment. If you load groceries onto the first shelve and into the crisper drawer the bottom half of the refrigerator is dark. So why didn't the engineers put at light midway down the back wall of the refrigerator to improve lighting? Second is the glass shelves. They are not thick enough or properly supported to prevent them from sagging when loaded with groceries. [This review was collected as part of a promotion.]
Date published: 2017-12-18
Rated

4

out of

5
by
Handyman
from
Stylish refrigerator
I bought this refrigerator because it is only 30 inches deep, and we have a smaller kitchen. The other refrigerators listed as counter depth refrigerators cost more than 2 to 3 times as much as this one at 28 inches deep, but this one at 30 inches deep works fine. I like that it has a light in the freezer, and the shelves and door bins are see-through so it is easy to find food. There are no handles on the front, rather recessed pockets on the side to open the door. This takes a little getting used to, but overall I like it better because it makes cleaning the front of the fridge extremely easy as it is completely flat. So far the refrigerator runs very quietly, and the cooling performance and eveness seems just fine. The one and only drawback is some of the shelf's seem not as sturdy as my previous refrigerator. They haven't broken, but they seem to bend and flex more than they should.
Date published: 2017-10-25
Rated

2

out of

5
by
J
from
not as advertised
I suppose it's possible we received an "underachiever"...hard to tell, because Maytag (Whirlpool) doesn't exactly tell you the cooling range of this fridge. They do have what they call the PowerCold feature, to get everything in your refrigerator back to "nice and cold, nice and quick"... Well, not the one we got. If you don't open the door overnight, or put in a bunch of groceries, it MIGHT get down to 41-42 degrees running full blast, You can Google it, "optimum" refrigeration is 37-41...the range on the thermometer we bought says 32-40..."Strive for 35" is the adage of the people who want you to store milk and other dairy products safely, like the schools do that serve milk to our kids. This fridge won't do that, although the freezer, on middle setting, gets down to minus 2. We may be getting a replacement, and I hope it works as it should. (all temps fahrenheit, btw)
Date published: 2016-11-17
Rated

1

out of

5
by
MarkDeb
from
Nothing but problems
We bought this refrigerator in July, it took 9 weeks to arrive. the sleek meat drawer full width is a fantastic concept and the reason I bought this model. But it keeps falling off the track. I have had the repair men here three times and it just continues to happen. Also the unit has a problem with water freezing in the inner walls the entire length of fridge to the point the walls are pushing out and the upper right corner of freezer has now pulled apart. We have ordered a new, different model and now wait several more weeks. [This review was collected as part of a promotion.]
Date published: 2019-11-03
Rated

3

out of

5
by
Nross
from
Some disappointments
I was disappointed that there was a dent in my freezer door and the light did not work in the freezer when the refrigerator was delivered. Two weeks later the refrigerator started to fail. The freezer was freezing up and the lower compartment was not cold at all! A repair man came out and replaced my door and only tighten the freezer bulb.(that was all it needed) The other issues were caused by a loose rubber gasket on the bottom of the frig door. The repair was great and the frig is now working properly. But really- this is the kind of product we can expect new from the factory? [This review was collected as part of a promotion.]
Date published: 2019-09-17
Rated

5

out of

5
by
Scott ZZT
from
Well designed traditional style refrigerator
We have an older home with a small kitchen and this Maytag works great in our compact space. We appreciate the fingerprint resistant stainless steel finish especially when our grand kids show up and raid the refrigerator. Personally I appreciate the clear shelves so I can see whats in the crispers and the full lengthen drawer inside the refrigerator. For our needs this refrigerator is well designed and very functional. [This review was collected as part of a promotion.]
Date published: 2019-07-27
Rated

4

out of

5
by
akg18
from
Many good things to say
I like the deli tray that takes up the width of the refrigerator and the fact that all the drawers are clear so you can see everything. I was not happy that tall carton storage is limited to the bottom door and ONLY if it has square bottoms. I gave away several storage containers that were round. I like that there are no handles to open the doors. Since I was limited by size requirements, I couldn't get other features, but my old Maytag had an adjustable shelf-(up or down) that was more convenient than the current model. [This review was collected as part of a promotion.]
Date published: 2017-12-05