Description
Get more done in less time. With a capacity of 5.4 cu. ft., you can tackle your biggest loads, while the stainless-steel basket is designed to last a very long time, making this washer a good investment. The PowerWash agitator supports loads of any size without compromising on washing efficiency. Even the most stubborn stains are no match for the intense washing action that disintegrates the dirt. For an even deeper wash, use the Extra Power button. It increases the performance on any cycle with a two-temperature wash. The washer optimized for WiFi allows you to stay in control and manage laundry efficiently from anywhere. 1-Year limited warranty.
Frequently bought together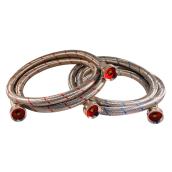 AQUA-DYNAMIC
Flexible Washer Connector - 3'4" x 60" - Pack of 2
Format 3/4"x60" 2/PK
Details
Article #01735519
Maytag Top-Load Washer - 5.4 cu. ft. - Chrome Shadow
is rated out of
5
by
853
.
Rated

5

out of

5
by
Vickie1977
from
Love it!!!
I had to buy a new washer cause my last one broke and it was going to cost just as much to repair it as it would to buy a new one. So I did some research cause I wanted a washer with a tall agitator and a deep water fill. And it also had to be made in the USA. Well I hit the jack pot with this washer. I LOVE IT. It has a deep fill button that I love, my clothes actually come clean now. IT has a huge basket so you can wash large loads or even blankets with no problem. It also had many different cycle options. And it's so quite with the door closed you can hardly hear it running. [This review was collected as part of a promotion.]
Date published: 2020-05-28
Rated

5

out of

5
by
dxrforsyth
from
Works great
Purchased as a set. The MED6230 in white and I have been impressed. Overall it is quiet and it seems to do a great job on washing. I tried several items. Queen set of sheets, then I washed 4 pillows, then 5 pair of dirty jeans, then just regular loads of clothes. Everything clean as expected. I am impressed so far. My teenage children can operate it just fine. Cons are that washing in warm or hot steams up the glass so you can't see into it and the tint on the glass is unnecessary. Neither of those are a problem though. They look great. I got 15 years of use out of my last Maytag set and hoping for the same [This review was collected as part of a promotion.]
Date published: 2020-09-17
Rated

4

out of

5
by
Fatman1
from
Very pleased so far
After our 30 year old washer died we did some research before going shopping. We chose the Maytag mainly for the warranty. This is not your grandmothers washer. You cannot just dump in the clothes and detergent an turn on the machine. When loaded properly and the right setting chosen the the washer does a excellent job of cleaning. We have only used liquid detergent so we can't offer an opinion on powdered detergents but my guess there could be problems on some settings with powdered products. Overall view is positive but Maytag might need to make a better effort with instructions that come with the machine. [This review was collected as part of a promotion.]
Date published: 2020-04-25
Rated

5

out of

5
by
Washalcoholic
from
LOVE THIS WASHER
I am 82 years old and have had a variety of washers but none can compare with my new Maytag Toploader. The features are terrific; I personally like the short watch cycle and The clothes come out cleaner than any washer I have ever used. I was a little concerned getting a Toploader because I am short and was concerned about getting the clothes out of the tub. This is not been a problem at all and the tub is a very generous size. Whoever designed this washer knew exactly what Washer should do. I find myself Dreaming about doing my next load of wash. [This review was collected as part of a promotion.]
Date published: 2020-03-12
Rated

5

out of

5
by
Anibanani
from
Like the size
I have had this washer for a month now. It seems to wash quite well and is large enough for comforter, yet it uses very little water. Two things I could do without is some of the noise. The agitator changes direction and as the washer is directly below a bedroom I need to wash when no one is sleeping. Second is the cycles seem to take quite long, at least an hour or more. I just have to adjust my planning when doing laundry. Overall I am quite pleased with this washer. Still learning some features. I am short and it is a bit deep, but not as deep as some of the taller ones. Glad that I went in to store to check it out. [This review was collected as part of a promotion.]
Date published: 2020-05-26
Rated

5

out of

5
by
Kosciuskorex
from
A different kind of washing machine
This is not a conventional washing machine. The engineering is exceptional and there are numerous settings On the machine to choose from. The only option that would be nice would be a water faucet in the drum. The main circuit board on our 7 year old Whirlpool washing machine failed, and the repair was more than the original cost of the machine. Hopefully this washing machine will last longer than 7 years. We are firm believers in buying American made products. This washing machine's technology is far advanced than most other washing machines available today. [This review was collected as part of a promotion.]
Date published: 2020-06-20
Rated

1

out of

5
by
CaptainHank
from
Defective and overly complicated
We've only had this machine 2 weeks and have experienced multiple problems. 1 - it got stuck in the wash cycle and after 30 minutes of the clock not moving we had to turn off the machine. 2 - on a delicates load with literally 6 small items the tub filled almost to the top even though we didn't adjust any fill settings. It appears this machine may be a lemon with some kind of faulty processor. Very disappointing, we did a lot of research before buying and feel let down. We can only hope Maytag service is better than our initial experience with the machine.
Date published: 2020-03-26
Rated

1

out of

5
by
fluffs
from
Horribly Noisy
I bought this 3 weeks ago and am trying to see if there is something wrong with it. I had a repair man out and he said the noise was normal. OMG I have to close the laundry room door and turn the televsion up. Before I bought this I read reviews and people commented on how quiet it was. They must be deaf.. I demanded to have another repair guy out and he is coming next week. If this is really true DON'T buy this washer.
Date published: 2020-05-14