Description
The Sax freestanding bathtub by MAAX will give your bathroom a classy look while offering you maximum comfort with its perfectly inclined backrest. Its 2-piece fibreglass construction makes it easy to carry and easy to install. Faucets can be mounted on the rim of the tub or on the floor. It features an above-the-floor rough, the bathtub is compatible with F2 drain and it includes 4 adjustable leveling legs. The exterior shell hids the drain and the 5" rim of the inner shell hides the seans for a flawless look. Proudly made in Canada. This product is backed by a 5-year warranty.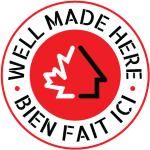 How do you secure the tub to the floor? Silicone???
By screws and the 2 bins come out from the F2 drain. Silicon to be added later to fill up the gaps between tub base and floors. Below a link for more information: https://www.youtube.com/watch?v=34vbsfWU9lY
Date published: 2019-12-11
How tall is it? 
25" at the back and 22" at the front
Date published: 2019-07-09
will this tub fit thru a 27 inch door?
Yes I think so. My door was only 28.5. Also the maximum height in place is only 25.5 inches so you could put it on its side to take it in. As well the tob comes in two pieces so it would go in your door. I really love this tub and the elegant lines. Well worth the money. Cleans up in a breeze with a little dish soap and water. 
Date published: 2019-08-04
what is the water capacity of this tub
Hello Fossil9. The water capacity is minimum 38 gallons, maximum 44 gallons. You can view more details of this tub by following this link: https://maax.com/en/product/sax_105797
Date published: 2018-02-06
does this tub have pre drilled faucet holes?
no
Date published: 2021-02-20
Is this Maax tub know as the SAX? Also what is the depth?
A good question a year ago and still no answer? Looks like it's not. The shape and probably dimensions are the same. But Rona has Sax by Maax which is fiberglass acrylic-coated. This one is gel coated. Also this one is lowrated, but Rona claims Sax is one of their best sellers. Kind of confusing. 
Date published: 2018-01-15
with this bath tub is there a special drain kit that you buy
Hello Fossil! A standard drain is all that's needed however you can always buy the F2 Drain that facilitates the installation of freestanding tubs. You can visit your local Lowes Store to have them order one for you via SOS. For more information, please follow this link: http://maax.com/en/products/planning-and-design/inspiration/innovation/f2-drain
Date published: 2019-08-04
Does it come with faucet
Hello Aperk, this tub does not include a faucet.
Date published: 2019-03-06
Sax Freestanding Bathtub - Fibreglass - 32-in x 60-in x 24.8-in - White
is rated out of
5
by
20
.
Rated

3

out of

5
by
Master Bath
from
Look, don't touch...
I bought this tub Oct 2020 because I has told a master bath needs a bath tub for resale. This tub looks great. As in home decorating magazines & the stand alone trend. Having said that, this tub is flimsy. If you plan to take regular baths, spend the extra money to buy a more solid tub. This tub is for looks only as far as I am concerned. It's too deep to comfortable bathe children. Too dangerous for a senior (getting in & out). Honestly not practical. However, if like me you wanted to add a tub for the aesthetic & resale value, this is a great buy. Be advised does not come with drain or overflow. Might be cheaper to select tub which includes these necessary plumbing parts.
Date published: 2020-12-11
Rated

2

out of

5
by
Anon
from
Very cheaply made
We installed this tub in July 2017 because we needed a tub for a small space and we wanted a deck mount faucet. It is not a thick quality material. The gloss finish is not evenly applied through out the product. The tub has actually cracked when the topside was held too tightly when getting out of it!
Date published: 2017-09-27
Rated

4

out of

5
by
Amber
from
Perfect addition to dated bathroom
Love our new tub I'm the only user of the tub husband doesn't like baths this is nice for a medium to small bathroom fits great
Date published: 2017-02-11
Rated

5

out of

5
by
Xqizit1
from
Quality at a fair price
I have now owned two of these tubs. Like all acrylic tubs they require a certain amount of care and respect, if you don't want the surface to dull up with scratches. It is a comfortable tub for a 5' person. I purchased both the white and the ruby model of the Max Sax.
Date published: 2019-05-22
Rated

1

out of

5
by
Santo
from
Mauvaise qualité
J'ai ace bain depuis maintenant 2 ans et honnêtement une chance que je l'avais acheté dans le but de vendre ma maison. Ceci dit elle est maintenant vendue et c'est le dernier bain que j'achèterai pour ma nouvelle maison. Mauvaise qualité il se grafigne à rien, il est inconfortable dans toutes les positions et tellement petit! Je fais 5p10 donc je suis grande et seulement mes jambes font la longueur si je suis assise. Prendre un bain avec ma fille de 1 an est même difficile. Un bel achat pour ceux qui ne prennent que rarement des bains ou pour un logement à louer.
Date published: 2019-07-17
Rated

2

out of

5
by
comp56
from
Rub a Tub Tub....
Well what can I say, first off it comes with very poor instructions, in fact the model SAX comes with steel Hex bolt heads that sit on the floor to level the inner part of this 2 part tub. Now that wouldn't be a problem if the 4" x 4" blocks these are screwed into were flat and square but they are not so the leveling heads come out on different angles. Cracked and split blocks no less. I rectified the issue with glue. I also installed this over tile and when I called Maax to explain that the head of the bolts would be in direct contact with the porcelain tile they told me to either install the tub before tile or on plywood? or contact the tile manufacturer to see they could handle it?....I laughed and said I would figure it out. I ended up using thick rubber feet sandwiched with washers and nuts on the leveling bolt so it would have 4 hard rubber feet resting on tile instead of the head of a crooked bolt. I also ran caulking around the inside portion of the apron to secure it. once tub was in place I ran more caulking around the outter lip after 24 or more hours tub was secure. We wanted a stand alone faucet which was a good thing because the area for a faucet was paper thin. Now that the tub is in place and secure it is ok but I would never get another one. .
Date published: 2018-01-05
Rated

1

out of

5
by
Benoit
from
La baignoire la plus inconfortable !!!
J'ai cette baignoire depuis 6 mois et croyez moi, je vais la changer. Je ne pouvait pas pensé qu'une compagnie connue comme MAAX pouvait produire un SCRAP
Date published: 2019-01-10
Rated

3

out of

5
by
doom
from
Rapport qualité prix
Particulièrement déçu de la qualité. solidité discutable. Un bain pas cher qui ne vaut pas cher.
Date published: 2019-11-06