Description
If you're considering a new bathroom remodeling project, check out this sleek Reveal pivot shower door. The hinge of this frameless pivot shower door swings it both outward and inward. With this feature, you can open the door from any direction. Maax uses durable and high-quality tempered glass in the manufacturing of this model to minimize the time you spend cleaning and caring for it. It comes with a chrome towel bar so that you always have it within reach.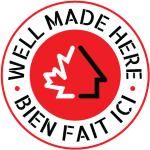 Frequently bought together
Maax Reveal Pivot Shower Door - Tempered Glass - 59-in x 71.5-in
is rated out of
5
by
7
.
Rated

1

out of

5
by
aSc5
from
Bad design
The stationary glass does not sit in a channel on bottom. The glass is only held in place by 2 small plastic clips that loosen over time. This is a potentially dangerous design flaw and causes frequent adjustments to the shower door to keep it closing properly. After less than 1 year of use, I removed the glass and modified the bottom rail to securely hold the glass. The newest design of this shower door does not use the plastic clips and has a channel that securely holds both side of the glass.
Date published: 2020-12-06
Rated

1

out of

5
by
remodeler
from
Poor quality parts for a high end door
For a thousand dollar door I would expect everything to be high end, but they use several plastic pieces that do not function very well, and the glass door itself is warped so I'll have to call the company to get it replaced. There is a thin chrome rail that you put on the floor for the glass to sit on and two thin plastic pieces that are supposed to attache to the rail to keep the glass from sliding off. These plastic pieces would not attach and so the glass kept sliding off onto the tile. They tell you to attach them to the rail after they already told you to use silicone to attach the rail to the tile. By the time I got to the part to attach these pieces the silicone was almost dry making it hard to raise the rail to get the pieces under. I think the silicone also made it so I couldn't attach these pieces to the rail. The wall anchors they provide incase for when you have to put screws where there is now 2x4 behind the wall.The instructions say to use a 1/4" bit for ceramic tile to drill a hole, but the anchors will not fit and if you try tap them in they just bend and break. Finally, there is a plastic piece that attaches to the bottom of the door to keep water from going under. When you open and close the door however, this piece catches against the chrome rail and it pulls the plastic piece off. I don't think they actually tested their products and will not buy this brand again.
Date published: 2014-02-26
Rated

1

out of

5
by
aaaa
from
Fatal design issue: endless problem 1st yr
this Reveal pivot series has a fatal design issue: the hinge is not strong enough to hold the heavy heavy glass door in place
Date published: 2020-01-01
Rated

1

out of

5
by
ATay
from
Dangerous design needs to be recalled & corrected
The kit is flawed as the plastic clips pop off and the door pops off the track. Like all of the other reviews on here the clips don't last long and it's dangerous to have this product out there holding up heavy glass. This needs to be recalled immediately and corrected.
Date published: 2020-12-29
Rated

1

out of

5
by
Lee1234
from
Garbage
Glass isn't attached and moves when door opens. No track for glass just silicone and 2 cheap plastic parts. Junk need to take down its dangerous
Date published: 2020-11-23
Rated

3

out of

5
by
Brendab1
from
Not worth the money
I bought this was nice for about a week then had to keep adjusting door and leaks at side..very poor set up..
Date published: 2020-11-15
Rated

1

out of

5
by
AlbertH
from
Solutions
The bottom of the fixed glass panel comes loose. I see lots of poor reviews for this problem Has MAAX resolved the issue
Date published: 2021-01-09