Description
This tub shower from MAAX's Essence collection is perfect for your bathroom renovation project. It is made of ultra-strong fiberglass with a glossy finish, which makes it easier to clean. It comes in 4 pieces and it includes large corner top shelves, a wide soap dish and a standard acrylic handle. Easy to install, it features the PIN system which makes for a perfect alignment with the walls. This product is backed by a 5-year warranty. Proudly made in Canada.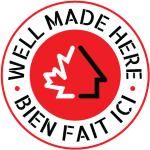 bonjour le panneau bain douche de 78 pouce est ce que sa part du plancher vers le plafond
Bonjou killerfred...la hauteur est 78''...Merci!
Date published: 2021-09-13
j'ai achete le mur de douche essence de maax malheureusement il ne fait pas sur ma baignoire mais je ne trouve pas le bain qui va avec tout seul et je ne veux pas racheter l ensemble complet. Ou puis je le trouver et a quel prix.
Bonjour Annick bard!..pour avoir la bonne information SVP contactez le Dept. Technique pour les bains Maax au 1-877-438-6229 et un agent au Dept Technique va pouvoir vous aider a trouver le bon modèle!..Merci!
Date published: 2020-05-26
Y a t il un espace de dégagement sous la baignoire, afin de permettre le passage des tuyaux, si oui, de combien de pouces s.v.p. Merci
Bonjour Fanny!..ce modèle 148006000002295 que Réno Dépôt vend il y'a seulement 1'' d'espace... Il y'a la même douche modèle 148007000002795 avec un espace de 3''..mais il faut aller dans un magasin Réno Dépôt pour le commander en commande spéciale parce que pas disponible a commander par leur site web..Merci!
Date published: 2020-04-01
quelle est la profondeur du bain avant le renvoie
Bonjour Blanche 31..la profondeur du bain a partir du drain au renvoie est de 11''. Merci!
Date published: 2020-03-06
is the 78" measured from the floor or from the tub up? thank you
Dear Shamus, thank you for contacting MAAX. The complete unit (from the floor to the top of the wall) is 78 inches. Please feel free to call at 1-877-438-6229 OPT 2 + 1 if you have additional questions. Best regards.
Date published: 2020-01-27
Bonjour j ai percé par erreur le panneau de droit pour la robinetterie. Est ce que le panneau se vend séparément. Maax Bain-douche « Essence », drain à droit, 60" x 30" 148006000002294 merci Real Lacroix
Bonjour Real Lacroix, vous pouvez communiquer avec le service apres vente de Maax au 877-438-6229 opt 2 opt 2 Il se ferons un plaisir de vous aidez. Merci
Date published: 2019-12-21
Maax Essence Tub Shower with Right-Hand Drain - 4-Pieces - Acrylic - White - 60-in x 30-in x 78-in
is rated out of
5
by
1
.
Rated

4

out of

5
by
Eunice
from
easy to install
easy to install, nice looking tub and surround, nice sleek bathtub
Date published: 2021-04-17