Description
This Maax® bathtub presents a contemporary design and features integrated armrests and headrest for maximum comfort as well as a textured bottom to prevent falls. The ergonomic bath with integrated apron and flange measures, 60'' x 30'' x 21", and is intended for right-hand alcove installation. Proudly made in Canada. This product is backed by a 25-year warranty.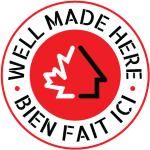 Product specifications
Apron, flange, textured bottom
Quelles sont les dimensions de la boîte pour un transport dans un VUS?