Description
Use the Maax Aura shower door to upgrade the look of your bathroom. It has a multiple glass pattern that gives your bathroom an aesthetic appeal. The door has a high-quality roller that provides a consistent glide. Its durable construction gives the 60 in W glass shower door a long-lasting performance. This door has a height of 71 in. The shower door has a 10-year warranty.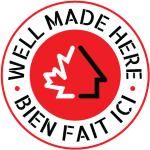 Frequently bought together
Bonjour, les deux portes sont-elles coulissantes? qu'elle est l'ouverture de la porte? merci
Bonjour, les deux portes coulissent. L'ouverture est de 23,5 po à 27,5 po. Merci!
Date published: 2021-09-08
What is the height your 60" Aura Shower door.
Dear JoeM, total height of the Aura shower door including framing is 71'', Thank You!
Date published: 2021-03-27
Bonjour, Quelle hauteur ont les portes?
Bonjour jobo! la hauteur des portes Aura incluant le cadrage est de 71'', Merci!
Date published: 2021-03-25
Would I be able to switch the doors for same base but with left hand drain opening ? And what is the maximum door opening ?