Description
SMARTLOG High-performance energy logs. 3.3 lb. Made of 100% natural hardwood residues. A unique, ecological and high-performance solution. Does not contain any chemical additives, bark or paraffin. Available in easy-to-carry 6-log box.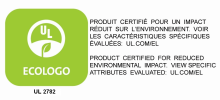 Ecological Attributes
This log is ECOLOGO certified (UL 2782: Solid biofuels). It is made up of wood wastes from timber transformation and produce less fine particles (lower than 0.5% of the weight) and other harmful substances.

By reducing the harmful substances level during combustion, you decrease the adverse impacts on human health.