Description
This French-Door refrigerator from LG is going to change your life forever. Temperature and humidity controls paired with strategically-placed vents distribute the cold evenly in the fridge. The SmartDiagnosis(TM) uses self-diagnosis technology in case of technical problems, communicating directly to LG customer service for a 24/7 response to your worries. The ice-machine is hidden in the door, leaving you space on the shelves and the storage drawer inside space is adjustable, allowing you to store large dishes like cakes or party trays without risking it to fall, laying on top of other products in the main part of the fridge. Finally, the black stainless steel finish is resistant to fingerprints. Therefore, you can let children play around the appliance without any worries.

Ecological Attributes
This refrigerator is ENERGY STAR® certified to save up to 10% in energy.
Product specifications
French-doors, 2 fruit/veg drawers, 6 adjustable door bins, 4 split adjustable shelves, 1 storage drawer.
Reversible Door Swing (Y/N)
Number of Refrigerator Shelves
Frequently bought together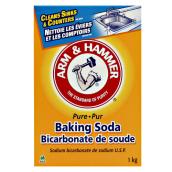 ARM & HAMMER
Baking Soda
Format 1KG
Details
Article #53975001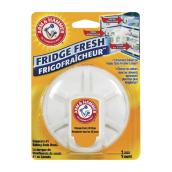 ARM & HAMMER
"Fridge Fresh" Refrigerator Air Filter
Details
Article #53975000
Can you tell me what type of ice cubes it makes (ie: round, square, crescent shaped)? We are looking for a specific fridge that makes crescent shaped cubes.
Hi there, thanks for your interest in our product. This unit produces square-type ice cubes. Kind regards.
Date published: 2018-07-25
Can they take the doors off to fit in the door way
Yes, with our delivery they took the doors off to get it through our doorway.
Date published: 2018-07-25
LG French-Door Refrigerator - 28 cu. ft. - Stainless Steel
is rated out of
5
by
499
.
Rated

1

out of

5
by
Really Angry Customer
from
Poor Choice, Poor Response
Refrigerator is 16 months old. Already showing signs of compressor problems and very noisy with vibrations. Three call to the overseas call center were a waste. Won't agree to send anyone with a promise that if it is the compressor (which is still under warranty) it will be covered. No Authorized rep. Given 4 different names and none are willing to do LG Warranty work any longer. So.....after three call, no one available to work on the unit and no support for the warranty. Am in a major metro area, so can't imagine in a smaller area. Going to dump it and buy a real Refrigerator. Not going to put another dollar into this thing.
Date published: 2019-05-21
Rated

1

out of

5
by
Bob
from
Sorry I bought an LG refrigerator
I bought this refrigerator from Lowes even though my in-laws had nothing but trouble with theirs. After only 1 year and 7 months, we started having trouble with the refrigerator and the freezer sections not staying cold enough. LG told me that the parts are still under warranty but not the labor. The problem is that NO ONE within 50 miles will work on LG refrigerators. They told me that LG frequently sent the wrong parts and also wouldn't pay them for the warranty work so they quit working on LGs. I tried to call LG again but their lines were too busy and to call back later. I just got off the phone with Sears Appliance Repair and scheduled a repair appointment. I guess I'm stuck with paying for the parts too. Not only will I never buy another LG appliance, but I will never buy ANY product from LG.
Date published: 2018-07-07
Rated

5

out of

5
by
Neil
from
LG Refrigerator
This is an absolutely great refrigerator. It is fingerprint resistant, attractive, well thought out inside, very bright so you can see everything. We moved everything from our previous refrigerator, of similar size, and because of the efficient interior it doesn't look like we have anything. The icemaker is great - that was our biggest problem with our previous refigerator and we are soooo happy with this one. Thanks LG and Lowes for a great product.
Date published: 2018-02-04
Rated

3

out of

5
by
Microwave
from
Nice fridge but mine rattles
It's a nice fridge, but mine has an intermittent loud rattle somewhere. If you push the door very lightly it goes away, or open the door it goes away. I believe it's coming from one of the fans. LG tech looked at me like I'm crazy even though he could replicate it. Basically told me to call lowes and work it out, but in his opinion was that all fridges makes this intermittent noise.. not pleased. I tried their troubleshooting tips too which didn't help.
Date published: 2018-04-06
Rated

1

out of

5
by
BadLGmicrowave
from
circuit board went out
we had this refrigerator less than a year the ice maker always clogs up with chunks of ice, the lg app did not let us know the fridge was going die or it was having trouble. we lost or refrigerator on thanksgiving night so we lost a ton of food. it was a bad circuit board its been 40 days and many of hours spent on the phone trying to get a food reimbursement that it seems no one knows how to process it. all the customer service reps all lied and said that the claim was processed and it will be sent in the mail come to find out there was no claim ever in the system 40 days later. root canals are easier to deal with then with customer service at LG.
Date published: 2020-01-09
Rated

5

out of

5
by
LGfan
from
Spacious and Quiet
Absolutely love our new LG. This is a new model. It is extremely quiet while running. The interior is spacious and well thought out. Plenty of room in the freezer. It has wheels on the bottom for easy movement. The front of refrigerator is magnetic for those that like that feature. We have only had the fridge one week so I will circle back in a few months to update how everything is holding up.
Date published: 2017-11-18
Rated

1

out of

5
by
Sally
from
Not LG
We have an LG refrigerator that stopped cooling in December of 2017. After numerous calls to LG, we waited 6 weeks to get a tech guy. It only worked for a couple weeks then stopped cooling again. It is now May of 2018 and LG will not stand by their product. 5 months of being told they would call us in 2-3 days with a resolution. Still nothing. Do not buy LG!
Date published: 2018-05-17
Rated

5

out of

5
by
Rudy956
from
Great Fridge!
I have had this unit for about 6 months now and am really happy with it. The air filter service light just came on this morning and other than that, I've never had to touch a thing. Really roomy, easy to use, and it'll chill anything you put in it very fast. On top of that, it didn't drive my light bill through the roof despite being much larger than what it replaced. Cons? Only one I've seen is that since the ice maker is internal to the fridge, if you leave something that has a strong aroma (garlic, onions, etc.) in the fridge it will give the ice a trace of the flavor and smell. It's not undrinkable, but I did notice it.
Date published: 2019-03-02