Description
The compact design of this LG freestanding bottom-freezer refrigerator makes this unit the perfect storage solution for space-constrained kitchens. Reversible doors allow the refrigerator to be installed virtually anywhere, while the counter depth provides a built-in aspect that enhances the overall aesthetics of your kitchen. As for food storage, its 10.1 cu. ft. capacity will meet your needs. The freezer features 4 spacious drawers, including a quick-freezing drawer to preserve the flavour and freshness of frozen fruits and vegetables. The refrigerator includes a humidity-controlled crisper as well as adjustable shelves and door bins. The Multi-Air Flow cooling system manages temperature and humidity levels, ensuring they are stable everywhere inside the fridge. Finally, the smart inverter compressor provides quiet, reliable operation for years to come thanks to its design with less moving parts.


Ecological Attributes
This refrigerator is ENERGY STAR® certified to save up to 10% in energy.
Product specifications
Number of Refrigerator Shelves
7-year limited warranty on sealed system, 10-year limited warranty on compressor
Bottom-freezer refrigerator
Reversible Door Swing (Y/N)
Full-width humidity controlled crisper, fixed full-width door bin, 4 adjustable half-width door bins, 2 adjustable full-width shelves
Frequently bought together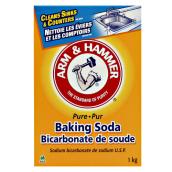 ARM & HAMMER
Baking Soda
Format 1KG
Details
Article #53975001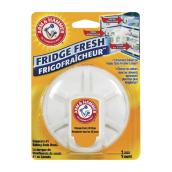 ARM & HAMMER
"Fridge Fresh" Refrigerator Air Filter
Details
Article #53975000
LG Bottom-Freezer Refrigerator - 10.1 cu. ft. - 24" - White
is rated out of
5
by
12
.
Rated

5

out of

5
by
Linda
from
Love this Fridge
We purchased this refrigerator 9 months ago for my elderly mom who was coming to live with us. She needed a small size but really wanted as much freezer space as possible so that was a key reason we initially considered this model. After reading several reviews and hearing from others about how quiet it was, we decided this would be the one. We are so glad because her kitchenette is in the same room as her TV and her recliner is only a few feet away from the fridge. The other reviews were correct - it is very quiet and has been a wonderful fridge and freezer with no issues whatsoever. You can see in the photo how nicely the counter depth fits with the cabinetry and the white color blends beautifully with the white cabinets. It seemed a little pricey at the time but was well worth the money we spent.
Date published: 2018-03-31
Rated

3

out of

5
by
Steph452
from
Issue w/ lack of width clearance on website
My issue is not with the fridge itself, in fact I am pleased with the features, especially a fan of Vacation Mode, my issue is with how the dimensions were presented (or not presented as in this case). I ordered this fridge because, according to the website, it was going to fit my space with mm's to spare either side. Got it in nicely, then I opened to door, which made it to 45 degrees, I could get away with that on the fridge, but the freezer needs 90 degrees to open the drawers. As you can see from the first picture, the laser dot on the wall is how much extra room would be needed for access. For context, the second picture depicts how far out the unit is currently sitting to allow access. 3rd picture is of the website, with no mention of Side clearance. My only feasible option, next to complete renovation, is to reverse the door. Which according to the manual (4th pic), LG will charge for, and I live in a remote area so the call out charge is going to be through the roof I'm sure. Even that's not ideal as I will still have a 5" gap at the rear & have to walk around the fridge door (as apposed to the fridge opening towards the kitchen, with only a 2" gap at rear). Why was "Width with door open at 90" deemed unimportant?
Date published: 2018-05-30
Rated

5

out of

5
by
Integrablue
from
Beautiful AND Quiet!
[This review was collected as part of a promotion.] We love this refrigerator! We have a studio condo at the ocean so we needed a compact, quiet refrigerator. This LG is perfect! It has plenty of room. The drawers in the freezer and fridge operate so smoothly and give you more storage space. I highly recommend this fridge for small spaces or an apartment. Oh by the way - it's SO QUIET!!!
Date published: 2018-06-19
Rated

1

out of

5
by
Constance
from
Very Unhappy!
I am so sorry that I purchased this unit....I am sure that there is something wrong with the thermostat it will not get cold.....sometimes it reaches 7 Celsius....never colder than 2...mostly stays around 7.....this is at the lowest setting.....freezer seems ok but the fridge is so warm.....contacted LG and they sent a tech...he measured the temp coming from the vents....that was all he did....said there was nothing he could do to make it colder. Hmmmmm I have only had this unit for less than a month.....if this is as cold as it will get, it is trash. Never had this issue with a fridge before......
Date published: 2020-02-26
Rated

1

out of

5
by
sswwpp
from
My diesel truck is quiter than this fridge.
I purchased this fridge 3 months ago and it looks nice and is the perfect size but the sounds it makes are terrible. I just renovated my kitchen and it feels like I'm in the freezer section of a 7-11 with this fridge buzzing, vibrating and clicking away. Some days I think its going to just drive away. I do not recommend this fridge.
Date published: 2018-11-29
Rated

5

out of

5
by
graygirl
from
Great for small kitchens
[This review was collected as part of a promotion.] Great little fridge. I had my eye on this model for years waiting for my old fridge to die. I had forgotten what cold and frozen foods should be in a fridge. For a small fridge it holds a lot. Love it!!!
Date published: 2018-08-10
Rated

5

out of

5
by
Lionsmouthh
from
Perfect for our home
[This review was collected as part of a promotion.] I bought this fridge about 4 months ago when we moved into our new home. This was one of the few fridges I found that was sized small enough to fit our home. The design is awesome and it has all plenty of space for a household of 2. It uses a small amount of energy and it's not noisy at all. So glad we purchased this fridge and were very fortunate to get it at the price we did.
Date published: 2018-06-25
Rated

5

out of

5
by
Smoggy
from
Great frig
[This review was collected as part of a promotion.] We have a 100 year old small craftsman house , this frog fits perfect , it's hard to find a good quality small frig
Date published: 2018-04-06