Dimmable Recessed Light - TEK - 9W LED - Matte White - 4/Pk
Article #33785377
Model #343L9WX4
Format 3 3/8" 9W 4/PK
RONA Langdon Hardware Ltd. / Fort Erie
(289) 320-8250
Description
Add versatility to your home lighting with these Bazz TEK recessed lights. Powered by integrated 9-watt LED bulbs, these pot lights provide 500 lumens of soft white light. The energy-saving bulbs have a life expectancy of 25,000 hours and brightness equivalent to 50-watt halogens. The lights are compatible for use with dimmer switches, they are suitable for all interior applications including damp locations, and they are rated for direct contact with insulation in insulated ceiling installations. The steel housing has a matte white finish that complements any décor setting, making them a stylish lighting solution for any room. The pack contains 4 LED pot lights.

Product specifications
Insulated ceiling rated for direct contact with insulation; for all interior locations including damp locations
For ceiling thickness 1/2" - 1" (1.27 cm - 2.54 cm)
Minimum clearance above ceiling space 4 1/2" (11.43 cm)
Soft white (3000K, CRI 80)
Ecological advantages
Ecological Attributes
This light fixture is ENERGY STAR certified and uses in average 75% less electricity than a conventional model.

By saving energy, you decrease the environmental impacts associated with the generation of electricity.
Environmental Issues
This product is eco-responsible because it reduces the impacts associated with the following environmental issues:
Availability and quality of water
Related Projects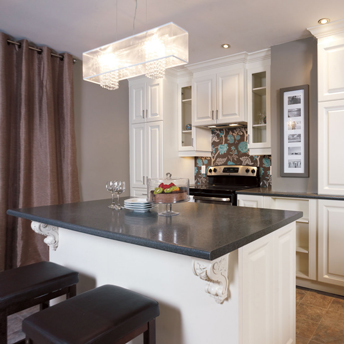 Kitchen lighting
Kitchen lighting should be both functional and decorative. Essential for meal preparation as well as kitchen dining, the lighting you chose should foster a frie...Learn more