LED Floor Lamp - Adjustable Height Up to 72" - Black
Article #00795583
Model #12784
Format 72" 40W
RONA Langdon Hardware Ltd. / Fort Erie
(289) 320-8250
Description
Torchiere lamp with adjustable height up to 72". 10" frosted plastic shade. LED light, 40W, 3000 lumens, dimmable. Fast and easy assembly. Cool to the touch, surge protection, touch sensitive dimmer switch.

Product specifications
Adjustable height up to 72"
Ecological advantages
Ecological Attributes
This light fixture is ENERGY STAR certified and uses in average 75% less electricity than a conventional model.

By saving energy, you decrease the environmental impacts associated with the generation of electricity.
Environmental Issues
This product is eco-responsible because it reduces the impacts associated with the following environmental issues:
Availability and quality of water
Frequently bought together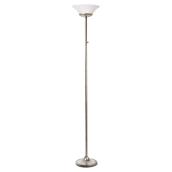 GLOBE
Dimmable Floor Lamp - Contessa - 15W LED - Brushed Nickel
Format 1.7M 15W
Details
Article #00795592