Description
Stylish and functional, this Kohler(R) Malleco kitchen faucet is an exceptional addition to your kitchen. It has a retractable spray head with Sweep Spray for a powerful jet of water for easy cleaning. The single-handle faucet rotates smoothly and has a long hose that reaches past the basin. It has a stainless steel finish and includes black, white and taupe interchangeable silicone handles for an easily customizable look. 1-year limited warranty.
Product specifications
Soap dispenser and 3 interchangeable silicone handles in black, white and taupe
Longer shank for easier installation
Soap/Lotion Dispenser (Y/N)
Frequently bought together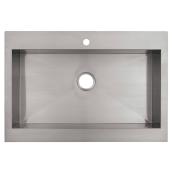 KOHLER
Kohler Vault Top-Mount Kitchen Sink - Stainless Steel
Format 36x24 5/16x9 5/16"
Details
Article #31535072
have to remove tap to move to a new counter tap, how do you disconnect sprayer hose under sink
Hi ray76, this is Sarah with Kohler Co. I'm glad to answer your question. The sprayhose has a quick connect attachment which can be depressed on both sides to unhook it from the mixed water supply line. To reinstall, you will simply need to push it into place until you hear a "click". Thank you for choosing KOHLER.
Date published: 2019-04-29
what is the warranty?
Hello, my name is Sarah with Kohler Co. I'm glad to answer your question. This faucet includes a Limited Lifetime warranty which covers any defects in the product which includes any leaking. Thank you for choosing KOHLER.
Date published: 2018-07-02
how it's easy to get replacement parts for this model ?
Vivian2, my name is Sarah with Kohler Co. I'm glad to address your question. This faucet carries a Limited Lifetime warranty for the original owner. Any replacement parts needed can be obtained by contacting our Customer Service team at 1-800-456-4537 (M-F; 8am-5pm CST). Thank you for choosing KOHLER.
Date published: 2019-04-12
Does the installation of the faucet have weights clamped on the lines below the sink and counter?
KOHLER Malleco - Item#: 527989: The description states that this faucet has Activation Technology = Touch & Special Activation Method = Touch. Can you please explain on how this touch activation method works?
Malleco Pull Down Kitchen Faucet - 1 Handle - Stainless Steel
is rated out of
5
by
88
.
Rated

5

out of

5
by
Oleg
from
Solid and Sleek
Just installed this kitchen faucet and I love every aspect of it. Installation was very easy compared to removal of the old faucet and sink surface clean up. It does look very sleek, the pull-down head is very easy and comfortable to operate. When in shower mode, water spray comes out in round pattern but at about a foot transforms into sharp wide swipe which is awesome. The lever is very smooth in operation and comfortable to touch. I also love interchangeable silicone lever handles, I immediately put a tan colored handle to match our kitchen look. The included soap dispenser adds up great value to the package and is a great match to the faucet.
Date published: 2013-12-08
Rated

4

out of

5
by
mrss
from
Very satisfied
We had to get a new faucet quickly as our old one bit the dust one weekend and leaked all over. We are very pleased so far with this one although it has only been a week. The design is sleek. The water pressure is excellent. Really like the way the spray fans out and the higher neck makes it easier to get larger items under the faucet. We have to get used to the way the handle operates and also keep whatever is being rinsed a litle lower in the sink as the water pressure is higher than our old one and splashes if you're not careful. Although my husband could have installed this, we had a few other plumbing issues, so we had a plumber do the installation.
Date published: 2014-01-12
Rated

4

out of

5
by
Matt
from
Sprays very hard
I suppose I could control it via the supply lines, but at full blast this faucet sprays very hard with water bouncing all over the place. Not too bad once you get used to it, but pretty messy in the meantime. Other than that, it was a very easy install, hose retracts very well. Doesn't always hit the 'notch' whenever it retracts, but doesn't look bad when it doesn't. I also like that the handle is removable, however, I would prefer it to screw down instead of just push down as it doesn't take much force to remove it. Would also like a stainless option for the handle instead of black/brown/white, but I knew it wasn't available when I bought it.
Date published: 2014-02-14
Rated

5

out of

5
by
Brian
from
Great faucet - super easy installation!
I normally don't take the time to review products, but this definitely deserved a good review. The faucet is great - looks nice, works great, and the installation was an absolute breeze. It took much longer to take the old faucet off than it did to install this. The designers clearly worked with the installer in mind. The 3/8" hookups are already connected to the faucet for an easy hookup, and securing the faucet to the sink only requires a phillips head screwdriver. No basin wrench required, unless you need it to take off your old faucet. Very pleased with this purchase - Kohler did a great job with this one.
Date published: 2016-01-26
Rated

5

out of

5
by
JimC
from
Easy to Instal, sturdy, and nice looking
-Simple to install (30mins top) -Oddly enough if you have 3 sink holes in the center, and only 3 you will not be able to install the soap dispenser. A 4th whole would need to be drilled if you only have the 3 center holes.. -Very sturdy , really important -Strange feature; the hose isn't the normal screw on fit, it snaps in place. I don't think this will be a problem but was a bit different to me -They say put the weight near the bottom, don't do this until you are completely done installing - then see where your turn (where there hose bends); once you have established that, put the weight on the end towards the upward stretch going to the faucet.. trust me!
Date published: 2015-09-06
Rated

5

out of

5
by
Jmunn99
from
Why have I waited so long?
My kitchen countertops were 23 years old, so I decided to replace them along with the sink and faucet. I chose the HiMac solid surface along with their integrated sink and LOVE IT! Went ahead and updated the faucet as well with the Pull down handle. I can't believe how functional and ease of use it is. I actually enjoy cleaning the counters using the faucet and sprayer function. Previously I had the two knobs (Hot and Cold) to turn and a separate hose for the sprayer. The drop in sink with the 1" lip consistently trapped water between it and the back splash what a pain. Now, no mess. I really like my countertops and faucet.
Date published: 2016-01-27
Rated

4

out of

5
by
Cosslett
from
Very Good Faucet for the Money!
This is a very good design with a pull down design that allows the spray head to be turned and rotated without pinching the braided hose. The two spray options are very strong and will stay without having to hold down the button on the back. The spray pattern is awesome for cleaning a wide swath without over spray. I had not seen anything like that before and was impressed. The stream is so strong that is clears dishes like I was using a power washer to do the job. The only complaint I have is with the handle for the water temp. The choice of three options; black, white, and taupe. The silicon handle just slips on and off too easily. Minor complaint thus far, but time will tell how durable it is. Installation was easy.
Date published: 2014-01-07
Rated

5

out of

5
by
Craig
from
Great faucet..but be careful with spray hose!
Well made, easy to install, looks and works great! However, the spray hose is connected to the water line only by a push -on type connector with a plastic clamp to hold it in place. If the hose is pulled out too far, the connector can be pulled lose from the supply line resulting in a flooded kitchen. In normal use it seems to work fine, just don't try to use the sprayer outside the confines of the sink! Would be better if hose was screwed on to water line.
Date published: 2014-02-09